Meet Kavita Rana '20, an OUR Peer Research Ambassador (PRA) majoring in Molecular & Cell Biology and minoring in Psychological Sciences.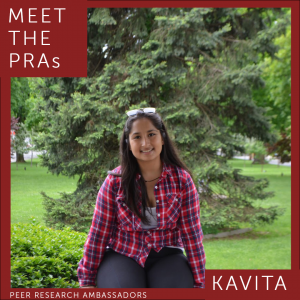 What is the focus of your research?
The focus of our research is on parasitic organisms and how to hinder growth and replication in order to avoid disease on a macroscopic level.
Why did you get involved in research?
I became involved in research because I thought it was interesting to see science applied in real life.
What advice would you give to incoming freshmen?
I would tell freshman to get involved in research early in their college career so they can start getting a better idea of the field they want to go into. Another benefit of starting early is that you can become more independent by the time you are an upperclassman.
What is your greatest accomplishment so far?
My greatest accomplishment in research was being an author on a publication. I was especially happy to contribute to the project in a major way. It really opened my eyes to research and the field, which was good for me as a premed student. I'm always learning about physiological processes, and it is great to see the things I've learned in class be applied in the real world.
What are your plans after graduation? How has involvement in research influenced your plans and/or prepared you for the future?
My plan after graduation is to attend medical school. Being involved in research has exposed me to a microscopic level of medicine that I didn't know existed. For example, I was researching the relationship between sickle cell diseased patients and bone health. I learned about both of these topics, but I had not thought to investigate the relationship between them.