Meet Stephanie Schofield '23, an OUR Peer Research Ambassador (PRA) majoring in Molecular & Cell Biology and minoring in Psychological Sciences.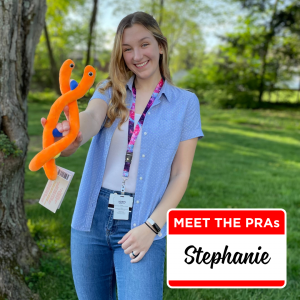 What is the focus of your research?
My research focuses on combating the global problem of antibiotic treatment failure. Roughly 35,000 people die per year in the United States alone from bacterial infections that are unresponsive to antibiotics, stressing the need for more effective treatment methods. Specifically, I am currently investigating genetic bacterial stress mechanisms and determining how each of these stress-response genes plays a role in treatment. With this information, I am working to find better ways to potentiate bacteria towards succumbing to antibiotics faster by manipulating their genetic mechanisms and finding substances that can inhibit vital machinery they need to evade treatment.
Why did you get involved in research?
I've always been super passionate about my education, and I craved for more than just diagrams in a textbook! My fascination with the "molecular world" of life began from a young age and I always yearned to learn more about the mechanisms of cells through hands-on experiences. I feel that in order to make the most of my education, I needed to understand the real-life implications of what I studied in my classes. Research was the best and most motivating way to do this! I saw it as an immense opportunity to grow and narrow down what I wanted to pursue as a career. So far, it has done all of this and more for me! Continue reading →