Meet Mahima Mehta '22, an OUR Peer Research Ambassador (PRA) majoring in Molecular & Cell Biology and minoring in Spanish.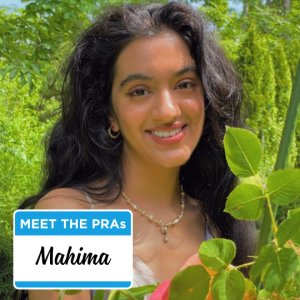 What is the focus of your research?
I have been working in Dr. Sarah Knutie's lab since January 2020 as a member of the Nest Parasite Community Science Study. In this project, I quantify parasite abundance in the nests of eastern bluebirds and tree swallows to understand the effects of local ecology on the evolution of hosts and their nest parasites.
As someone who has always been interested in climate change and DNA, the focus of my UConn IDEA Grant project is to understand how elevated nest temperatures impact the DNA methylation of eastern bluebirds. We often see the physical effects of climate change: unusual snowstorms, devastating fires, and destruction of habitats- but what genotypic impact does this have? In my project, I will be investigating why it is adaptive for these birds to have changes in methylation in response to temperature and if this is helping them over their lifetime. Continue reading →