By Samantha Ruggiero CLAS '14, originally published March 24, 2014 in CLAS News.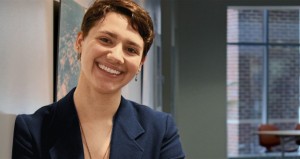 While still in high school, Rebecca D'Angelo was working in the Research Department at the Mashantucket Pequot Museum when she stumbled across an unusual detail in a book about New England whalers. She read that these whalers were apparently using using schooners for their journeys to the sub-Antarctic islands between Australia and Antarctica.
"I thought that was odd because I know that they wouldn't typically use schooners to whale," says D'Angelo, currently a senior history and anthropology double major, referring to the small size of schooner boats. "So I looked into it and turns out they were actually catching seals."
As a native to the Connecticut shoreline, D'Angelo paired her passion for maritime culture with a major in history and anthropology so that she could enrich her understanding of the world's evolving social, political and environmental patterns.
"We talk about history all the time in the conversations we're having now about politics, culture, and life," says D'Angelo. "If you know history, you can identify when public figures are invoking it correctly, and when they are invoking it incorrectly. Understanding history ultimately makes you a better consumer of culture." Continue reading →