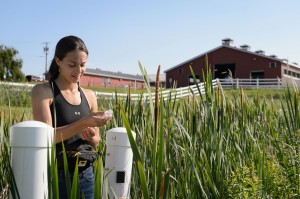 Are you are an undergraduate student with a federal work-study award? Would you be interested in assisting with faculty research for your work-study employment? If so, the Work-Study Research Assistant Program can help connect you to available research opportunities on campus.
Why Research?
There are many reasons to consider pursuing a position as a research assistant. Participation in undergraduate research is one way to explore your academic interests, learn about how research is conducted at the university, and build transferable skills useful in a range of fields. Read more about what other UConn undergraduates have to say about how they have benefited from engaging in undergraduate research.
How Can I Apply?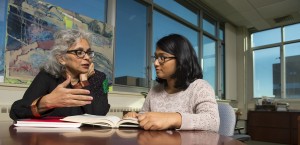 If you have a federal work-study award for 2018-19, apply for one of the research job postings in the JobX system listed below. You may apply to more than one posting if it aligns with your goals and interests. Please follow the specifications of the posting and upload all requested information (e.g., resume, cover letter, availability, references). Only applications from undergraduate students with work-study awards will be considered.
Applications are currently being accepted for all of the positions below with a status of "open." As applications are being reviewed on an ongoing basis, we encourage you to apply for all positions that interest you as soon as possible. Please check this page regularly as positions will be added frequently through the beginning of the academic year. Students with 2018-19 work-study awards must secure a job by September 21, 2018 or their awards will be canceled.
Job Postings (listed alphabetically by department)
Job Posting
Faculty Member(s)
Department
Brief Position Description
Status
9495
Steven Utke
Accounting
This position involves collecting income tax data of publicly traded firms in order to determine how much tax these firms owe on their foreign earnings.
Closed
9489
Sherry Pagoto
Allied Health Sciences
Gain well-rounded research experience in our Center for mHealth and Social Media located in the Institute for Collaboration on Health, Intervention, and Policy. Our research is focused on weight loss, skin cancer prevention, mHealth, and social media. We have many projects going on at all different phases allowing for an opportunity to gain experience in each phase from study startup to recruitment, data collection, reporting, and interpretation.
Closed
9497
Molly Waring
Allied Health Sciences
My research focuses on the use of social media and technology for health behavior change, particularly weight management among childbearing women. Current projects include a NIH-funded study to conduct a pilot feasibility randomized trial to compare a post-partum weight loss intervention delivered via Facebook versus in-person groups and a pilot study examining the use of Instagram related to weight gain during pregnancy. Research Assistants will be involved in multiple aspects of these projects.
Filled
9546
Molly Waring
Allied Health Sciences
My research focuses on the use of social media and technology for health behavior change, particularly weight management among childbearing women. Current projects include a NIH-funded study to conduct a pilot feasibility randomized trial to compare a post-partum weight loss intervention delivered via Facebook versus in-person groups and a pilot study examining the use of Instagram related to weight gain during pregnancy. Research Assistants will be involved in multiple aspects of these projects.
Closed (Hartford campus)
9479
Dennis D'Amico
Animal Science
We are looking for students interested in food science and microbiology to work in our research lab.  Our research focuses on improving the safety and quality of milk and value-added dairy products. This position involves assisting with food safety related lab experiments aimed at controlling pathogenic microorganisms in milk and cheese.
Filled
9524
Chrystal Smith
Anthropology
The Student Interview & Survey Research Assistant hired will work on the National Science Foundation (NSF) grant, EAGER: Measuring the Effects of Academic Climate and Social Networks on Persistence of STEM Undergraduates. This grant uses anthropological and sociological theories and methodologies to develop a survey instrument designed to gather information to understand the impact of STEM academic culture and social networks on persistence in an understudied population, Sexual and Gender Minority (SGM) STEM undergraduates. SGM refers to individuals who identify as Lesbian, Gay, Bisexual, Transgender, or Queer/Questioning (LGBTQ) or other sexual or gender minority positionalities. Research activities include conducting interviews and developing survey questions from the interview data and relevant literature. The survey developed will be tested on a purposive sample of SGM STEM undergraduates, refined, and tested again.
Closed
9525
Chrystal Smith
Anthropology
The Student Interview & Survey Research Assistant hired will work on the National Science Foundation (NSF) grant, The Effects of Social Capital and Cultural Models on the Retention and Degree Attainment of Women and Minority Engineering Undergraduates. This grant uses anthropological and sociological theories and methodologies to improve our understanding about the challenges that women, ethnic minorities encounter pursuing STEM degrees. Research activities include analysis and writing up findings on survey and interview data collected during 2015-2018 with a cohort of engineering undergraduates at 11 participating universities. The Principal Investigator is Gladis Kersaint, Ph.D., Dean, Neag School of Education.
Closed
9520
Sabato Santaniello
Biomedical Engineering
Assistance is sought with two research projects. The successful candidate(s) will be assigned to one project based on their interest and technical skills. Please note that both projects will be conducted under the direct supervision of a graduate student and the faculty member.

One project is about developing algorithms to process electroencephalographic (EEG) signals from children with epilepsy. EEG datasets are already available in the lab. The goal is to detect signatures of epileptic activity in the EEG for sake of diagnosis and analysis of the brain dynamics.

One project is about developing a gaming application (app) for Android platforms that is controlled by EEG brainwaves. The goal is to use the app as a neurofeedback-based tool for patients with epilepsy who need to learn how to avoid (micro) seizures.

Closed
9523
Leslie Shor
Chemical and Biomolecular Engineering
Our lab develops "engineered microhabitats" (highly engineered microbial cell culture and analysis chambers) to understand complex functions of real microbial communities in nature. Our particular emphasis is on microbial function in soil environments and on sustainable agriculture applications.
Filled
9528
Luyi Sun
Chemical and Biomolecular Engineering / Institute for Materials Science
In this position, students will be trained to work on multi-functional nanostructured materials for various applications. They will learn how to design materials with unique structure (down to nano- and molecular-scale) for specific applications, such as packaging, energy, catalysis, etc. In most cases, the structural design and control are the keys to the high performance of these materials.
Filled
9496
Kristina Wagstrom
Chemical and Biomolecular Engineering
The research in Dr. Wagstrom's lab aims to better understand the impacts of air pollution on human and ecosystem health through both measurements and computer modeling. Dr. Wagstrom will work with applicants to determine project that are the best fit.
Filled
9541
Steve Suib
Chemistry/Institute of Materials Science
This position involves research in the area of inorganic chemistry and materials science. Our research concerns synthesis and characterization of materials that are used in adsorption, batteries, ceramics, catalysis, semiconductors, and related areas.
Filled
9506
Michele Back
Curriculum and Instruction
The Student Observation and Analysis Assistant hired will work on the Accuracy and Implications of Measurement in School (AIMS) project. This grant uses anthropological theories and methodologies to improve our understanding about how data capturing language, race, and ethnicity are constructed at the K-12 school level. Research activities include conducting observations at local schools as well as analysis and writing up findings on secondary data collected at schools in Connecticut. The Co-Principal Investigators are Dr. Michele Back and Dr. Rebecca Campbell-Montalvo, both in the Department of Curriculum and Instruction in the UConn Neag School of Education.
Closed
9509
Todd Campbell
Curriculum and Instruction
This position will support research aimed at better understanding how teachers use curriculum in science classrooms and how this use impacts student learning. The position involves working closely with a faculty member and graduate assistant in science education to analyze and code teacher interview and student data. The research assistant will also assist in reviewing literature and co-authoring research reports.
Filled
9510
Clarissa Ceglio
Digital Media and Design
A careful reader, clear writer and motivated individual who has an interest in museums is needed to help create and organize content for an online bibliographic database for the Museums and Civic Discourse Project. (See: http://ncph.org/phc/ncph-working-groups/museums-civic-discourse-2016-working-group/ for a description of our work.) The student will receive training and build proficiency in Zotero, an open-source citation management software.  In The student will assist faculty by reviewing blog posts, videos, websites, journal articles and other materials related to the work museums do to foster dialogue and action within their communities on important social issues. The student will prepare summaries of these materials. These contributions will be part of a public-facing resource and the student will receive an author byline, so good writing skills are essential. The student may also conduct archival research and prepare reports of their findings in support of a second project that deals with the history of international justice following World War II.
Filled
9478
Milagros Castillo-Montoya
Educational Leadership
This project focuses on improving the classroom experience of diverse college students by supporting faculty in their efforts to make incremental changes to their teaching. This project will provide a student employee with an opportunity to learn more about higher education and issues impacting college teaching.
Closed
9508
Aarti Bellara
Educational Psychology
Assessment Research Assistant.  There are multiple projects and can be filled by two applicants.  The first project will examine preservice teacher inquiry projects for potential for action research as beginning teachers.  The second project will consist of managing and collecting data for a systematic review of the reporting practices of single subject research in behavioral studies.
Closed
9476
Melissa Bray
Educational Psychology
I plan to run studies using video self-monitoring for stuttering and other mind/body health intervention studies focusing on stress, anxiety, depression (e.g., Relaxation & Guided Imagery with cancer patients; Written Emotional Expression for asthmatics). My main research focus is on mind body health, in addition to psychological treatments for stuttering, and school-based programs for internalizing and externalizing behaviors.
Filled
9533
Sandra Chafouleas
Educational Psychology
This position entails working with Dr. Chafouleas and her research team, with specific emphasis on tasks for the UConn Collaboratory on School and Child Health (CSCH: see http://csch.uconn.edu).  The CSCH mission is to facilitate innovative research and dissemination in school and child health, acknowledging that a whole child lens that integrates academics and health in serving students leads to better student outcomes across domains (academic, social, emotional, behavioral, physical).  Although CSCH is engaged in many research activities, the primary job tasks for this position include synthesis of research in different areas related to school and child health, with the intent to synthesize information on evidence-informed policy and practices into brief user-friendly reports.  Synthesized content also will be used in short video modules intended to increase knowledge about the focal area (e.g. what are best practices for increasing physical activity?, what has the policy impact been on changes to school nutrition programs?).
Filled
9527
Lisa Sanetti
Educational Psychology
How do children acquire their native language?  My lab investigates young children's speaking and understanding, especially of word meanings and sentences. We also compare typically developing children and children with autism spectrum disorder, to assess the relative contributions of environment and biology in language learning.
Filled
9474
John Ayers
Electrical and Computer Engineering
This research position will involve the analysis of defects and strain in state-of-the-art semiconductor device structures such as multijunction solar cells and high-speed transistors. It will involve computer modeling of device structures, the analysis of this data, and its graphical representation.  It is intended that this work will lead to journal articles, conference presentations, and the design of improved semiconductor devices.
Filled
9713
Abhishek Dutta
Electrical and Computer Engineering
The project involves design of Cyborgs or robotic insects i.e. design and programming of circuits for sensing and control of the brain of insects. Some expertise exists in the group. Other possibilities are analyzing or designing systems for healthcare.
Closed
9511
Clarissa Ceglio/Wes Hamrick
Greenhouse Studios/Scholarly Communications Design
A joint effort of the University of Connecticut's School of Fine Arts (SFA), University Library, and College of Liberal Arts and Sciences (CLAS), Greenhouse Studios forges diverse and democratic collaborations that build scholarship in new formats to engage new audiences. Our projects include experiments with virtual and augmented reality, mobile applications development, alternative print formats, digital audio and video production, and games (greenhousestudios.uconn.edu/projects/).
Filled
9471
Annamaria Csizmadia
Human Development and Family Studies
I am seeking an undergraduate Research Assistant to assist with tasks related to my ongoing research projects, which focus on ethnic-racial minority and immigrant youth's social-emotional adjustment, cognitive development, and academic success. Projects utilize existing national datasets and data collect via an online survey of UConn college students to examine ethnic-racial identity, ethnic-racial socialization, and social-emotional well-being among children, adolescents, and young adults of color.
Filled (Stamford campus)
9485
Caitlin McPherran Lombardi
Human Development and Family Studies
Research assistants in my lab in 2018-19 will support ongoing studies investigating the contributions of the early childhood educator workforce, parental employment, and parenting quality toward children's school readiness, health, and the income-based achievement gap. Students will assist with searching empirical research literature, examining secondary data, and preparing manuscripts and grants.
Closed
9494
Rachel Tambling
Human Development and Family Studies
The Work-Study RA will support research activities in the Clinical Outcome and Process Research Laboratory. This laboratory focuses on research, which seeks to model processes that contribute to successful outcomes in individual, couple, and family therapy. We are specifically interested in therapy initialization, service utilization, and factors that contribute to successful outcomes. The successful candidate will have a strong interest in therapy processes and outcomes, and may be interested in a future career in marriage and family therapy, counseling, or social work. The successful candidate will be discrete, detail oriented, and able to maintain client confidentiality and effective research protocol.
Filled
9477
Douglas Casa/Rebecca Stearns
Kinesiology / The Korey Stringer Institute
This position is devoted to providing students exposure to high-level research, advocacy and education initiatives related to the mission of the Korey Stringer Institute (KSI). The mission of the Korey Stringer Institute is to provide research, education, advocacy and consultation to maximize performance, optimize safety and prevent sudden death for the athlete, warfighter and laborer. Individuals will be provided full immersion into the daily operations of an active research lab; assisting with field studies, epidemiological investigations and laboratory protocols focused on preventing sudden death in sport and enhancing sport safety.
Filled
9491
Linda Pescatello
Kinesiology / Institute for Collaboration on Health, Intervention, and Policy (InCHIP)
The student will act as an undergraduate research assistant for the Department of Kinesiology Health Fitness Research Laboratory as part of the SPIRE (Syntheses of Prevention Intervention Research in Exercise) research team. SPIRE research projects are mainly systematic reviews and meta-analysis of the exercise and health literature. In these research projects, we pool data from hundreds of exercise trials to identify what combinations of patient clinical and exercise characteristics achieve optimal therapeutic benefit for the targeted physical or mental health outcome we are investigating.
Closed
9507
Hannes Baumann
Marine Sciences
The Baumann lab at UConn Avery Point seeks a motivated student laboratory and Field Analysis assistant to aid its ongoing experimental research on fish sensitivity and adaptation to climate change. Motivated and reliable candidates will help maintain (cleaning, checking, feeding) rearing enclosures in the Rankin Lab, assist with field collections via beach seining, and measure preserved specimens in the lab. These analyses and experiments help us determine how vulnerable early and juvenile stages of common forage fish are to warming and acidifying oceans.
Filled (Avery Point campus)
9475
Gerlinde Berger-Walliser
Marketing/Business Law
Comparing current issues in U.S. business law with European civil law systems, including privacy and data security, international jurisdiction, issue at the intersection of corporate social responsibility and corporate law, and non-financial reporting. The position is particularly suitable for pre-law students with an interest in business, European or private international law.
Closed
9484
Kelly Herd
Marketing
As a marketing professor and consumer psychologist, I am interested in uncovering how people's thoughts and experiences influence their cognition, particularly as they relate to the creative process. Using lab experiments, we ask participants to complete a series of creativity, brainstorming, and product design tasks, which are then evaluated on a variety of dimensions.
Filled
9548
Avinash Dongare
Materials Science and Engineering/Institute of Materials Science
Seeking Student Research Assistant for post-processing of atomic scale modeling datasets generated using molecular dynamics (MD) simulations to visualize the evolution of microstructure in 3D using virtual reality (VR) software. Experience in programming and machine learning is preferred.
Closed
9549
Avinash Dongare
Materials Science and Engineering/Institute of Materials Science
Seeking Student Research Assistant for atomic scale modeling using molecular dynamics (MD) simulations to investigate the role of interfaces on the deformation and failure behavior of multiphase metallic materials. Experience in running MD simulations and programming is preferred.
Closed
9486
Georgios Matheou
Mechanical Engineering
The research aims to discover computationally efficient ways to predict the evolution of stratocumulus clouds. A novel computational methodology will be studied using a numerical model. A series of simulations will be carried out using UConn's supercomputer to assess the potential of the new methodology.
Filled
9623
David Pierce
Mechanical Engineering
We are looking for independent and self-motivated individuals to contribute to a project investigating the mechanics of impact and damage propagation in articular cartilage. Candidates will be trained on a variety of tasks including imaging and image analysis, preparation of cartilage samples from bovine knees (requires BioSafety Level 2 training), initiation of mechanical experiments, and data analyses. Candidates will work directly alongside a Ph.D candidate mentor in Biomedical Engineering.
Closed
9653
Anna Tarakanova
Mechanical Engineering
Our group specializes in molecular modeling & simulation to study biomaterials, biomechanics and biophysical processes associated with the body's function in health and disease. Multiple projects are available, depending on student interest and fit. Students will work directly under the supervision of the faculty member — we are always interested in mentoring self-motivated undergraduate students from diverse backgrounds. The student will gain experience in molecular model development, atomistic modeling, coarse-graining approaches, molecular simulation setup and implementation on supercomputers, molecular visualization software, MATLAB/Python/bash scripting, and scientific writing. The student will have a chance, if successful, to contribute to a scientific publication.
Closed
9652
Aoife Heaslip
Molecular and Cell Biology
My laboratory is focused on understanding the biology of the human pathogen, Toxoplasma gondii. T. gondii is the causative agent of Toxoplasmosis which can cause life-threatening disease in immunocompromised individuals and when contracted congenitally. Experimental approaches include protein expression and purification, microscopy and cell culture.
Filled
9711
Michael O'Neill
Molecular and Cell Biology
Dr. O'Neill's laboratory employs mouse models to understand the genetics and epigenetics underlying the male susceptibility to Autism Spectrum Disorder. The student assistant will assist graduate students in the lab in the performance of molecular biological experiments.
Filled
9513
Solomiya Ivakhiv/Sophie Shao
Music
This assistant position will interview and survey high school music programs, clinics, and teachers in the state of Connecticut, as well as study effective methods of teaching, both classroom and individual, long-term and short-term, and develop strategies in recruiting, as well as to capture and sustain interest in string instrumental playing. In addition, the assistant will help create a monthly newsletter that will include announcements on String area events.
Filled
9512
Ashley Helton/Beth Lawrence
Natural Resources and the Environment
Coastal wetlands provide important ecosystem services; for example, wetland plants and soils sequester carbon and remove nitrogen. This project focuses on understanding how climate change and wetland restoration may affect ecosystem services provided by coastal wetland carbon and nitrogen cycling.
Filled
9488
Anita Morzillo
Natural Resources and the Environment
I seek a student to assist faculty and graduate students with research related to public perceptions and human decision-making about natural resources and the environment.  Project topics include attitudes toward black bears, roadside forest management, non-target impacts of pesticides on wildlife, pathogen runoff from agriculture, and sustainability of rural communities.  The student will have the opportunity to become involved with several of these ongoing projects depending on student interest and progress of each project.
Closed
9514
Jason Parent
Natural Resources and the Environment
Geospatial mapping and analysis including mapping of utility infrastructure and assessing vegetation risk. Assist with field data collections involving the use of unmanned aerial vehicles.
Closed
9518
Tracy Rittenhouse
Natural Resources and the Environment
The student will assist with the set-up and testing of the temperature control system within outdoor aquatic tanks during fall 2018 and the monitoring and database management of this system in the spring 2019.  The student will be contributing to research on disease outbreaks in tadpoles, but the student may not gain experience with animal care nor pathobiology.
Closed
9519
Tracy Rittenhouse
Natural Resources and the Environment
The student will be part of a research project quantifying wildlife occupancy patterns in exurban landscapes (i.e., the entire state of CT).  The student will assist with monitoring cameras at field sites, processing photos, and database management.
Closed
9547
Chandi Witharana
Natural Resources and the Environment
My lab has openings for four undergraduate students to work as research assistants in several geospatial research projects relating to diverse and interesting topic areas, such as satellite-based mapping of Arctic tundra, drones for scouting insect-stress on agricultural crops, and utility feature extraction from Google Street View data. Tasks will include remote sensing imagery based mapping, GIS analysis, assist drone flights, and perform other duties including literature reviews and data entry.
Filled
9492
E. Carol Polifroni
Nursing
Assign metadata to individual editorials that are in a database for the Nursing Editors History Project (NEHP). Once the metadata are assigned, the editorials will be uploaded to the NEHP website.

Description: The NEHP has compiled a database of approximately 4000 editorials from eight nursing journals, with a goal to make these available to the public for searching and reading on the NEHP website. PDFs of all the editorials have been collected but metadata (author, title, journal, year of publication, volume, issue, page numbers, keywords) need to be assigned to each editorial prior to uploading.

Working closely with the NEHP administrator, the incumbent will design an Excel spreadsheet to organize the metadata and then populate with the information. Some metadata may be available on the editorial PDFs but when that is not available, researching using library resources may be necessary. In addition, again working with the NEHP administrator, the incumbent will develop a controlled vocabulary of keywords which will be assigned to each editorial to allow them to be searched for relevant content.

Closed
9649
Christopher Blesso
Nutritional Sciences
Our research focuses on the role of lipid metabolism in the pathophysiology of chronic diseases associated with low-grade chronic inflammation, such as obesity, diabetes, and atherosclerosis. This position would assist with nutrition research projects aimed at testing novel dietary bioactive compounds for prevention of these chronic diseases using pre-clinical models.
Filled
9760
Yangchao Luo
Nutritional Sciences
The main research focus in my laboratory is to develop nanotechnology-enabled approaches to improve food quality, food safety, nutrient absorption and metabolism. The candidate for this position will be responsible to develop functional hydrogel beads from biopolymers to immobilize antimicrobial bioactive compounds (such as peptides and enzymes) and to test the efficacy of developed beads to improve food safety.
Closed
9754
Jonathan Moore
Operations and Information Management
This position involves an ongoing experimental research project being conducted in collaboration with the UConn Educational Psychology department. The student's main responsibility is assisting in developing technology for the research through videotaping participants and editing the footage which will be utilized as an intervention. It is expected that the student worker benefits will include: learning research methods, learning the UConn IRB process, learning to work with virtual reality technology, publication in a major academic research journal, and developing applied skills in video editing and media design as part of a multi-department research collaboration.
Closed
9638
Jonathan Moore
Operations and Information Management
The Operations and Information Management Department (OPIM) in the School of Business is looking for a student research assistant to help with the development of an innovation space in our research lab. This space will provide students and faculty with various innovative technologies to work on projects and investigate usage for research purposes. Some of the technologies will be 3D printing (already available), Virtual Reality systems (Oculus Rift, Gear VR), Microcontrollers (Raspberry Pi), and Robotics/Drones. Working with faculty, you will investigate new technologies, implement them in the lab, and teach others how to use them. Hands on experience with any of these technologies is a plus.
Filled
9469
Moshe Gai
Physics
The student will engage in the design, development and tests of detectors of subatomic particles to be used in research in nuclear astrophysics on: stellar evolution and big bang nucleosynthesis.
Closed (Avery Point campus)
9498
Katherine Whitaker
Physics
A student in this position will assist faculty in research efforts within a laboratory in the field of observational extragalactic astronomy. Research will include analyzing Hubble Space Telescope images, using observations of gravitationally lensed galaxy clusters that act as cosmic telescopes to study the background Universe.
Closed
9732
Xian Wu
Physics
A student in this position will be working to understand introductory physics students' difficulty on vectors. The student will learn how to organize and analyze qualitative data collected in educational research.
Closed
9622
Susanne Yelin
Physics
Research the possibility of finding atom gas based hyperbolic materials through theoretical analytical and numerical studies in the field of quantum optics.
Filled
9574
Joseph LoTurco
Physiology and Neurobiology
Research in the lab is on somatic mutations in the developing brain and their role is causing brain tumors and epilepsy
Filled
9473
Alexander Anievas
Political Science
I am currently working on a book manuscript examining the role of race and the far-right in the making of the Cold War and the post-1945 US-led liberal international order. Part of the project entails original archival research, collating and organizing source materials and reading foreign language sources. I am therefore looking for a research assistant with good organizational and summation skills. In addition, students proficient in foreign languages (especially German, French, or Italian) would be an added benefit.
Closed
9493
Jeremy Pressman
Political Science
Find and enter information at crowdcounting.org. The Crowd Counting Consortium started in 2017 as an effort to collect data on all political protests in the United States.
Filled
9517
David Richards
Political Science / Human Rights Institute
This work addresses violence against women and girls from a legal perspective; the student hired will be providing research support for two joint projects involving the UConn Human Rights Institute and the international NGO Everywoman Everywhere. The first project is a high-level-expert meeting at UConn in November 2018, where experts on gender violence and law will convene to critique the first full draft of a new international treaty addressing violence against women and girls. The second project is a resource center that will support both state efforts to implement the treaty and civil society efforts to monitor treaty implementation.
Filled
9620
Kimberly Cuevas
Psychological Sciences
Student research assistants interested in developmental cognitive neuroscience research with a background in psychological sciences at the Waterbury Campus are encouraged to apply.  RAs will contribute to multiple aspects of research (recruitment, data collection, data coding) investigating the development of cognitive flexibility, imitation, and the "social brain".
Closed (Waterbury Campus)
9481
Roeland Hancock
Psychological Sciences
The assistant will support a variety of research projects using neuroimaging and behavioral methods to study language and cognition across the lifespan in the Laboratory for the Neurobiology of Individual Differences in Language.
Filled
9487
Stephanie Milan
Psychological Sciences
Most people with mental health needs do not get adequate treatment.  Research in our lab aims to improve access to quality interventions for low-income children and families.  Current projects are based in Connecticut and Argentina.  We are looking for a bilingual student interested in clinical psychology or child development to help with various aspects of these projects.
Filled

9526
Letitia Naigles
Psychological Sciences
How do children acquire their native language?  My lab investigates young children's speaking and understanding, especially of word meanings and sentences. We also compare typically developing children and children with autism spectrum disorder, to assess the relative contributions of environment and biology in language learning.
Closed
9490
Crystal Park
Psychological Sciences
Our Spirituality, Health and Meaning Lab conducts research on multiple topics, including the psychology of religion and spirituality, yoga and integrative medicine, and cancer survivorship.  I am seeking a Research Assistant who can help with lab management tasks in a variety of studies.
Filled
9515
Bandana Purkayastha
Sociology
Seeking a research assistant who can gather secondary data for a project tracking water, inequalities and rights focusing on urban households in the US.
Filled
9516
Bandana Purkayastha
Sociology
Seeking a research assistant who can help with secondary data gathering (documents, media), and some transcriptions, for a project on recent immigrants and refugees in Connecticut.
Filled
9522
David Weakliem
Sociology
The research assistant will obtain and enter information about the education of members of contemporary American elites (business, political, media, and others).  The results will be compared to information that has been compiled for elites in the first half of the 20th century.  The objective of the research is to see if there have been changes in the pathways to elite status.
Filled
9540
Emily Myers
Speech, Language, and Hearing Sciences
The Language and Brain Laboratory seeks to understand how listeners process spoken language, and what neural underpinnings allow this to be achieved. We engage in research with both undergraduate participants and participants with acquired language disorders like Aphasia.
Filled
Questions?
Please contact the Office of Undergraduate Research at our@uconn.edu or 486-7939 with any questions about this program. General questions about work-study and student employment can be directed to Student Financial Aid Services – Student Employment at studentjobs@uconn.edu or 486-3474.