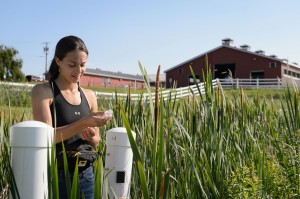 Are you are an undergraduate student with a federal work-study award? Would you be interested in assisting with faculty research for your work-study employment? If so, the Work-Study Research Assistant Program can help connect you to available research opportunities on campus.
Why Research?
There are many reasons to consider pursuing a position as a research assistant. Participation in undergraduate research is one way to explore your academic interests, learn about how research is conducted at the university, and build transferable skills useful in a range of fields. Read more about what other UConn undergraduates have to say about how they have benefited from engaging in undergraduate research.
How Can I Apply?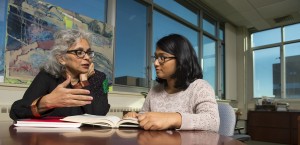 If you have a federal work-study award for 2019-20, apply for one of the research job postings in the JobX system listed below. You may apply to more than one posting if it aligns with your goals and interests. Please follow the specifications of the posting and upload all requested information (e.g., resume, cover letter, availability, references). Only applications from undergraduate students with work-study awards will be considered.
Applications are currently being accepted for all of the positions below with a status of "open." As applications are being reviewed on an ongoing basis, we encourage you to apply for all positions that interest you as soon as possible. Please check this page regularly as additional positions may be added through the beginning of the Spring 2020 semester. Students with Spring 2020 work-study awards must secure a job by early February (date TBD) or their awards will be canceled.
Job Postings for Spring 2020
 

(listed alphabetically by department)
---
| | | | | |
| --- | --- | --- | --- | --- |
| 10798 | Kristen Cooksey Stowers | Allied Health Sciences | This student will contribute to research on food and nutrition policy, health equity, food insecurity, food deserts/food swamps, community-based nutrition interventions under Dr. Kristen Cooksey-Stowers. | Closed -Hartford campus |
| 10482 | Sherry Pagoto/Jess Bibeau | Allied Health Sciences | Gain well-rounded research experience in our Center for mHealth and Social Media located in the Institute for Collaboration on Health, Intervention, and Policy. Our research is focused on weight loss, skin cancer prevention, mHealth, and social media. We have many projects going on at all different phases allowing for an opportunity to gain experience in each phase from study startup to recruitment, data collection, reporting, and interpretation. | Closed |
| 10966 | Ran Xu | Allied Health Sciences | My research focuses on data science and systems science research, with application in mhealth and food & nutrition. Current projects include pilot social network analysis and machine learning in weight loss intervention studies delivered via Facebook, data visualization and policy evaluation in studies involving food banks and food pantries. Research Assistants will be involved in multiple aspects of these projects. | Closed |
| 10974 | Jorge Aguero | Economics/El Instituto | Collect information from publicly available website. To gather the data, the student will have to develop a program to "web scrap" various websites. The data will be used to study the role of ballot design on electoral outcomes in developing countries. | Closed |
| 10972 | Oskar Harmon | Economics | This research study is to measure the gains in critical thinking skills and mastery of fundamental economic concepts as a result of the assignments in the course. The assignments in the course are on topics in sports that are current and controversial and therefore inherently likely to engage student interest (e.g. debating the issue of paying college athletes, managing a team in a sports fantasy league etc.). The assignments are intentionally scaffolded over the semester with the goal of improving critical thinking skills and developing mastery in critically applying fundamental economic principles to analysis of real-world issues. The objectives of the research are to measure gains in critical thinking skills and mastery of economic concepts, to make inferences of factors explaining the gains, and to make recommendations to improve the effectiveness of the course assignments. | Closed |
| 10581 | Sandra M. Chafouleas | Educational Psychology | This position entails working with Dr. Chafouleas and her research team, with specific emphasis on tasks for the UConn Collaboratory on School and Child Health (CSCH: see http://csch.uconn.edu).  The CSCH mission is to facilitate innovative research and dissemination in school and child health, acknowledging that a whole child lens that integrates academics and health in serving students leads to better student outcomes across domains (academic, social, emotional, behavioral, physical).  Although CSCH is engaged in many scholarly activities, the primary job tasks for this position include synthesis of research in different areas related to school and child health, with the intent to disseminate information on evidence-informed policy and practices (e.g. what are best practices for increasing physical activity?, what has the policy impact been on changes to school nutrition programs?) in multi-media formats (e.g., brief user-friendly reports, podcasts). | Filled |
| 10630 | Harry van der Hulst | Linguistics | My research regards the nature/nurture debate in general and as applied to the case of language. I am completing a book on this subject, a proposal for which has been accepted by Cambridge University Press. | Closed |
| 10973 | Kelly Herd | Marketing | As a marketing professor and consumer psychologist, I am interested in uncovering how people's thoughts and experiences influence their cognitions, particularly as they relate to the creative process. Using lab experiments, we ask participants to complete a series of creativity, brainstorming, and product design tasks, which are then evaluated on a variety of dimensions. | Filled |
| 11042 | Anthony Rizzie | Mathematics | Algebraic sets or varieties are n-dimensional zero sets of a finite list of polynomials in a prescribed number of variables. In one variable, these sets are relatively easy to compute and describe, but what happens in higher dimensional spaces? We will investigate the behavior of varieties in one-dimensional space and generalize to higher-dimensional spaces while searching for examples of the "worst case scenarios" in terms of complexity. | Filled |
| 11066 | Kenneth Campellone | Molecular and Cell Biology | The Campellone Lab studies (1) how the cytoskeleton controls the organization, shape, and movement of organelles; and (2) how cytoskeleton-driven cellular dynamics are altered during the pathogenesis of infectious diseases, genetic disorders, and aging.  The specific project associated with this position involves the expression, purification, and analyses of recombinant cytoskeleton-associated proteins in vitro. | Filled |
| 10732 | Solomiya Ivakhiv & Sophie Shao | Music | This assistant position will interview and survey high school music programs, clinics, and teachers in the state of Connecticut, as well as study effective methods of teaching, both classroom and individual, long-term and short-term, and develop strategies in recruiting, as well as to capture and sustain interest in string instrumental playing. In addition, the assistant will help create a monthly newsletter that will include announcements on String area events and help out with string orchestra events as needed according to their availability. | Closed |
| 10622 | Ji-Young Lee | Nutritional Sciences | The undergraduate research assistants in the molecular nutrition lab will participate in projects that determine how dietary factors play regulatory roles in energy metabolism, inflammation and fibrosis associated with obesity, fatty liver disease and cardiovascular disease via the modulation of epigenetic modes of action. | Filled |
| 11027 | Zehra Arat | Political Science | A student in this position will assist a political science professor in carrying out a number of human rights research projects (e.g., international human rights norms; the UN's approach to women's rights; neoliberalism and human rights; human rights discourse and practices in Turkey) that are in different stages. Thus, the job will allow the student to observe and participate in different stages of the research process, from the formulation and justification of a research question to the preparation and revision of articles for publication. | Closed |
Questions?
Please contact the Office of Undergraduate Research at our@uconn.edu or 486-7939 with any questions about this program. General questions about work-study and student employment can be directed to Student Financial Aid Services – Student Employment at studentjobs@uconn.edu or 486-3474.