Project Development Course
The UConn IDEA Grant Community
What UConn IDEA Grant Recipients Have to Say
The UConn IDEA Grant Program is about more than just receiving funding. It's about having a valuable learning experience that helps you explore a topic of interest, develop skills that will prepare you for a career or graduate study, test out career and/or academic options, and build a network of like-minded peers engaged in innovative and creative projects.
---
Project Development Course
All UConn IDEA Grant recipients are required to complete a non-credit online project development course prior to beginning their project work.
During the course, recipients work through a series of modules that help them refine their project plans, make arrangements for project supervision, secure research approvals if necessary, evaluate how and with whom to share the results of their work, and prepare to engage in a self-directed project. Through participation in the course, recipients will have the opportunity to share their project and receive input from their IDEA Grant peers and OUR staff. The course will take around 40 hours to complete and will be facilitated through HuskyCT.
The completion of the online course was extremely integral to the success of my project because it actually helped develop the project. When applying for an IDEA Grant, the main components we needed to consider were the topic/question, methods, and funding needs. The online course allows us to take a deeper look at it all and be realistic with a timeline, funding, and methods.
– Mahima Mehta '22, Spring 2021 UConn IDEA Grant Recipient
The online course kept me proactive about my project and thinking about it from multiple perspectives. Above all, it calibrated my expectations so that I knew what I could feasibly accomplish in the allotted time. It also kept me on the same page as my mentor, which I know he appreciated.
– Erik Choi' 23, Spring 2021 UConn IDEA Grant Recipient
I found the whole course to be helpful. It helped me plan ahead before the project even started. I do remember the activities help my advisor and I iron out any problems prior to the summer. All of phase too were the most helpful. I found this is where I was really able to think about the steps in my project and what each step really required.
– Brendan Hogan '21, Fall 2019 UConn IDEA Grant Recipient
Definitely the entire planning stage aided me in visualizing both big picture and everyday goals I needed to be working towards. Planning out the budget and timeline were most useful in visualizing how I should have been using the following time to complete my goals. Without the concrete mapping out of the critical months I had to plan my project, apply for IRB approval, advertise and solicit participants and more, I definitely would've been scrambling all year to get to the end of my project. The planning certainly helped me finish on time!
– Shanelle Jones '21, Fall 2019 UConn IDEA Grant Recipient
The Project Plan was a bear to complete, but was absolutely necessary in focusing my project and aligning it to my overall goals. If I didn't have to complete the Project Plan as in depth as I did, my project would be very disjointed and confusing, so I appreciated the goals of the Project Plan. I am driven by schedules, so I also really appreciated the Timeline portion of the course. It forced me to specify how much time each activity was going to take and how much time per week I would need to spend on each activity.
– Jackie Ose '18, Fall 2016 UConn IDEA Grant Recipient
While we found all of the course activities useful in organizing our thoughts and varying ideas for the project's direction, the most helpful activity was the Project Timeline. This required us to really break down everything we planned on accomplishing for our project and figure out how to fit all of those tasks into the year we had available to do so. This timeline changed multiple times over the course of the year as our project developed and changed shape, but having the initial plan to base our revisions off of was incredibly helpful.
– Kathrine Grant '19, Priscilla Grillakis '19, Ivy Horan '19, Madeleine Rusk '19
Spring 2017 UConn IDEA Grant Recipients
The online course contributed to the development of my project by allowing me to expand upon my established goals as well as critically think about the applications and implications of my project. By completing the online course, I had a stronger understanding of what I wanted to achieve through this project as well as how I can share my findings with others.
– Taylor Mangini '18, Spring 2017 UConn IDEA Grant Recipient
For the most part, the online course was how I developed my project. When I applied for the IDEA Grant, I knew what project I wanted to complete, but I did not really have a plan for how I was going to do it. This online class helped me to develop my project…It was very helpful for me to actually have to write my ideas down and organize them into goals and objectives. It helped me to visualize my project in more than just abstract terms.
– Abby Moore '16, Spring 2015 UConn IDEA Grant Recipient
The online course was extremely helpful in making me think about aspects of the project I either a) would not have thought about in the first place and b) may not have wanted to think about (the less fun or exciting parts of project development) but that are essential to creating a successful project. Because of the online course, I had budget expectations, and many details already figured out at an early stage that I surely would not have without the online course.
– Benjamin Piascik '17 Spring 2016 UConn IDEA Grant Recipient
Creating a budget was extremely helpful during the course as I had not done anything like that before and was surprised to see how quickly research costs add up. It also helped me guide my spending.
---

The UConn IDEA Grant Community
The IDEA Grant program is more than funding for projects. Students who are awarded IDEA Grants join a diverse interdisciplinary community of innovative and creative thinkers. During the academic year there are social events and skill-building workshops for UConn IDEA Grant recipients to help build a sense of community and facilitate networking opportunities for the group.
Social events provide an opportunity for IDEA Grant recipients to get to know their peers and share information about their projects. In past years the social events have included a kick-off gathering at the beginning of the academic year, study breaks during the academic year, and cookie decorating at the end of the fall semester. The social events culminate with a year-end reception in April to celebrate the accomplishments of the IDEA Grant recipients who have completed their projects and to welcome the next group of recipients to the program.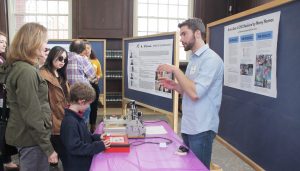 Skill building workshops focus on topics of interest to the group. Past workshop topics have included public speaking skills, research poster preparation, building and maintaining professional relationships, considering graduate school and the graduate school application process, funding beyond the IDEA Grant, and a discussion of how to incorporate UConn IDEA Grant projects into a resume and speak about the project in an interview.
---

What UConn IDEA Grant Recipients Have to Say
The biggest impact completing my UConn IDEA Grant project had on me is encouraging me to pursue research in my future career. I hope to continue research in my future career as a physician as well as throughout medical school. This August, I have been given the opportunity to present my work to the 2022 Annual ESA Conference, something I would have never expected or have been able to do had it not been for my involvement in the UConn IDEA Grant. In all, the UConn IDEA Grant has brought forth my passion for asking questions and pursuing answers.
– Mahima Mehta '22, Spring 2021 UConn IDEA Grant Recipient
I am proud to say that this IDEA Grant has made me the leader I am today, and brought me the confidence to speak my mind and enact upon change I want to see, not only in the science world but in other aspects of my life or programs I am in.
– Nathalia Hernandez '20, Spring 2019 UConn IDEA Grant Recipient
The IDEA Grant has allowed me to partake in a research project of my own and showed me the inner workings of what a PhD may look like in nursing. Although this process was very frustrating at times, I thoroughly enjoyed it and have learned a tremendous amount. It has heightened my desire to give back to underserved communities. I've now considered pursuing my PhD in nursing because of this experience!
– Nathalia Hernandez '20, Spring 2019 UConn IDEA Grant Recipient
I developed a lot of technical lab skills from completing this research project and became a more confident researcher. I learned to improvise when things went wrong and problem-solve in a creative and effective way. Through all the presentations I did, I became a much better presenter, and by the end of the semester I was able to cater my presentation to my audience and select which details were important in my experiment as well as what might be more confusing than meaningful. Most of all, I learned a lot about myself. I faced successes as well as challenges and became better at handling them creatively. Because of my IDEA grant, I was able to test my own limits and found out that I truly am capable of conducting a research project that will make an impact on the field of neuroscience.
– Miriam Katz '19, Spring 2017 UConn IDEA Grant Recipient
I have developed my ability to be flexible and to communicate effectively with a lot of different people in a variety of roles. It was challenging at times to balance my academics with my research which allowed me to hone in on my time management skills. This was also the first time that I have really presented research and all of the opportunities to present allowed me to strengthen that skill. Research was a very new thing for me and I feel that I have developed my overall research skills – applying for grants, getting approval, carrying out research, forming results, etc. – and with this foundation I can continue to conduct research in my nursing profession.
– Courtney Lopiano '18, Spring 2017 UConn IDEA Grant Recipient
The IDEA Grant project definitely helped me grow up a bit. I traveled alone for the most part while visiting 8 countries, and it really solidified my sense of independence, and made me more comfortable with being in unfamiliar places. It helped me realize my love of music and art, and the responses I've received from listeners has been overwhelmingly positive. It's an amazing piece for my portfolio, and will help me get composition and sound design jobs in the future, I'm sure.
– Abigail Golec '18, Spring 2017 UConn IDEA Grant Recipient
By completing my UConn IDEA Grant, I was able to get a better sense of what is needed to execute a research project. This impacted my goals and future plans because it made me more inclined to want to get into the field of research and experimental design. Also, I found that completing my IDEA Grant really challenged me to fine-tune my researching skills. I have never completed a scientific project that required the majority of the work to be completed individually, so this IDEA Grant gave me the opportunity to build my abilities in reading, writing, and statistical analysis.
– Taylor Mangini '18, Spring 2017 UConn IDEA Grant Recipient
Because of my UConn IDEA Grant, I have been able to showcase my work to a global audience, and have opened up so many doors to future opportunities that never would have been possible before…This truly shaped my future. I now know I want to pursue a career in video production and filmmaking. I want to continue my passion for storytelling and create bigger and better projects in the future.
– Maneetpaul Singh '15, Fall 2014 UConn IDEA Grant Recipient
From completing my IDEA Grant project, I was able to learn about interviewing, how to properly fill out IRB forms, present comfortably in front of others, and become confident in myself and my career choice. This project was nothing but beneficial. Now, I have found myself to become a great resource and advocate for others to push my students and peers to complete undergraduate research as well.
– Isabella Horan '19, Fall 2015 UConn IDEA Grant Recipient
I challenged myself to move even further beyond my coursework in my final year here at UConn, and I am so grateful to have been able to work on a topic I am passionate about through my IDEA Grant experience. My exhibition furthered my passion for research that I hope to continue in graduate school for years to come…Because of my IDEA Grant I was able to turn what I started as an idea into a project that I am immensely proud of. I have developed as a student, a researcher, and a curator, and I am so grateful to have had the opportunity to work with such amazing professors, archivists, and staff members as I brought my exhibition to life!
– Giorgina Paiella '16, Spring 2015 UConn IDEA Grant Recipient
I have learned so much from completing my IDEA Grant project. It has been an uphill battle every step of the way, however with each and every challenge I faced, I also conquered. I became stronger and more confident in my abilities. I have become very independent in my work and learned to be an advocate for myself when things were not working out. Although I may have wished many times for a much simpler path I believe that the skills I have learned in completing this project will lead me to be an independent strong professional woman who can advocate not only for her patients but for myself.
– Jessica Laprise '16, Fall 2014 UConn IDEA Grant Recipient
I developed my scientific literacy skills in developing and executing my IDEA Grant project. Before my project, I mostly read scientific papers for classes and even then, I would mostly just read the abstract and skim the rest of the paper. But with my project, I had to closely analyze all aspects of an article and determine how it would be pertinent for my research.
– Srinivas Srirangam '17, Fall 2015 UConn IDEA Grant Recipient
My project had such a powerful impact on me. In completing this grant project, I not only gained the necessary skills and confidence to create a successful body of artwork and carry out my first solo exhibition, but also, it helped in strengthening my skill-set and consequently helped me get my first job as a fresh graduate.
– Diana Abouchacra '17, Spring 2016 UConn IDEA Grant Recipient