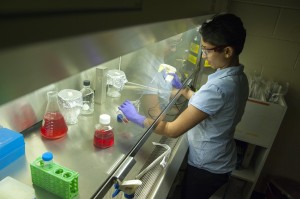 Undergraduate research is a learning activity that enriches a student's undergraduate experience. Students report that participation in research, scholarship, or creative activity broadens and deepens their classroom learning and supports the development of a range of skills. Some of the benefits of undergraduate research are listed below, along with comments from UConn undergraduate researchers about their own experiences in these areas.
---
Developing mentoring relationships
Mentors play a critically important role in students' research and creative experiences, challenging students to try new things and offering a window onto the thinking of an experienced researcher or practitioner. A mentor who knows you well can advise you about your undergraduate career and your next steps after graduation; s/he will also be able to write a more detailed letter of recommendation than a professor who knows you only in a classroom context.
Making a big campus feel smaller
Participation in research, scholarship, or creative activity can help you find your niche on campus. The close relationships that are developed through sustained work together give a sense of community to research groups, labs, and teams.
Changing your perspective on ignorance and failure
Scholarly inquiry has a way of putting all that you do not know into stark relief, while rarely working quite as expected. As you learn to think like a researcher, you begin to see ignorance and failure not as personal shortcomings but as opportunities to ask questions, reframe problems, and try new approaches.
Cultivating an understanding of research design and methodology
Hands-on experience conducting original research supports students' understanding of how to design investigations, how to make appropriate methodological choices, and how to implement different techniques and methods.
Developing a range of transferable skills
While some of your learning will be research-specific, undergraduate research also develops transferable skills with broad application, including critical thinking, problem solving, communication, collaboration, and independence.
Exploring career and graduate education options
Undergraduate research and creative activity offer students opportunities to gain hands-on experience in fields of interest to them. This experience often prompts realizations about what kinds of work students enjoy most and what career paths they wish to pursue.