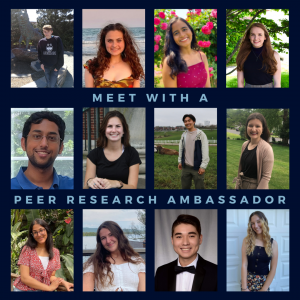 OUR Peer Research Ambassadors are UConn undergraduates who have engaged in research and creative activity during their undergraduate careers and want to help other students get involved.
Peer Research Ambassadors can share their advice, help you navigate the process of getting involved in undergraduate research, and connect you with OUR programs and resources during individual peer advising appointments.
One-on-One Peer Advising Appointments
Peer Research Ambassadors are available for one-on-one conversations to share their advice and discuss the process of getting involved.
Complete the form below to request an appointment with a Peer Research Ambassador. Want to learn more about the Peer Research Ambassadors? Click here to view their profiles.
Peer Research Ambassador Meeting Request Form