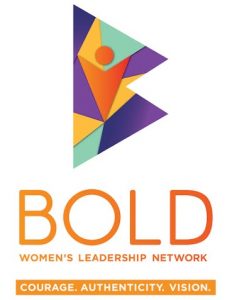 BOLD's Mission
The BOLD Women's Leadership Network is a pioneering program cultivating courageous leadership in young women during the college years and beyond. BOLD focuses on facilitating opportunities for women's career development and networking through scholarship funding, programming, and post-graduation fellowships. Ultimately, the program will empower young college women to become leaders in their life and careers after college.
Program Overview
The BOLD Women's Leadership Network is a program generously funded by the Helen Gurley Brown Foundation. BOLD was established to honor legendary Cosmopolitan magazine editor-in-chief Helen Gurley Brown. In the spirit of Brown's legacy, BOLD develops courageous leadership among young women in higher education who possess the skills necessary to effect positive change in relation to some of our most challenging social issues. More information on the project can be found on their website.
The BOLD Network was launched at five institutions of higher education led by women presidents who have demonstrated their commitment to collaboration, innovation, diversity, and inclusion: California State University, Fullerton; Ithaca College; Middlebury College; Smith College; and Rutgers University—Newark. The University of Connecticut, The College of Saint Rose, and Colby-Sawyer College joined BOLD in 2018.
BOLD at UConn
UConn's BOLD program focuses on facilitating opportunities for women's leadership on campus through scholarship funding, programming, and engagement in service/leadership projects. The BOLD program utilizes a cohort model in which a small group of students are selected to receive scholarships via a competitive application process. Each BOLD Women's Leadership Network cohort makes a 2-year commitment to the program. Scholars work closely with program leadership and mentors to develop individualized projects for implementation during the summer between their junior and senior years. During the senior year, Scholars  disseminate the results of their summer projects, participate in ongoing leadership development activities, and serve as mentors for subsequent cohorts. BOLD is built upon a strong intergenerational model that connects Scholars with women faculty, staff, philanthropists, entrepreneurs, and alumni.
UConn's BOLD program is led by Dr. Sally Reis, Board of Trustees Distinguished Professor of Educational Psychology Emerita and Senior Advisor to the Provost. The program's operations are managed by the BOLD Director, a staff member in the Office of Undergraduate Research. UConn's BOLD Network engages senior women leaders and faculty at UConn, including deans, vice presidents/provosts, and distinguished professors.
For questions regarding BOLD at UConn, please contact BOLD Director and OUR Advisor Emily Schwab at emily.r.schwab@uconn.edu.