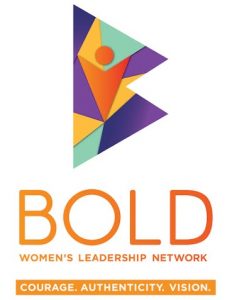 Program Overview
Eligibility
The BOLD Opportunity and Commitment
BOLD Service/Leadership Projects
Application Deadline
How to Apply
Information for Recommenders
FAQ
---
Program Overview
The BOLD Women's Leadership Network is a pioneering program cultivating courageous leadership in young women during the college years and beyond. BOLD focuses on facilitating opportunities for women's career development and networking through scholarship funding, programming, and engagement in service/leadership projects. By awarding scholarship and fellowship funding, the BOLD initiative mitigates financial burdens while allowing young leaders to leverage their own identities, strengths, and collective knowledge to effect positive social change. BOLD equips young women to be innovative agents of change in their lives and in whatever career field or industry they pursue after graduation.
The BOLD Women's Leadership Network, generously funded by the Pussycat Foundation, was established to honor legendary Cosmopolitan magazine editor-in-chief Helen Gurley Brown. In the spirit of Brown's legacy, BOLD develops courageous leadership among young women in higher education who possess the skills necessary to effect positive change in relation to some of our most challenging social issues.
The BOLD Network was launched at five institutions of higher education led by women presidents who have demonstrated their commitment to collaboration, innovation, diversity, and inclusion: California State University, Fullerton; Ithaca College; Middlebury College; Smith College; and Rutgers University—Newark. The University of Connecticut, The College of Saint Rose, and Colby-Sawyer College joined BOLD in 2018. BOLD is rooted within an intergenerational network of women at each participating institution, as well as across institutions, providing Scholars opportunities to make and strengthen connections via an annual leadership summit and other program activities. Visit the national program website to learn more about BOLD; please note that iterations of the program at different institutions do vary, so the national site may describe program features not included in UConn BOLD.
UConn's BOLD program is led by Dr. Sally Reis, Board of Trustees Distinguished Professor of Educational Psychology, and Rachel Rubin, Chief of Staff to the President of the University of Connecticut. The program's operations are managed by the BOLD Director, Liza Boritz, a staff member in the Office of Undergraduate Research. UConn's BOLD Network engages senior women leaders and faculty at UConn, including President Herbst, deans, vice presidents/provosts, and distinguished professors.
2019 BOLD Cohort
Through a competitive application process, 9 exceptional students were selected for the inaugural BOLD cohort. These students represent a diverse set of interests, skills, identities, and project concepts.  More information regarding the first BOLD cohort will be available shortly.  The names and school/college affiliation of the inaugural cohort are:
| | |
| --- | --- |
| BOLD Scholar | School/College |
| Thalia Fuentes | Liberal Arts & Sciences | Business |
| Abigail Lafontan | Liberal Arts & Sciences |
| Xinyu Lin | Engineering |
| Tanya Miller | Liberal Arts & Sciences |
| Katherine Morris | Liberal Arts & Sciences |
| Himaja Nagireddy | Liberal Arts & Sciences |
| Sofia Nieto | Liberal Arts & Sciences |
| Valeria Popolizio | Liberal Arts & Sciences |
| Kathleen Renna | Agriculture, Health & Natural Resources |

---
Eligibility
The application period for the Current BOLD Cohort has closed.  Information regarding future application processes for upcoming BOLD cohorts will be announced when available. Eligibility for the inaugural cohort of UConn BOLD Scholars was:
Currently be pursuing a bachelor's degree at UConn, and plan to graduate with that bachelor's degree in May 2020 or August 2020. This includes students pursuing Bachelor of Arts, Bachelor of Fine Arts, Bachelor of General Studies, Bachelor of Music, Bachelor of Science, and Bachelor of Science in Engineering degrees.
Plan to be based at the Storrs campus for the following three semesters (Spring 2019, Fall 2019, Spring 2020), in order to participate fully in program activities. Students studying abroad in Fall 2018 are eligible to apply.
Be currently enrolled as a full-time student, in good standing.
Identify as a woman.
Have demonstrated exceptional academic promise, strong leadership potential, creative and critical thinking skills, and a commitment to social change.
The BOLD Network is committed to supporting young women from all backgrounds and especially those who have been significantly underrepresented in higher education in terms of socioeconomic class, race, ethnicity, religion, sexual orientation, gender identity, citizenship, and ability.


---
The BOLD Opportunity and Commitment
The BOLD program provides extensive financial and programmatic support to students. With that opportunity comes a reciprocal responsibility to embody BOLD's core values of courage, authenticity, and vision, and to fulfill the program's requirements as outlined below.
Program Benefits:
Access to leadership programming, career development and networking opportunities, and community-building events on and off campus.
Scholarship support for the duration of your participation as a BOLD Scholar (Spring 2019, Fall 2019, and Spring 2020, contingent on your continued eligibility). This support will be determined on an individual basis, in consultation with Student Financial Aid Services, and will focus on replacing loans and addressing unmet need.
Support in developing a BOLD service leadership project during Spring 2019.
Stipend and project expense support for BOLD service leadership projects during Summer 2019. BOLD Scholars may apply for additional project funding from the Pussycat Foundation via Magic Grants.
Program Commitment:
Maintain full-time enrollment and good academic standing at UConn.
Prioritize and participate in BOLD cohort meetings and other BOLD programming. As a BOLD Scholar, you are required to attend and participate thoughtfully and productively in regular meetings with your BOLD Director and cohort. These meetings will be an opportunity for you to develop your leadership and networking skills and connect with your fellow BOLD Scholars. Other gatherings of the BOLD Scholars, including an annual retreat, will be scheduled throughout the year, and you are expected to prioritize these events and be a fully engaged participant.
Engage with program resources and mentors to develop a BOLD service leadership project during Spring 2019.
Implement a BOLD service leadership project during Summer 2019. This is expected to be a substantially full-time commitment for the summer, with corresponding stipend support.
Maintain timely communication with your BOLD Director, with your fellow Scholars, and with your project mentors.
Act as a BOLD Ambassador on campus and beyond. As a BOLD Scholar, you are expected to represent yourself, the University of Connecticut, and the BOLD Women's Leadership Network with integrity and as a leader committed to facilitating positive social change on campus, in your community, and through engagement with the global community.

---
BOLD Service/Leadership Projects
A central component of the BOLD Scholars experience is engagement in a service/leadership project in Summer 2019. BOLD funding – for student stipend and project expenses – will allow Scholars to focus on their summer projects rather than pursuing summer employment. Each Scholar will secure a mentor or faculty advisor for their project, which represents an opportunity to focus on creativity, innovation, original research, and service. The project should be personally meaningful, relevant, and engaging to the Scholar. While the project need not be tied to the Scholar's major(s) or minor(s), it should be guided by the Scholar's goals and future plans, with a focus on leadership or service experience. The following examples are intended to be illustrative of the types of projects BOLD Scholars might pursue. BOLD Scholars may seek additional funding for their projects from the Pussycat Foundation via Magic Grants.
Examples of Possible Service/Leadership Projects:
A study about food insecurity among members of a given community and work to develop a food pantry initiative that provides healthy food items in a dignified and inclusive space to those in need.
A qualitative study that will examine a specific cultural group's educational experience, with attention to the influence of culture, identity, and assumptions, with the goal of improving upon the education system in a specific community.
A study of the forgotten female artists of a specific period of time with the creation of a show that explores creative female artists from this period to be displayed in one of the University museums to highlight female artists who still experience the same lack of exposure.
An examination of the experiences of former Middle Eastern refugee youth who have completed primary and/or secondary school in the U.S to identify factors that have led to inclusion and exclusion and how their different social identities have impacted resettlement.
An investigation of the correlations among gun violence rate, hate crime rate, and implicit bias. Statistical and spatiotemporal analysis will be employed to understand these relationships at the county level across the U.S.
A study of how poor maternal nutrition during pregnancy affects the expression of specific growth factors and growth factor binding proteins in the placenta and, ultimately, the growth of the fetus.
The development and launch of a new UConn program through which makers will design and prototype an assistive technology solution that addresses an individualized need in collaboration with a person with a disability.
At the time of application, prospective BOLD Scholars are asked to describe the service/leadership project they hope to pursue in Summer 2019. Specifically, each applicant must describe the question/issue/problem her project will address, the approach her project will take, and the project outcome(s) she foresees. BOLD Scholars will develop and refine their project plans over the course of the Spring 2019 semester, in dialogue with their project mentors, fellow Scholars, and BOLD staff.


---
Application Deadline
The BOLD application deadline was Tuesday, December 4, 2018, 11:59pm.
Finalists interviewed with selection committee representatives on Monday, December 10, 2018.


---
How to Apply
The application for the BOLD Women's Leadership Network is now closed.
The BOLD Application Outline lists all the information you will be asked to provide within the online application. As part of your application, you will identify the UConn faculty or staff member who will complete an online recommendation form on your behalf, and send an invitation to him/her. Please send that invitation as soon as possible, to give your recommender sufficient time to complete the online recommendation form. You can initiate the recommendation invitation before you complete and submit your application. If you have questions about how to send the recommendation invitation or submit your online application, review the Quest Portal user tips.
If you have questions about the BOLD Scholars program or the application process, schedule an appointment with BOLD Director Liza Boritz or contact her through email at liza.boritz@uconn.edu.


---
Information for Recommenders
UConn BOLD Women's Leadership Network applicants are required to have one recommendation submitted on their behalf by a UConn faculty or staff member. It is the student's responsibility to contact potential recommenders and secure their willingness to complete a recommendation form by the application deadline.  While applications for the current chort are closed, the following information may be helpful for students, faculty, and staff interested in future cohort opportunities:
Recommenders are asked about the following topics in the recommendation form:
For how long and in what context(s) you have known the student.
Your assessment of the student's academic promise, leadership potential, creative and critical thinking skills, and commitment to social change.
Your assessment of the student's potential to develop and implement a successful service/leadership project in summer 2019.
Your estimation of the student's experiences, interests, and/or personal characteristics that would enable her to benefit from participation in the BOLD program and contribute to the BOLD Scholars cohort.
DEADLINE FOR SUBMISSION
Applications are currently closed. Recommendations must be submitted by the recommenders directly. Please follow the link emailed to you in order to submit your recommendation. You should receive an email from the UConn Quest Portal (noreply@smapply.io) with the subject line "Request for recommendation." Please check your Spam or Clutter folder if the student has requested the recommendation, but you haven't seen the message in your inbox. You can also go to the Quest Portal homepage, click on "Log In" in the top right corner, select "UConn Single Sign-on," and enter your netID and password. If you have been designated as a recommender, you should be able to view that request in the system after logging in.
Please contact BOLD Director Liza Boritz at 860-486-4313 or liza.boritz@uconn.edu with any questions or concerns about recommendations.

---
FAQ


Does being selected as a BOLD Scholar affect my eligibility for other OUR awards?
You may not engage in your BOLD service leadership project and a SURF Award project or UConn Co-op Legacy Fellowship project or UConn IDEA Grant project concurrently. Support for project expenses through the BOLD Scholars program may impact your eligibility for OUR supply or travel award funding. Students considering applying to the BOLD Women's Leadership Network and other OUR award programs should schedule an appointment with Liza Boritz to discuss their proposed project and individual circumstances.

I'm completing my degree requirements early or late compared to a standard 4-year bachelor's degree timeline. Can I be a BOLD Scholar?
Yes. BOLD Scholars in the first selected cohort must plan to earn their bachelor's degrees in May 2020 or August 2020. If your planned May or August 2020 graduation marks the end of an accelerated course of bachelor's study (e.g., 3 years at UConn) or an extended course of bachelor's study (e.g., 5 years at UConn), that is fine.

If I am selected as a BOLD Scholar, can I enroll in a summer course?
UConn offers a number of different summer sessions that vary in duration. We recommend that you pursue no more than 3 credits of coursework simultaneously with your service leadership project. You may elect to schedule your project weeks so as not to overlap with weeks when you will be completing summer coursework, or you may elect to adjust your time commitment to your fellowship project during those weeks. Coursework and other summer commitments will be discussed with BOLD Scholars on an individual basis as part of their project planning activities in the Spring Semester.

The service leadership project I'm imagining involves work abroad. Is this possible through the BOLD program?
Yes, this is possible. Please be aware that engaging in projects abroad will require additional preparation and planning, and that various university policies apply. Learn more about preparing for an international project here. You will be expected to plan your summer travel dates to allow for participation in BOLD programming and events.

My recommender is unable to submit his or her recommendation by the application deadline – does this hurt my chances of being selected as a BOLD Scholar?
Applicants are encouraged to discuss the deadline with their recommenders; should your recommender have questions or concerns, please encourage them to reach out to Liza Boritz (860) 486-4312, liza.boritz@uconn.edu).

I have questions about the BOLD program; is there someone I can speak with?
If you have questions about BOLD or the application process, schedule an appointment with BOLD Director Liza Boritz or contact her through email at liza.boritz@uconn.edu.

---