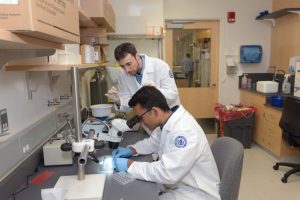 Program Overview
Eligibility
Application Deadline
How to Apply
Financial Support
Summer 2022 Research Opportunities
FAQ
---
Program Overview
The Health Research Program offers a pathway into undergraduate research for students with interests in health and the biomedical sciences. By facilitating connections between UConn Health researchers and UConn undergraduates, this program will involve more students in the cutting-edge research at the Farmington campus. The Health Research Program includes a combination of academic year and summer research opportunities, offering undergraduates and their faculty mentors a structure for sustained engagement in research projects, maximizing student learning and preparation for graduate study and/or careers in the health professions.
Information Sessions
For an overview of the program, students are encouraged to attend one of the following information sessions:
Drop-In Advising
Virtual drop-in advising hours with Dr. Rowena Grainger are available at this link at the following times:
Tuesday, January 11th, 10-11am
Wednesday, January 12th, 10:30-11:30am
Thursday, January 13th, 1-2pm
Friday, January 14th, 9:30-10:30am
Tuesday, January 18th, 10-11am
Thursday, January 20th, 1-2pm
Eligibility
To be eligible for the Summer 2022 phase of the Health Research Program, a student applicant must:
Currently be pursuing a bachelor's degree at UConn, and plan to graduate with that bachelor's degree no earlier than May 2023. This includes students pursuing Bachelor of Arts, Bachelor of Fine Arts, Bachelor of General Studies, Bachelor of Music, Bachelor of Science, Bachelor of Science in Engineering, and Bachelor of Social Work degrees.
Be a full-time student in good standing at a UConn campus during the Spring 2022 semester.
Be willing to continue their research involvement for Fall 2022 and Spring 2023.
Not have participated in any previous phase of the Health Research Program. Each student is eligible for a maximum of one placement and one summer stipend through the Health Research Program.
Beyond these general eligibility criteria, each individual opportunity description will specify the desired qualifications for that position.


---
Application Deadline
The applications for Summer 2022 Health Research Program opportunities will open on January 10th, 2022. Applications must be submitted by January 31, 2022.
We expect that faculty will interview their leading candidates between February 4 and February 18, and offers will be made in late February 2022.


---
How to Apply
When the program opens in January, research opportunity descriptions and application links will be accessible in the Summer 2022 Research Opportunities section of this page. Each opportunity will have its own description and application link. If you wish to apply for more than one opportunity, you must tailor your application materials to each opportunity's requirements and submit an application to each opportunity that interests you. Please note that if you apply to more than one opportunity, OUR will send you a follow-up form in mid-February in which you will rank those opportunities in order of preference; your ranking must be submitted no later than 9am on Friday, February 18th. For guidance on how to use the application management system, please review the Quest Portal User Tips.


---
Financial Support
Stipend Support to Students
Students participating in the summer 2022 program will receive a $4,000 stipend for a commitment of 360 hours of summer research (10 full-time weeks).
Students may receive a maximum of one summer stipend over the course of their participation in the Health Research Program.
Academic year student researchers (continuing research for fall & spring) may be eligible to apply for a $1,000 winter research stipend if they commit to completing 90 hours of winter break research.

---
Summer 2022 Research Opportunities
A time commitment of 360 hours (typically 10 full-time weeks) is expected for student researchers during the summer. Summer researchers will receive a stipend of $4,000 to cover the expenses associated with participating in this program (e.g., summer rent, meals, parking, etc.).
The names of participating faculty and a brief description of the research opportunities they are sponsoring will be listed in the table below. You will be able to click on the relevant link in the right column to view more detail about the opportunity and access its application.

Faculty Mentor
Project Description
Opportunity Link
Dr. Corey Acker
Center for Cell Analysis and Modeling
The student will support testing of new voltage-sensitive dyes using cell culture assays. Custom fluorescence microscopy equipment is used along with patch clamp electrophysiology to control and monitor the voltage inside cells, including human stem cell derived heart cells, by recording voltage changes optically as well as electrically. MATLAB is used for all aspects, from hardware control to data analysis.
HRP SU22-1
Dr. Thomas Agresta
Department of Family Medicine and Center for Quantitative Medicine
Medication Reconciliation is a complex process requiring access to information from a variety of Electronic Health Records, a patients or caregivers knowledge of what is being given in a home or what is administered in a hospital or skilled nursing facility. We seek students with skills and knowledge in user-centered design, pharmacy, nursing and Computer Science to assist in further development of prototypes to collect, analyze and share medication data to optimize care outcomes. This project will involve qualitative and quantitative research on design options and continued modification and development of user-facing mobile health tools.
HRP SU22-2
Dr. Srdjan D Antic
Department of Neuroscience
This is a basic science research project aimed at understanding cellular determinants of Alzheimer's disease (AD). We use an animal model of AD — mice carrying specific genes, which trigger development of amyloid plaques in the cerebral cortex. By the means of brain slice technology, electrophysiology (synaptic stimulations), and optical imaging (calcium and voltage imaging) we seek to determine if synaptic transmission in disease-free animals (Control) is any different from that occurring in the AD model animals developing amyloid plaques. The student will learn software for analysis of the optical imaging records (physiological), organization and presentation of measurements, some basic histological techniques for detecting plaques in saved brain sections, and if interested, the student may perform optical imaging of synaptically-evoked depolarizations in brain slices working together with a postdoc.
HRP SU22-3
Dr. Margaret Briggs-Gowan
Department of Psychiatry
This coming summer, our lab will be conducting multiple studies to learn about how stress and violence affect infants and young children. The first study is an NIMH-funded study investigating the effects of domestic violence on young children, ages 4-6 years. The summer intern will have the opportunity to assist with study activities which include developmental testing, computerized activities that assess children's processing of facial and auditory stimuli, puppet interviews, and in-depth interviews with mothers about family life and the child's development, posttraumatic stress, and well-being. Psychophysiological data are acquired during visits including event-related brain potentials. The second is investigating how stress associated with the pandemic is affecting infants born during the pandemic. This study will involve multiple methods, including surveys, interviews, videotaped assessments, and DNA samples. The summer intern will be an integral member of our study team and will have ample opportunity to get hands on research experience in these studies.
HRP SU22-4
Dr. Melissa Caimano
Department of Medicine
The project would be related to understand how Lyme Disease spirochete (Borrelia burgdorferi) modulates gene transcription during its tick-mouse enzootic life cycle. Specifically, the project would involve identification of promoter elements that promote differential expression of virulence determinants required for survival in ticks or mice. The work will involve use of either fluorescent reporter constructs or DNA binding assays.
HRP SU22-5
Dr. Manuel Castro-Alamancos
Department of Neuroscience
The project is for students in the fields of data science, engineering, computer science, applied math, statistics, psychology, or neuroscience that have programming skills in Python, R, and/or Labview who are interested in helping develop tools for automated analysis of complex data pipelines originating from neuroscientific experiments addressing the neural basis of behavior in mice. The student would be involved in developing the software tools used to control the experiments (actuators and computer vision) and analyze the data from these experiments (data models).
HRP SU22-6
Dr. Jennifer Cavallari
Department of Public Health Sciences
We are seeking a student to join the Total Teacher Health research team studying the factors that influence educator stress and implementing workplace solutions to improve teacher mental well-being. You will learn many aspects of Public Health research including qualitative and quantitative data management and analysis as well as creation and testing of program materials. You will also gain knowledge in Public Health, community-based-participatory research, and occupational health and skills in survey research methods, and data management and analysis.
HRP SU22-7
Dr. Caroline Dealy
Department of Craniofacial Sciences/Cell Biology/Orthopedic Surgery/Biomedical Engineering
The long term goal of this project is to develop a treatment for Osteoarthritis, a painful and debilitating disease caused by loss of articular cartilage of the joints (eg, knee or jaw). We have found that BMP and EGFR signals act antagonistically to control cartilage growth. We want to better understand this interaction so we can one day stimulate re-growth of articular cartilage lost in osteoarthritis. We found that mice that lack BMP develop osteoarthritis. We are testing the hypothesis that EGFR signals are upregulated in these mice, and that this is involved in cartilage loss. For this purpose this summer project will quantify levels of EGFR signaling and other cellular responses in the knee and/or jaw cartilage of these mice, using immunohistochemistry, image analysis and statistical analysis. Most of the tissue is already available; work with living animals will not be required. After the project is complete, the student will learn how to prepare and present a research poster which will be given at Frontiers and possibly at an additional nearby conference.
HRP SU22-8
Dr. Alix Deymier
Department of Biomedical engineering
This study will focus on elucidating the mechanisms by which acid infiltrates bone and how it affects the bone porosity. We have shown that acid exposure seems to preferentially affect the bone exterior versus the bone interior. Therefore we will be using high resolution microCT, fluorescent dye kinetics and other imaging techniques to try and understand how acid gets into bone and what those consequences are.
HRP SU22-9
Dr. Breno Diniz
Department of Psychiatry and Center on Aging
This research project aims to investigate the role of immunosenescence in aging and depressive symptoms in older adults. More specifically, we are investigating if older adults with depression have changes in inflammatory markers and immune cells phenotypes that are commonly observed during the pathological or accelerated biological aging processes. We also investigate if these immunological abnormalities are related to health outcomes in older adults with depression. In this project, we evaluate the inflammatory markers in the plasma using state-of-art multiplexing analyses. Immune cell phenotyping will be done using flow cytometry and immunohistochemistry.
HRP SU22-10
Dr. Jennifer Garza
Department of Medicine
I am seeking a summer intern to participate in my research on promoting musculoskeletal health of older adults. You would be part of a longitudinal research study in which we have collected multiple measurements of strength, flexibility, and endurance over a 15-year period. Your responsibilities would include analysis of trends in the musculoskeletal health data over time. There may be some opportunities to assist with data collection as well.
HRP SU22-11
Dr. Mallika Ghosh 
Center for Vascular Biology
Cell-cell fusion is a highly specialized process mediated by fusion regulatory proteins involved in a variety of diverse cellular function. CD13, a transmembrane protein that we study in my lab, controls many events including adhesion, migration, membrane organization and endocytosis that are all critical in cell-cell fusion. We hypothesize that CD13 is a negative regulator of cell-cell fusion during osteoclastogenesis and macrophage giant cell formation, and thus is a novel target for therapeutic intervention in pathological conditions mediated by defects in cell-cell fusion such as osteoporosis and implant failure.
HRP SU22-12
Dr. Damion Grasso 
Department of Psychiatry
The summer research experience in the Family Adversity & Resilience Research (FARR) program involves two large studies funded by the National Institute of Health. The first is the Adaptation & Resilience in Childhood Study (ARCS), which seeks to understand what factors help to determine the link between early exposure to family violence and developing psychopathology in children ages 4-6. Activities related to this study include (1) facilitating in-person laboratory visits with families (e.g., conducting electroencephalograms, managing data acquisition, recording parent-child interactions), (2) assisting with participant correspondence, (3) laboratory visit preparation, and (4) recruitment efforts in the field. The second study is the Parenting Infants in the Pandemic Study (PIPS), which seeks to understand the impact of the pandemic on families who gave birth during the pandemic. This study involves an online survey and a remote interview where we will be conducting an interview, facilitating a parent-infant observation, and collecting DNA via a home kit. Students on this study will likely assist with participant correspondence, data management, remote visit preparation, and recruitment. Link to these research studies from our FARR page: h.uconn.edu/farr
HRP SU22-13
Dr. Carolyn Greene 
Department of Psychiatry
I am seeking an undergraduate student intern to assist with the Parent and Child Emotions Study (PACES) a research study investigating the role of emotion regulation and socialization of emotion in the intergenerational transmission of mental health problems among parents and children who have experienced trauma. The intern will assist with parent and child visits to our laboratory, where families will be completing questionnaires and engaging in dyadic tasks during which we will collect physiological data, and will also assist with other study tasks. The intern will have the opportunity to utilize study data to develop a poster or paper on a research question of their choosing, related to children's emotion regulation, parents' socialization behaviors, and children's functioning. The intern will be expected to attend research team meetings.
HRP SU22-14
Dr. Christopher Heinen 
Department of Medicine
Our laboratory studies the hereditary disease Lynch syndrome in which patients have a greatly increased risk of developing colorectal and other cancers. Lynch syndrome is caused by germline mutations in one of the DNA mismatch repair genes. The current project aims to examine the effects of patient-derived missense variants on mismatch repair function in a human stem cell model. We are using CRISPR gene editing to create patient variants in the MSH6 mismatch repair gene found in patients suspected of having Lynch syndrome.
HRP SU22-15
Dr. Mayu Inaba-Oguro 
Department of Cell Biology
The project aims to define factors localize to adherens junction (AJ) in an age-dependent manner. Summer student project is to generate transgenic flies to express proteins localize to adherens junctions (E-Cadherin and β-catenin) fused to a peroxidase (ascorbic acid peroxidase; APEX). Using these transgenic flies, we can perform Proximity-Labeling Mass Spectrometry (MS) to identify proteins localize to AJs using Drosophila ovaries isolated from young and old flies.
HRP SU22-16
Dr. Liisa Kuhn 
Department of Biomedical Engineering
This project is about designing and making 3D printed breast prostheses for women that have had cancer and then a mastectomy. These prostheses are non-implantable. The student will learn how to design the objects from 3D images of patients using free software and then will learn how to make the prostheses by 3D printing an elastomeric material using a large 3D printer. The prostheses are given to actual volunteers that are wearing the forms and providing feedback so that Dr. Kuhn and her team can optimize the longevity, comfort and fit.
HRP SU22-17
Dr. Changchun Liu 
Department of Biomedical Engineering
Rapid detection of pathogens plays a critical role in diagnostics of infectious diseases (e.g., COVID-19) (Ding, X. et al., Nature Communications, 2020, 11, 4711). In this summer project, we will develop microfluidics technology for DNA detection. The microfluidic device will be fabricated by using 3D printing technology. Please find more detail on our current research through the website: https://smds.engr.uconn.edu/.
HRP SU22-18
Dr. Leslie Loew 
Center for Cell Analysis and Modeling
The lab is using computational methods to understand cell function. The project will involve learning how to use a cell modeling software tool that was developed in my lab called SpringSaLaD (https://vcell.org/ssalad). You will use it to understand the molecular and cellular principles controlling the assembly of molecular machines composed of many individual molecules containing multiple binding sites. If you are interested in computer programming, there will also be the opportunity to work on improving SpringSaLaD.
HRP SU22-19
Dr. Pedro Mendes
Department of Cell Biology
Iron Regulatory Proteins 1 and 2 (IRP1 and IRP2) are at the center of cellular iron regulation and though there is a wealth of experimental data surrounding these regulators and their targets, no quantitative models exist. The project will consist of developing a computational model of IRP regulation using published experimental data and the COPASI modeling software. The objective is to explore the quantitative nature of IRP regulation on their targets, particularly ferritin, the iron storage protein. The model will include the dynamics of 1) ferritin transcription, translation, and degradation, 2) the synthesis and degradation of IRP1/2, 3) IRP1/2 post-translational repression of ferritin synthesis, and 4) IRP1/2 inhibition by cytosolic iron. This project will allow the student to learn how to develop and use mathematical models of biological systems.
HRP SU22-20
Dr. Mina Mina 
Division of Pediatric Dentistry
The goal of all research project in my laboratory is improving the natural healing process of dentin ad pulp in the tooth. Reparative dentin that is formed by the nature healing process of tooth is similar (but not identical) to physiological dentin that is formed during tooth development. Unlike the Physiological dentin, reparative dentin is only a thin layer of poorly organized mineralized bridge secreted by odontoblast-like cells exhibiting impaired differentiation. However, the underlying mechanisms for the impaired differentiation of odontoblasts during reparative dentinogensis are not fully understood. The summer research project will include examining the inhibitory role of RUNX2, a transcription factor with a well-established stage-specific role in odontoblast differentiation in reparative dentinogensis.
HRP SU22-21
Dr. Marmar Moussa 
Department of Medicine (Neag Comprehensive Cancer Center)
Bioinformatics and Genomics advances, especially in cell capturing technologies as well as whole-genome and whole-transcriptome amplification are allowing for the sequencing of the minute amounts of DNA and RNA from a single cell. An unprecedented window into the extent and nature of genomic and transcriptomic heterogeneity under both normal and disease conditions is now open and single-cell approaches stand poised to revolutionize our capability to understand the scale of genomic, epigenomic, and transcriptomic diversity that occurs during the lifetime of an individual organism.

In our lab, we study the major technological and biological breakthroughs achieved in this field and actively address the remaining challenges in computational methods and algorithms development related to the field of single cell genomics. Development of computational methods using data science programming languages like R and Python will be the focus of this project. Undergrad students will get acquainted with bioinformatics tools and data science programming languages as well as participate in testing advanced computational methods and data collection and wrangling.

HRP SU22-22
Dr. Lakshmi Nair
Department of Orthopedic Surgery
The goal of the project is to develop bioactive nano-lipid formulation for treating musculoskeletal pain. The study involves preparing the formulation with different molar ratios of the lipids and study how this change affects the shape and structure of the nano-lipid structures. Also involves developing purification methods for the formulation and study the impact of the purification methods on the morphology of the lipids.
HRP SU22-23
Dr. Carla Rash 
Department of Medicine
We have two active opportunities that the student can choose from. The first is a NIH funded randomized clinical trial of interventions for employment seeking in persons living with HIV. The second project is a SAMHSA funded project focused on medication assisted treatment for individuals with opioid use disorder. Both projects involve opportunities to conduct interviews with patients and both research sites are located in Hartford.
HRP SU22-24
Dr. Tannin Schmidt
Department of Biomedical Engineering
Lubricin is a protein present in synovial fluid that maintains cartilage and joint health through its lubricating and anti-inflammatory properties. Our lab recently discovered lubricin also plays a role in bone health, in its ability to inhibit inflammatory bone loss. This research project aims to expand on this discovery and understand how lubricin helps prevent bone loss, by evaluating its ability to interact with other regulating molecules and cell activity in bone remodeling and homeostasis. The project will employ in vitro biophysical, biomechanical, and biochemical assays to achieve this goal.
HRP SU22-25
Dr. Henry Smilowitz 
Department of Cell Biology
Our laboratory, in combination with a small biotech company, pioneered the use of non-toxic high-Z nanoparticles, currently iodine nanoparticles, INPs, to powerfully enhance radiation therapy of tumors (INP-RT)–with an emphasis on the treatment of both primary and metastatic brain tumors and melanoma. Research projects this summer will include the use of orthotopic patient derived xenograft (PDX) models of primary and metastatic brain tumors as well as subcutaneous melanoma to study the efficacy of the INPs in mouse tumors that approximate the tumors in patients. Research projects on nanoparticle (NP) tumor loading (MicroCT, NP microdistribution (Confocal fluorescence microscopy), NP efficacy (in vivo radiation therapy), and synergy with other therapies such as chemotherapy and immunotherapy.
HRP SU22-26
Dr. Timothy Spellman
Department of Neuroscience
How do higher-order brain circuits support flexible decision-making? This is an age-old question in neuroscience that can now be addressed in new ways, thanks to recent advances in tools for precisely controlling and monitoring neural activity. This project will use optogenetic methods, high-throughput rodent behavioral tasks, and cutting-edge computational tools to map the neuromodulatory cell types in the prefrontal cortex responsible for cognitive flexibility. Students will take responsibility for helping fine-tune, execute, and analyze the data from this project.
HRP SU22-27
Dr. Melanie Tran 
Department of Medicine
Renal fibrosis is the pathophysiological hallmark of chronic kidney disease, which is characterized by fibroblast activation and dysregulation of the extracellular matrix. However, the mechanisms implicated in renal interstitial fibrosis are not well understood. This research project aims to investigate signaling pathways that regulate fibroblast activation and renal fibrosis. The student will gain extensive experience in cell culture, immunofluorescence, immunohistochemistry, Western blot and animal models of kidney disease.
HRP SU22-28
Dr. Rajkumar Verma 
Department of Neuroscience
We study purinergic receptors P2X4 ( a receptor for ATP) in stroke pathology. In brief, following a stroke, a burst of ATP is released from dying brain cells which further activates both neurons and microglial P2X4R to mediate fast excitatory neurotransmission via cation influx. Excessive activation of P2X4R causes the release of several pro-inflammatory cytokines at the early time point of ischemic injury. However, contrary to the effects of acute activation, chronic inhibition or absence of this receptor may impair stroke recovery. Therefore, given this dual temporal role of P2X4R in ischemic injury, we are systematically exploring for its therapeutic potential in post-stroke recovery.
HRP SU22-29
Dr. Penghua Wang 
Department of Immunology
This project will identify and functionally characterize the E3 ligases that are essential for SARS-CoV-2 (the virus that causes COVID-19) replication. We will apply CRISPR-Cas9 technology to generate gene knockout cells, examine if SARS-CoV-2 replication is impaired in gene-deleted cells when compared to gene-sufficient cells. We will then understand how the candidate genes help virus replicate, i.e., molecular mechanism of action. Significance: The candidate host genes could be potential antiviral drug targets.
HRP SU22-30
Dr. Yanlin Wang 
Department of Medicine
We are interested in the cellular and molecular mechanisms of kidney injury and fibrosis. A major pathological feature of kidney disease is inflammation. Currently, we are examining the role of PU.1, a transcription factor, in macrophage activation and polarization.
HRP SU22-31
Dr. Zhao-Wen Wang 
Department of Neuroscience
We recently discovered that melatonin promotes sleep in the nematode C. elegans by activating the SLO-1 potassium channel through a specific melatonin receptor, PCDR-1 (Niu et al., PNAS 117: 25128-25137, 2020). This project is to identify the neurons where PCDR-1 and SLO-1 act to regulate sleep by analyzing activities of neurons in the C. elegans sleep neural circuit using a genetically encoded calcium indicator, and by correlating neuronal activities with worm sleep behavior.
HRP SU22-32
Dr. Yi Wu 
Center for Cell Analysis and Modeling
The input of signal transduction is not limited to chemical cues. The mechanical properties of the cellular microenvironment, such as rigidity, are also sensed by the cells and lead to both transient cellular dynamics and persistent gene regulation. The phenomenon is called mechanotransduction which attracts great interest in research in recent years yet remains poorly understood. The project will use a novel fluorescent reporter and live-cell imaging to investigate how cells convert the mechanical cues to chemical signaling in space and time.
HRP SU22-33
Dr. Yulan Xiong 
Department of Neuroscience
The research opportunity available for the summer is to identify the new molecules involved in Parkinson's disease (PD) pathogenesis by performing genome-wide genetic screenings using single cell organism budding yeast. After identifying the new molecules, we will initialize the characterization of the functions of these new genes by performing a series of biochemistry studies (e.g. molecular cloning, western blotting, Co- immunoprecipitation, Confocal microscopy etc) using human cell and primary neuronal cultures.
HRP SU22-34
Dr. Ping Yan 
Center for Cell Analysis and Modeling
There is a research opportunity on developing new voltage sensitive dyes, which are used for imaging membrane potentials. The student will have broad hands-on experience on the synthesis of organic compounds, and test the newly developed voltage sensitive dyes using spectroscopic and microscopic methods, on model cell membrane, and even on real cells (in collaboration with Dr. Loew).
HRP SU22-35
Dr. Dong Zhou
Department of Medicine, Division of Nephrology
This summer project proposes to investigate how Calponin 2 (CNN2) determines the prognosis of acute kidney injury (AKI). CNN2 is an actin filament-associated regulatory protein that plays a central role in numerous fundamental biological processes, including cell proliferation, motility, and adhesion to substrates or others cells. Emerging evidence suggests that cell mechanics can have direct, non-transcriptional influences on cell metabolism. AKI is a refractory clinical syndrome associated with extremely high mortality and morbidity. However, very few studies pay attention to the metabolic changes after AKI. Therefore, in this summer project, we will investigate the role of CNN2 in AKI onset and progression from this new perspective, cell metabolism. The applicant will need to perform in vivo, in vitro, ex vivo experiments and learn the skills of bioinformatic analysis for the generated proteomics data for this project.
HRP SU22-36
FAQ

What time commitment is expected of a summer researcher in this program?
A time commitment of 360 hours (typically 10 full-time weeks) is expected for student researchers during the summer. The standard research dates for the program are May 23-July 29, 2022, but you may elect to extend your involvement in research in consultation with your faculty mentor. All weeks of summer research must be completed between May 9 and August 26, 2022.

What time commitment is expected of an academic year researcher in this program?
A time commitment of 3-9 hours/week is expected for student researchers during the academic year; this varies across research opportunities and is a key factor to consider as you are reviewing the different opportunities and considering which might be a good fit for you. The standard formula for academic credit is 1 credit for each 3 hours of weekly research, and you will register for the appropriate number of credits given the time commitment you are making to research. Note: In the absence of extenuating circumstances (e.g., leave of absence, study abroad), a student cannot discontinue participation in the HRP during one semester and resume participation in the HRP in the subsequent semester.

How do I earn academic credit for my participation in this program during the academic year?
You will likely earn Undergraduate Research, Independent Study, or a similar kind of course credit in the department associated with your major. The most common arrangement is for a Storrs faculty member to be the instructor of record for the course and to coordinate with the UConn Health faculty member supervising your research in order to approve a learning agreement and enter the appropriate grade at the end of the semester. OUR staff will work with you individually to provide guidance on how to proceed in your specific situation.

What transportation options are available for students?
Shuttle service will not be available during summer 2022 or in academic year 2022-23. An HRP travel subsidy request process that prioritizes students with financial need will be available during the academic year; summer 2022 HRP participants will be able to apply for these funds beginning in fall 2022. We encourage you to take your class schedule and planned transportation method into consideration when reviewing the possible research schedule associated with each opportunity.

Do I need to be pre-med to participate in this program? Do I need to be in Honors?
You do not need to be pre-med or be a member of the Honors Program in order to participate in this program. The program is open to all undergraduate students interested in health research. However, bear in mind that this is a demanding program that requires you to coordinate weekly travel to UConn Health. We encourage you to take a realistic look at your schedule, the demands of your other courses, and your past academic achievement in order to assess whether this program is a good fit for you.
OUR advisors would be happy to discuss your specific situation and the most appropriate research opportunities with you at any time. Review our Meet with an OUR Advisor page for more information on how to make an appointment.

How do these opportunities continue into the academic year?
Sustained engagement in a research project maximizes learning, so we want to make it possible for students to stay engaged in undergraduate research at UConn Health over longer periods of time. The Health Research Program is focused on developing new research opportunities and involving more undergraduate students in research at UConn Health. The program offers a structure for the new student-faculty pairs that are formed in the summer to continue into the academic year. Students selected for summer 2021 opportunities will complete a mid-summer assessment process along with their faculty mentors, which will gauge whether adequate research progress is being made and will ask both student and faculty to indicate their interest in continuing the research placement beyond the summer. Continuing placements will be contingent upon satisfactory student research progress and continued interest by both student and faculty (in addition to the student's full-time enrollment and good standing at the university). If a student continues his/her research in academic year 2022-23, s/he may be eligible to apply for a $1,000 winter research stipend if s/he commits to completing 90 hours of winter break research (and graduates no earlier than May 2023).
While students may continue research in this program across multiple academic years and/or summers, students are eligible for a maximum of one HRP summer stipend. In the absence of extenuating circumstances (e.g., leave of absence, study abroad), a student cannot discontinue participation in the HRP during one semester and resume participation in the HRP in the subsequent semester.

This application asks for a Science GPA. What is that? How do I figure out my Science GPA?
Unlike your cumulative GPA, your Science GPA is not automatically calculated and reported on your transcript. You will need to calculate this by entering the number of credits and your earned grade from each of your science classes into an online GPA calculator or by using the Nexus GPA calculator to select the relevant courses. We recommend that you move through your transcript methodically, using your best judgment to decide whether a given course is a "science course."