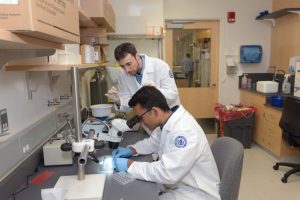 Program Overview
Eligibility
Application Deadline
How to Apply
Financial Support
Summer 2021 Research Opportunities
FAQ
---
Program Overview
The Health Research Program offers a pathway into undergraduate research for students with interests in health and the biomedical sciences. By facilitating connections between UConn Health researchers and UConn undergraduates, this program will involve more students in the cutting-edge research at the Farmington campus. The Health Research Program includes a combination of academic year and summer research opportunities, offering undergraduates and their faculty mentors a structure for sustained engagement in research projects, maximizing student learning and preparation for graduate study and/or careers in the health professions.
Information Sessions
Wednesday, January 20, 2:00-3:00pm – Join here
Friday, January 22, 1:30-2:30pm – Join here
Monday, January 25, 12:00-1:00pm – Join here
Eligibility
To be eligible for the Summer 2021 phase of the Health Research Program, a student applicant must:
Currently be pursuing a bachelor's degree at UConn, and plan to graduate with that bachelor's degree no earlier than May 2022. This includes students pursuing Bachelor of Arts, Bachelor of Fine Arts, Bachelor of General Studies, Bachelor of Music, Bachelor of Science, Bachelor of Science in Engineering, and Bachelor of Social Work degrees.
Be a full-time student in good standing at a UConn campus during the Spring 2021 semester.
Be willing to continue their research involvement for Fall 2021 and Spring 2022.
Not have participated in any previous phase of the Health Research Program. Each student is eligible for a maximum of one placement and one summer stipend through the Health Research Program.
Beyond these general eligibility criteria, each individual opportunity description specifies the desired qualifications for that position.


---
Application Deadline
The applications for Summer 2021 Health Research Program opportunities will open in early January 2021. Applications must be submitted by February 1, 2021.
We expect that faculty will interview their leading candidates between February 5 and February 19, and offers will be made in late February 2021.


---
How to Apply
Research opportunity descriptions and application links are accessible in the Summer 2021 Research Opportunities section of this page. Each opportunity has its own description and application link. If you wish to apply for more than one opportunity, you must tailor your application materials to each opportunity's requirements and submit an application to each opportunity that interests you. Please note that if you apply to more than one opportunity, OUR will send you a follow-up form mid-February in which you will rank those opportunities in order of preference; your ranking must be submitted no later than 9am on Friday, February 19th. For guidance on how to use the application management system, please review the Quest Portal User Tips.


---
Financial Support
Stipend Support to Students
Students participating in the summer 2021 program will receive a $4,000 stipend for a commitment of 360 hours of summer research (10 full-time weeks).
Students may receive a maximum of one summer stipend over the course of their participation in the Health Research Program.
Academic year student researchers (continuing research for fall & spring) may be eligible to apply for a $1,000 winter research stipend if they commit to completing 90 hours of winter break research.

---
Summer 2021 Research Opportunities
A time commitment of 360 hours (typically 10 full-time weeks) is expected for student researchers during the summer. Summer researchers will receive a stipend of $4,000 to cover the expenses associated with participating in this program (e.g., summer rent, meals, parking, etc.).
The names of participating faculty and a brief description of the research opportunities they are sponsoring are listed in the table below. Click on the relevant link in the right column to view more detail about the opportunity and access its application.
Faculty Mentor
Project Description
Opportunity Link
Dr. Corey Acker
Department of Cell Biology
The student will support testing of new voltage-sensitive dyes using cell culture assays. Custom fluorescence microscopy equipment is used along with patch clamp electrophysiology to control and monitor the voltage inside cells, including human stem cell derived heart cells, by recording voltage changes optically as well as electrically. MATLAB is used for all aspects, from hardware control to data analysis.
SU21-1
Dr. Tom Agresta
Center for Quantitative Medicine
Seeking a student researcher to participate in research and development of user interface designs for a mobile application to reconcile medications. The student will participate in qualitative and quantitative research on end user display options, and implement user interface design by modifying an existing product. The student will participate in work with end users to identify requirements, develop and share mock interfaces, and host focus groups around features that are important for end users of a medication reconciliation application.
SU21-2
Dr. Srdjan Antic
Department of Neuroscience
In Alzheimer's disease (AD), the loss of synaptic function is suspected before accumulation of characteristic amyloid plaques in cerebral cortex, and long before a patient presents with symptoms. In this project, we wanted to quantify the changes in synaptic function that occurs in AD model mice. Identifying these changes, will help towards development of earlier therapeutic interventions and diagnosis. Experiments include optical imaging of brain slices with synaptic stimulation paradigms, histological treatments of fixed brain slices for measuring accumulation of amyloid plaques, and fluorescent and confocal microscopy. Note that students will not work with live animals or have any contact with live animals.
SU21-3
Dr. Michael Blinov
Center for Cell Analysis and Modeling
Mathematical modeling of biological processes is important to gain understanding of the underlying biological mechanisms and predict dynamics and outcomes of experiments and medical interventions. Mathematical models describe interactions among components of biological systems. Models are implemented and simulated in the Virtual Cell (http://vcell.org) software using GUI. We will develop a set of small models (ModelBricks, http://modelbricks.org) that serve as building blocks for larger models. A related project is connecting them to ImageJ software.
SU21-4
Dr. Margaret Briggs-Gowan
Psychiatry
This coming summer, our lab will be conducting multiple studies to learn about how stress and violence affect infants and young children. The first study is an NIMH-funded study investigating the effects of domestic violence on young children, ages 4-6 years. The summer intern will have the opportunity to assist with study activities which include developmental testing, computerized activities that assess children's processing of facial and auditory stimuli, puppet interviews, and in-depth interviews with mothers about family life and the child's development, posttraumatic stress, and well-being. Psychophysiological data are acquired during visits including event-related brain potentials. The second study will be investigating how stress associated with the pandemic is affecting infants born during the pandemic. This study will involve multiple methods, including surveys, interviews, videotaped assessments, DNA samples and potentially MRI. The summer intern will be an integral member of our study team and will have ample opportunity to get hands on research experience in these studies.
SU21-5
Dr. Doug Brugge
Public Health Sciences
We are interested in communicating the risk from air pollution near highways to people who live next to them. A summer intern would help us with our health communication efforts. Last summer our intern helped with evaluating an infographic we developed. Similar work is anticipated this next summer.
SU21-6
Dr. Stephen Crocker
Department of Neuroscience
Extracellular vesicles, also referred to as "exosomes" are a primordial form of intercellular communication. We have recently reported that extracellular vesicles isolated from blood plasma when administered to mice with neuroinflammation triggers a shift in their adaptive immune response and a spontaneous clinical disease phenotype more closely resembling human multiple sclerosis (Willis et al. 2019 Proc.Natl.Acad.Sci, 116:10488-493). This project will delve into the characterization of the autoimmune T cells initiated in this model using RNAseq, TCR profiling and flow cytometry techniques.
SU21-7
Dr. Caroline Dealy
Reconstructive Sciences/Cell Biology/Orthopedic Surgery/Biomedical Engineering
Post-Traumatic Osteoarthritis (PT-OA) is a severe and rapidly progressing joint degeneration that follows acute traumatic injury to the articular cartilage of the knee or ankle. Osteochondral allografting is a surgical approach that attempts to delay PT-OA onset by replacing the damaged articular cartilage with healthy articular cartilage obtained from a donor tissue bank. A challenge that limits the effectiveness of this approach is lack of seamless healing at the donor-host cartilage interface. In animal studies, we have identified a growth factor that stimulates cartilage repair potential by progenitor cells present in articular cartilage. The long-term goal of this project is to use this growth factor to develop a clinically-feasible approach to achieve seamless healing between the implanted donor graft cartilage and the patient's own articular cartilage.
SU21-8
Dr. Richelle deMayo
Department of Pediatrics
Research in the Division of Biomedical Informatics involve translational research projects, applying evidence-based health information technologies to improve health care processes and outcomes.
The student would select a project from the following:
– evaluation of aspects of telemedicine (provider wellbeing, telehealth equity, provider training effectiveness)
– evaluation of artificial intelligence/machine learning for provider documentation efficiency,
– evaluation of predictive models to better identify septic pediatric patients,
– evaluation of pediatric-specific medication alerts to improve safety and reduce alert fatigue,
– evaluation of the use of self-service analytics tools to support quality improvement efforts.
– evaluation of a tool to reduce ICU-related delirium in pediatric patients.
SU21-9

Dr. Alix Deymier




Department of Biomedical Engineering 

We are interested in understanding the effects of a high acid diet on the musculoskeletal system. We have developed a mouse model of diet-induced acidosis and are now interested in examining how acid exposure affected the mouse rotator cuff. The selected student will learn to perform Raman spectroscopy, microCT, and mechanical testing on mouse shoulders to determine how acidic diet changed the structure, composition, and mechanics of the tissue.
SU21-10
Dr. Zhichao Fan
Department of Immunology
Due to the limitation of the detection method, the dynamic changes of immune cells, such as neutrophils, monocytes, or lymphocytes, during inflammatory diseases is unclear. In vivo flow cytometry (IVFC) is a novel non-invasive diagnostic technique to quantify specific circulating cells in mice. By using IVFC, we can access the dynamics of immune cells during inflammatory diseases, such as LPS-induced systematic inflammation or lung inflammation. This project is suitable for undergraduate research since all experimental setups (mice, equipment, reagents, protocols) are established.
SU21-11
Dr. Jennifer Garza
Department of Medicine
We are seeking students interested in an opportunity to work on a project related to physical activity among working pregnant women. During the summer semester, the student will primarily be responsible for data analysis of existing physical activity data and literature review. There may also be opportunities to work directly with participants on field data collection.
SU21-12
Dr. Damion Grasso

Department of Psychiatry

The student may engage in human subjects research that broadly seeks to understand behavioral and biological factors that influence children's mental health, including posttraumatic stress disorder (PTSD) following exposure to trauma or violence. One study focuses on individual differences in how young children exposed to domestic violence respond to threat cues. Another emerging study examines the effects of the COVID-19 pandemic on mental health, including PTSD, in perinatal families. Research activities may include interacting with human research participants, data collection and management, guided readings, and guided data analysis.
SU21-13
Dr. Carolyn Greene

Department of Psychiatry

I am seeking an undergraduate student intern to assist with the Parent and Child Emotions Study (PACES) a research study investigating emotion regulation among parents and children who have experienced trauma. The intern will assist with parent and child visits to our laboratory, where families will be completing questionnaires and engaging in dyadic tasks during which we will collect physiological and observational data. The intern will also assist with recruitment activities in the community, screening and scheduling subjects, administrative tasks, and data entry and analysis, and have the opportunity to utilize initial study data (or data from a prior study) to develop a poster or paper on emotion regulation and children's functioning. The intern will receive training in relevant tasks and be expected to attend research team meetings.
SU21-14
Dr. Arthur Gunzl

Department of Genetics and Genome Sciences

Our research is on gene expression factors and mechanisms in the lethal human parasite and unicellular eukaryote Trypanosoma brucei (we work with a strain that is not infectious for humans). We investigate transcription and RNA splicing of pre-mRNA, processes that deviate substantially between trypanosomes and the human system. Current projects that are open for participation focus on a cyclin-dependent kinase (CDK) complex that is essential for protein coding gene expression and parasite viability as well as on the basal function of only two introns the parasite has retained for hundreds of million years of evolutionary time.
Participation in either project will comprise learning of cell culture techniques, molecular cloning and a variety of biochemical, genetic and imaging techniques. While the focus will be on wet lab experience, there may be an opportunity for the application of next generation sequencing. On the theory side, there will be opportunities to understand the intricacy of the host-pathogen interaction.
SU21-15
Dr. Rosa Guzzo

Department of Neuroscience

The focus of my research is understanding the epigenetic regulation in the development of the endochondral skeleton. We have identified a novel role for Dot1L, a chromatin modifier, in cartilage development and joint morphogenesis. Mice lacking expression of this gene in embryonic development exhibit a unique skeletal dysplasia phenotype. Research projects in my laboratory will utilize novel animal models systems of genetic loss of Dot1L function, primary cell cultures, differentiation assays, transcriptome analysis and chromatin assays to define the developmental and epigenetic contribution of Dot1L in embryonic and postnatal development.
SU21-16
Dr. James Li

Department of Genetics and Genome Sciences

We study how the brain develops and how abnormal development contributes to brain disorders. We are using a number of approaches, including single-cell genomics and epigenomics, molecular biology, and experiments in stem cells and animal models (mouse and chick), to study the generation of various neurons and the assembly of neural circuitry, particularly in the cerebellum. Our multidisciplinary study will provide students with ample opportunities to explore different research approaches and identify a project that aligns with the individual's skill, interest, and career goal.
SU21-17
Dr. Changchun Liu

Department of Biomedical Engineering

Molecular diagnostics plays a critical role in rapid detection and identification of infectious diseases (e.g., COVID-19) (Ding, X. et al., Nature Communications, 2020, 11, 4711). In this summer project, we will develop microfluidics technology for nucleic acid detection. The microfluidic device will be fabricated by using 3D printing technology. Please find more detail on our current research through the website: https://smds.engr.uconn.edu/.
SU21-18
Dr. Leslie Loew

Center for Cell Analysis and Modeling

The lab is using computational methods to understand cell function. The project will involve learning how to use a cell modeling software tool that was developed in my lab called SpringSaLaD (https://vcell.org/ssalad). You will use it to understand the molecular and cellular principles controlling the assembly of molecular machines composed of many individual molecules containing multiple binding sites. If you are interested in computer programming, there will also be the opportunity to work on improving SpringSaLaD.
SU21-19
Dr. Pedro Mendes

Center for Cell Analysis and Modeling

Investigate the presence of chaotic dynamics in a set of differential equation-based models of biological systems. The student will use the software COPASI, and its cloud-based version Cloud-COPASI, to apply different global optimization algorithms in order to search for the existence of aperiodic behavior (chaos) in those models. The project will allow the student to learn about mathematical models of biological systems, computational systems biology, and simulation using high-performance computing.
SU21-20
Dr. Wendy Mok

Molecular Biology and Biophysics

Our lab is interested in the problem of antibiotic treatment failure. In particular, we are investigating the survival strategies of bacterial persisters, which are rare cells within genetically clonal populations that can withstand lethal doses of antibiotics without acquiring mutations. Using microbiological, genetic, and analytical techniques, the student will explore the impact of environmental factors— including those stemming from microbe-microbe interactions—on the response and tolerance of Escherichia coli or Staphylococcus aureus persisters to antibiotics targeting different cellular processes.
SU21-21
Dr. Siddika Mulchan

Department of Pediatrics

This project seeks to examine the feasibility and efficacy of a health care provider-focused intervention to reduce implicit racial bias toward youth with sickle cell disease (SCD). Specific aims are to: 1) examine the feasibility of an intervention incorporating individuation and perspective-taking targeting health care provider implicit racial bias toward youth with SCD, 2) examine the efficacy of the intervention on reducing health care provider implicit racial bias in pediatric SCD, and 3) examine whether the intervention contributes to less biased decision-making in pediatric SCD clinical care. Opportunities to assist with the development and validation of computer-based vignettes with artificial intelligence (AI) interface to ensure measures to assess implicit racial bias are scientifically-valid.
SU21-22
Dr. Douglas Oliver

Department of Neuroscience

The student project will be to assist in the testing of an electrophysiological test for tinnitus in human subjects. The student will assist in the enrollment and scheduling of new subjects and in the actual testing. This is an electrophysiological test where brain activity is ecorded from scalp electrodes while the subjects are listening to sound. It is similar to that used for testing newborn babies in hospital if they are suspected of having a hearing loss. It time permits, the student may participate in the behavioral training of mice and their electrophysiological testing.
SU21-23
Dr. Carla Rash

Department of Medicine

Our lab uses clinical trials to investigate a behavioral treatment called contingency management to motivate behavior change. Two of our current NIH-funded studies examine how to help people persevere in the long and often difficult process of getting employment: one is with unemployed persons living with HIV/AIDS and the other is unemployed persons with hazardous alcohol use.
SU21-24
Dr. Blanka Rogina

Department of Genetics and Genomic Sciences

Indy (I'm not dead yet) encodes a plasma membrane citrate transporter predominantly expressed in fly metabolic tissues: the midgut, fat body and oenocytes. We have shown that organism-wide reduction in Indy activity extends fly health and longevity by altering energy metabolism. We are performing experiments to determine the effects of tissue-specific INDY reduction on fly health (mobility, stress resistance, metabolism) and longevity. Our preliminary data indicate that gut-specific Indy reduction in flies recapitulates many health benefits found in Indy hypomorphs including longer lifespan. Proposed experiments will address contributions of tissues-specific Indy reduction and shed light on the mechanism by which Indy reduction increase fly health and longevity non-autonomously.
SU21-25
Dr. Melissa Santos

Department of Pediatrics

Connecticut Children's has launched our health disparities research group. This group has several projects undergoing all under the umbrella of making sure all families have the same access to care and are included in relevant clinical research being conducted at our institution. Students will work to extract data from our electronic health record in order to support these projects.
SU21-26
Dr. Henry Smilowitz

Department of Cell Biology

Our lab in collaboration with a small biotech company pioneered the used of high-Z nanoparticles to enhance radiation therapy of tumors–with an emphasis on brain tumors.
We have shown that novel iodine nanoparticles (INPs) enhance radiation therapy of advanced gliomas and metastatic breast tumors growing in the brains of mice. We wish to extend our studies to patient derived xenograft (PDX) tumors growing in the brains of mice. Our focus will be the ability of targeted and non-targeted nanoparticles to load selected PDX tumor models with defined characteristics.
SU21-27
Dr. Rajkumar Verma

Department of Neuroscience

In one of the main projects of the lab, we study role of purinergic receptors P2X4 (a receptor for ATP) in stroke pathology. In brief, following a stroke, a burst of ATP is released from dying brain cells which further activates both neurons and microglial P2X4R to mediate fast excitatory neurotransmission via cation influx. Excessive activation of P2X4R causes the release of several pro-inflammatory cytokines at the early time point of ischemic injury. However, contrary to the effects of acute activation, chronic inhibition or absence of this receptor may impair stroke recovery. Therefore, given this dual temporal role of P2X4R in ischemic injury, we are systematically exploring for its therapeutic potential in post-stroke recovery.
SU21-28
Dr. Yanlin Wang

Department of Medicine

Several research projects are available to summer research students. The specific project will be tailored to student's interest. Our lab are interested in the pathogenesis of chronic kidney disease. A key pathologic feature of chronic kidney disease is renal fibrosis, which is characterized by fibroblast activation and excessive production and deposition of extracellular matrix. We are investigating several signaling pathways that regulate fibroblast activation into myofibroblasts. Specifically, we are studying TGF-beta/Smad signaling and JAK3/STAT6 signaling in fibroblast activation.

SU21-29
Dr. Yi Wu

Center for Cell Analysis and Modeling

Optogenetics has become a powerful tool in studying signaling transduction, thanks to its precise control at the speed of light and the spatial resolution of the diffraction limit. Specifically, the LOV domain (Wu et al., Nature 2009) can exert precise control over a signaling protein in its subcellular localization, protein-protein interaction, and allosteric regulation of enzymatic activity. We are looking for a motivated student to conduct protein engineering studies and learn with us how to control protein kinases or any other signaling proteins with light.
SU21-30
Dr. Ming Xu

Center on Aging

My lab is trying to find novel interventions to slow down the aging process, and alleviate a number of diseases as a group. My recent work has shown several drugs can extend lifespan and maintain physical function in aged mice. The project here is to find new drugs for delaying aging using primary human cells and mice. Student(s) will gain extensive experience on cell culture, mouse studies, and overall aging research.
SU21-31
Dr. Ping Yan 

Center for Cell Analysis and Modeling

There is a research opportunity on developing new voltage sensitive dyes, which are used for imaging membrane potentials. The student will have broad hands-on experience on the synthesis of organic compounds, and test the newly developed voltage sensitive dyes using spectroscopic and microscopic methods, on model cell membrane, and even on real cells (in collaboration with Dr. Loew).
SU21-32
Dr. Daniel Youngstrom

Department of Orthopedic Surgery

Multiple projects are available related to musculoskeletal stem cell differentiation in the contexts of development/regeneration of 1) craniofacial bone and 2) intervertebral disc. Depending on the project, the student will gain skills in some or all of the following: wet lab cell/molecular biological techniques, histological workflows, imaging modalities including fluorescence microscopy and x-ray microtomography, zebrafish husbandry and surgical models, and/or mammalian cell culture. The student will be required to keep accurate experimental notes, regularly report on progress in small group settings, and ultimately function with increasing independence in a small and dynamic team.
SU21-33
Dr. Yanjiao Zhou

Department of Medicine

My lab is a computational biology lab. We are interested in understanding interactions of airway and gut microbiome with mucosal immunity in asthma and aging. The technique we use includes anaerobic culture, molecular biology, and multi-OMICS technology. The students will have the opportunity to learn wet bench techniques and bioinformatics, depending on their interests.
SU21-34
FAQ

What time commitment is expected of a summer researcher in this program?
A time commitment of 360 hours (typically 10 full-time weeks) is expected for student researchers during the summer. The standard research dates for the program are May 24-July 30, 2021, but you may elect to extend your involvement in research in consultation with your faculty mentor. All weeks of summer research must be completed between May 10 and August 27, 2021.

What time commitment is expected of an academic year researcher in this program?
A time commitment of 3-9 hours/week is expected for student researchers during the academic year; this varies across research opportunities and is a key factor to consider as you are reviewing the different opportunities and considering which might be a good fit for you. The standard formula for academic credit is 1 credit for each 3 hours of weekly research, and you will register for the appropriate number of credits given the time commitment you are making to research. Note: In the absence of extenuating circumstances (e.g., leave of absence, study abroad), a student cannot discontinue participation in the HRP during one semester and resume participation in the HRP in the subsequent semester.

How do I earn academic credit for my participation in this program during the academic year?
You will likely earn Undergraduate Research, Independent Study, or a similar kind of course credit in the department associated with your major. The most common arrangement is for a Storrs faculty member to be the instructor of record for the course and to coordinate with the UConn Health faculty member supervising your research in order to approve a learning agreement and enter the appropriate grade at the end of the semester. OUR staff will work with you individually to provide guidance on how to proceed in your specific situation.

What transportation options are available for students?
We do not expect that shuttle service will be available during summer 2021 or in academic year 2021-22. We will develop an HRP travel subsidy process that prioritizes students with financial need; HRP participants will be able to apply for these funds beginning in fall 2021. We encourage you to take your class schedule and planned transportation method into consideration when reviewing the possible research schedule associated with each opportunity.

Do I need to be pre-med to participate in this program? Do I need to be in Honors?
You do not need to be pre-med or be a member of the Honors Program in order to participate in this program. The program is open to all undergraduate students interested in health research. However, bear in mind that this is a demanding program that requires you to coordinate weekly travel to UConn Health. We encourage you to take a realistic look at your schedule, the demands of your other courses, and your past academic achievement in order to assess whether this program is a good fit for you.
OUR advisors would be happy to discuss your specific situation and the most appropriate research opportunities with you at any time. Review our Meet with an OUR Advisor page for more information on how to make an appointment.

How do these opportunities continue into the academic year?
Sustained engagement in a research project maximizes learning, so we want to make it possible for students to stay engaged in undergraduate research at UConn Health over longer periods of time. The Health Research Program is focused on developing new research opportunities and involving more undergraduate students in research at UConn Health. The program offers a structure for the new student-faculty pairs that are formed in the summer to continue into the academic year. Students selected for summer 2021 opportunities will complete a mid-summer assessment process along with their faculty mentors, which will gauge whether adequate research progress is being made and will ask both student and faculty to indicate their interest in continuing the research placement beyond the summer. Continuing placements will be contingent upon satisfactory student research progress and continued interest by both student and faculty (in addition to the student's full-time enrollment and good standing at the university). If a student continues his/her research in academic year 2021-22, s/he may be eligible to apply for a $1,000 winter research stipend if s/he commits to completing 90 hours of winter break research (and graduates no earlier than May 2022).
While students may continue research in this program across multiple academic years and/or summers, students are eligible for a maximum of one HRP summer stipend. In the absence of extenuating circumstances (e.g., leave of absence, study abroad), a student cannot discontinue participation in the HRP during one semester and resume participation in the HRP in the subsequent semester.

This application asks for a Science GPA. What is that? How do I figure out my Science GPA?
Unlike your cumulative GPA, your Science GPA is not automatically calculated and reported on your transcript. You will need to calculate this by entering the number of credits and your earned grade from each of your science classes into an online GPA calculator or by using the Nexus GPA calculator to select the relevant courses. We recommend that you move through your transcript methodically, using your best judgment to decide whether a given course is a "science course."