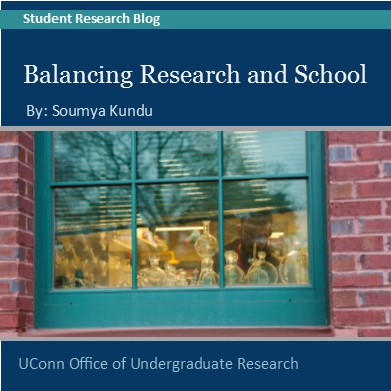 The Peer Research Ambassadors are UConn students who have engaged in research and creative activity during their undergraduate careers and want to help other students get involved. Ambassadors attend OUR workshops and help represent OUR at events such as career fairs and open houses. They also serve as an informal advisory board, sharing feedback with OUR administrators on how to improve outreach efforts and programming.
In addition, Peer Research Ambassadors are available to talk with students and share advice about getting started with and engaging in research, scholarship, and/or creative projects. If you're looking to get involved in these activities, it is extremely valuable to hear directly from other students about their experiences.
Student Research Blog: New Posts Every Thursday!
Balancing Research and School
By: Soumya Kundu, Peer Research Ambassador
For me, summer has always been the most productive time for making progress on research. Without the regular worry of upcoming deadlines for coursework or responsibilities tied to extracurricular activities, I had the freedom to devote all of my attention to my research projects during the past two summers. However, summer doesn't last forever, and often, work on the research project continues through the semester. Continue reading
Peer Research Ambassador Profiles
Click on the Ambassador photos below for their full profiles and to contact an Ambassador.
Peer Research Ambassador Alumni
Nellie Binder

Major: Individualized Major in International Relations

Graduated: Spring 2015

My interest in research began early on in my college career when I started to explore the relationship between visuals and human rights. This interest culminated in an independent study project that has buttressed my current Honors Thesis research on the Holocaust and Israeli Palestinian conflict. Furthermore, after receiving a SURF award this past summer, I was able to travel to Poland to investigate Holocaust memorialization and visuals in light of this ongoing conflict. This project was titled Implications in the Past and Present: Holocaust Memorialization through Photographs, Camps, and Museums. The SURF and independent study research has evolved into my Honors Thesis in which I will be more thoroughly analyze the current situation in Israel and Palestine.

Beyond my interest in Holocaust memorialization I have been involved in research for the UConn Writing Center. Last year, I presented at the New England Writing Center Association Conference on a research proposal that I crafted for my writing practicum course. Titled The Collective vs. Individual in Personal Statement Writing: An Examination of the Influence of Culture in the Writing Center, my project explored the effect of various cultural factors, in particular interdependency, on personal statement tutorials.

Nellie is now pursuing a J.D. at Suffolk University, with particular interests in immigration, asylum, and refugee law.

Michael Bond

Majors: Molecular and Cell Biology & Chemical Biology (Individualized Major)

Graduated: Spring 2016

I am currently an undergraduate researcher in the lab of Dr. Charles Giardina. Before I joined, members of Dr. Giardina's lab identified an agent, AK301, that arrests HT29 colon cancer cells in mitosis and sensitizes the cells to TNF-induced apoptosis. We believe that it causes these effects by limiting the polymerization of microtubules. Along with the lab's graduate student, Avijeet Chopra, I have been detailing the effects of AK301 on microtubules and TNF sensitivity in HT29 colon cancer cells, WI38 lung fibroblasts and immortalized YAMC and IMCE mouse colon epithelium cell lines.

As a SURF award recipient I was able to study AK301's effects for ten weeks this summer. My research found that AK301 is able to sensitize cells to apoptosis, without completely disrupting microtubule polymerization. The implication of this is that normal colon epithelium may be able to recover from treatment with the drug whereas colon cancer cells will undergo apoptosis. Over the coming semester I will continue to study the specificity of AK301 and hopefully elucidate its mechanism of interactions with microtubules. I've really enjoyed my time in the Giardina Laboratory and cannot wait until I get to publish my first paper.

I came into the University of Connecticut knowing that I wanted to get involved in cancer research. Cancer has had a major impact on my family. I've had to watch many of my family members battle the diseases and the horrible side effects of radiation and chemotherapy. During my first semester, I asked my genetics professor who the best cancer researchers were at the University. She referred me to her former P.I., Dr. Giardina. After reading some of his work on colon cancer (mainly his work with alternative chemotherapeutic agents like vitamin D) I knew his lab was where I wanted to be. After a successful interview during the winter break of my freshman year, I started my undergraduate research career in the Giardina Lab during my second semester.

Mike is now pursuing a Ph.D. in Biological and Biomedical Sciences at Yale.

Steven Burger

Major: Molecular and Cell Biology

Minor: Bioinformatics

Graduated: Spring 2015

I began work in the Nelson lab the second semester of my freshman year. At the time I was also considering a career in medicine and began shadowing at Connecticut Children's Hospital as well as training as an EMT. While I enjoyed both experiences, I ultimately decided research was the right path for me.

During my time in lab I've been involved in several projects, but all have dealt with a central theme: computational analysis of gene expression changes during reprogramming (mature tissue becoming stem cells) or differentiation (stem cells becoming mature tissues). Currently, I am using single cell analysis to identify cell lineages in developing mouse embryos. I am also COO of Research Exposure and Education Development in STEM (REEDS), a club designed to introduce students to the various careers available in STEM research.

Steve is now pursuing a Ph.D. in Biological and Biomedical Sciences at Harvard University with the support of an NSF Graduate Research Fellowship.

Brock Chimileski

Majors: Physiology and Neurobiology & Molecular and Cell Biology

Graduated: Spring 2017

My undergraduate research experience here at UConn started when I became a member of Dr. Alexander Jackson's lab during the middle of my sophomore year. I immediately joined a project exploring the molecular and anatomical characterization of the lateral hypothalamus and the diverse cell populations found there, because this brain region is highly involved in regulating hunger, sleep-wake cycles, and motivated behavior. That summer, I was fortunate to be supported via a Summer Undergraduate Research (SURF) award as I worked full time on this project. I began to focus my efforts into defining the neurochemical phenotype of hypocretin/orexin neurons, and this research is constantly evolving. I was able to continue for a second summer with support from a UConn IDEA Grant and the Beckman Scholars Program, and during this time I began investigating how the properties of these neurons change during different metabolic states, such as fasting. Now a senior, I am excited to continue this line of work as I complete my Honors Thesis as a University Scholar.

Interested in exploring clinical research as well, I joined the UConn Undergraduate Research Assistants Program at Connecticut Children's Medical Center (CCMC) during my junior year and continue today. Here, I work alongside the hospital personnel and help perform patient-based clinical research. Guided by fantastic mentors, my time in the lab and at CCMC has opened my eyes to the marvels of scientific and clinical based research. I originally came to UConn with a passion for physiology, medicine, and healthcare, and this only continues to grow as I dive deeper into my research and studies as a PNB and MCB double major. My research involvement has greatly enhanced my UConn career and has provided invaluable tools and experiences which I hope to carry over as I pursue a career as a physician-scientist. I highly recommend that all interested students strongly pursue opportunities in research, as it provides new knowledge, skills, and inspiration which simply cannot be obtained from a normal classroom!

Brock is working in the field of biomedical research during a gap year before medical school.

Tom Cotton

Major: Biomedical Engineering

Graduated: Spring 2017

My research at the UConn Health Center during the summer of 2015 was focused on assessing the ability of a new cancer imaging molecule to detect tumor hypoxia. As an undergraduate researcher in Dr. Liisa Kuhn's lab at the Health Center, my primary responsibility was to analyze tumor tissue sections removed from mice.

Through the use of immunohistochemistry techniques I was able to determine the effectiveness of the molecule (in comparison to preexisting probes designed for this same purpose). I also researched the extent to which hypoxic regions of a tumor could be detected with different concentrations of the new imaging molecule. I further used histology techniques to perform toxicity studies on the novel molecule.

My research was made possible by a grant obtained from the UConn Summer Undergraduate Research Fund (SURF). Thanks to my SURF award, I was able to gain an insight into the lab environment outside the classroom. I was able to see what professors involved in research do on a day to day basis and decide whether or not I want to follow this path in my own career. I learned many lab techniques that are not taught in the classroom and gained a deeper understanding of much of the knowledge that I already did have. I am very grateful to SURF and Dr. Kuhn for the opportunity and I think this was a summer well spent!

Tom is now pursuing a master's degree in Biomedical Engineering.

Tyler Daddio

Major: Computer Science and Engineering

Graduated: Spring 2017

I began my career in research the summer before I entered UConn. With the suspicion that I might like academic research, I looked through the catalog of CSE professors, found a few whose research interests aligned with my own, and started sending out emails. To my surprise, the first professor I emailed, Dr. Ion Mandoiu, got back to me right away and seemed almost enthusiastic to work with someone who had absolutely no research experience whatsoever. That summer I worked with Dr. Mandoiu and Dr. Sahar Al Seesi to help port various bioinformatics tools to a web interface. Although a minor contribution, this effort made it easier for the biologists in the lab to analyze their data. My first two semesters saw me working on two related independent studies again under the guidance of Dr. Mandoiu. These were focused on computational methods for investigating T cells (a form of white blood cell), which ultimately built up to my work as a Holster Scholar this past summer. As a 2017 University Scholar, I am continuing this work both at Storrs and at the UConn Health Center in Farmington with the counsel of Dr. Mandoiu, Dr. Pramod Srivastava, and Dr. Ovidiu Munteanu.

However, academic research isn't my only interest. In January 2016, I began a YouTube channel called CoderTheTyler onto which I published a 15 video series called Smart Coding. I found most existing programming tutorials focused primarily on how things were done, not why they were done. As a self-taught programmer, I wanted to produce a series of videos that would address these "why" questions and also bring to light many important concepts one may never even encounter through other means. To my surprise, the series has since amassed over 90,000 views. This served as motivation to apply for a UConn IDEA Grant to complete a new series of videos that aims to help garner an appreciation for computer science topics among the general population. I ultimately aim to combine this creative endeavor with my love for research to bring engaging and educational computer science content to the public.

The plethora of opportunities offered by the Office of Undergraduate Research (OUR) have not only facilitated my investigation into my many interests, they have also reinforced my desire to pursue academic research and my creative ambitions. To anyone with a creative idea or an inkling of interest in research, I would overwhelmingly recommend pursuing any one of the numerous grants and programs offered by OUR. Make the most of your time at UConn!

Tyler elected to complete his bachelor's degree early and is now pursuing a Ph.D. in Computer Science.

Julia Drouin

Majors: Psychology & Speech, Language, and Hearing Sciences

Minors: Cognitive Science & Neuroscience

Graduated: Spring 2014

I started my involvement in research in the Fall semester of my junior year at UConn. I began as a research assistant in the UConn Myers Lab, assisting a graduate student with a study on speech perception. I had a wonderful experience and in the Spring 2013 semester I was able to expand my involvement in research when I received a SHARE Award from OUR. In this project, I studied speech perception and the mechanics of perceptual learning. In the Summer 2013, I was awarded a SURF Award from OUR, and I was able to take my research in a new direction by studying speech perception in individuals with aphasia. Both research projects have enhanced my learning experience and given me the opportunity to study language outside a formal classroom setting. I used the research from both projects to constitute my Honors Thesis. In the future, I hope to become a researcher in the field of language sciences, with an interest in aphasia and other acquired language impairments.

Julia is now pursuing a Ph.D. at UConn in Speech, Language, and Hearing Sciences.

Aiden Ford

Majors: Physiology and Neurobiology & Neurodevelopment and Health (Individualized Major)

Minors: Anthropology & Neuroscience

Graduated: Spring 2017

Settling into research on a campus with opportunities as varied and numerous as UConn's can be daunting, especially coming in with little formal lab experience, as I did. Therefore, start by identifying your personal areas of interest. As a pre-medical student with a commitment to pediatrics, I sought labs that studied neurodevelopment, across the disciplines, and found the Fitch Lab, in the Behavioral Neuroscience Department. Over the years they have pioneered different techniques to behaviorally and cognitively assess different animals models of neurodevelopmental disorders and pathologies including dyslexia, hypoxic ischemia, and autism. After applying in the spring of my freshman year, I began working in the lab the fall of my sophomore year.

Receiving a SURF award the summer between sophomore and junior year allowed me to gain a deeper understanding of the complexities of the entirety of the research process, from idea development to proposal writing to grant disbursement to data collection and analysis. Over the course of 13 weeks, we worked to assess the applicability of the TS2-neo transgenic mouse as a possible animal model for autism spectrum disorder (ASD) via a series of cognitive, behavioral, and social tasks that exist as paradigms for the ASD symptoms outlined by the DSM-V. Results of projects like this allow researchers to establish key links between the genetics, neuroanatomy, and resulting behavior of such conditions, which have crucial future implications for interventions and possible treatments.

If you are interested in finding research opportunities on this campus, start looking, because possibilities are constantly emerging in every department. Take advantage of the fact that you are an undergraduate at a phenomenal research school and get involved!

Aiden is now completing a 2-year fellowship in developmental social neuroscience at the Marcus Autism Center in Atlanta, GA.

Elina Cate Griggs

Major: Environmental Studies

Minor: Geography

Graduated: Spring 2017

My research at UConn began with independent study courses where I explored interdisciplinary questions related to ecology, environmental science/studies, history, geography, American studies, and anthropology. I have been most interested in the relationship between cultural products and environmental behavior/policy.

I was awarded a Summer Undergraduate Research (SURF) award in 2015. This generous grant enabled a three-month exploration of the wolf, Canis lupus, as represented in the Western folkloric record from antiquity to present day. The SURF award allowed me to research the folkloric transition of the wolf from animal to supernatural monster, to understand the environmental implications that occur when "folklore is fused into doctrine" as well as create a parallel chronology of negative wolf folklore and subsequent wolf exterminations in both Europe and the United States. The independent research period also taught me a lot about myself and helped concretize future academic goals. In addition to addressing my original research inquiries, I have formulated related questions that I will research during the remainder of my undergraduate career, the findings of which will serve as my honors thesis. I am immensely grateful to Dr. Wayne Franklin and the UConn Office of Undergraduate Research for the invaluable opportunity!

Stephen Hawes

Major: Mechanical Engineering

Minor: Computer Science Engineering

Graduated: Spring 2017

I began my undergraduate research through the UConn IDEA Grant after being encouraged by a previous grant recipient. I'm exceedingly happy that I followed his advice, as doing research through the IDEA Grant has been the most challenging and exciting experiences I've had during my time here at UConn. It has taught me a tremendous amount about myself and what I want to pursue for a career. I applied for funding in Fall of 2014, and began work on my project the following Spring. Working under the advisement of Professor Anson Ma and Technical Associate Adam Wentworth, I have been developing a 3D printed prosthetic hand that utilizes electromyography (EMG) sensors. Many prosthetic limbs on the market using EMG can cost tens of thousands of dollars, putting them far outside the price range of the majority of amputees. The goal of my research is to develop an alternative option that costs a fraction of the price, using an open source EMG circuit and a consumer-grade 3D printer. My prototype can be built for under $300. I hope to take my methodology of prosthesis development and start a company manufacturing prosthetic hands for amputees. In my free time, I enjoy software development, 3D modeling, and building anything and everything I find interesting.

Krisela Karaja

Majors: English (Honors) & Spanish Literature

Minors: International Studies & Concentration in Creative Writing

Graduated: Spring 2014

My experience in research began as a sophomore, when I served as a Writing Intern at the Dodd Research Center. As such, I blogged on environmental issues in the Alternative Press Collection and then worked on creating short biographies for writers whose materials would soon be available in the Literary Collection. I was the student recipient of a SHARE Award during the Spring of 2013. That semester, I assisted Spanish Professor Guillermo Irizarry with certain aspects of the research process (e.g., read and reviewed relevant books, highlighted key sections, created annotated bibliographies of films and documentaries, etc.) as he worked on his latest project on the transnational perspectives of post-Cold War Latina/o authors writing on war and violence. I traveled to Albania on a SURF Award during the summer of 2013 in order to broaden my knowledge of the literary landscape there [particularly, Fatos Kongoli's novel, I Humburi (The Loser)]. I researched the concept of nation as depicted in literature during the transition from communism to democracy and afterward. I gained access to articles in the National Library and also interviewed several of Albania's leading writers, poets, and professors, thereby laying the groundwork for future research. The SHARE and SURF projects allowed me to springboard directly into my Honors thesis. My thesis compared and contrasted the concepts of nation and memory in an American Latino text, a Jewish-American nonfiction comic, and an Albanian text.

Krisela was selected as a Fulbright Scholar and has returned to Albania to continue her studies of Albanian literature.

Stephanie Knowlton

Major: Biomedical Engineering

Minors: Mathematics & Materials Science and Engineering

Graduated: Spring 2015

My past research projects include Petri Net Modeling and Analysis of Biological Processes Implicated in Amyotrophic Lateral Sclerosis (UConn, Bio-Grid REU, Summer 2012) and Assessment of Neurite Growth in Methacrylated Collagen Gels with Patterned Stiffness (Rutgers, Cellular Engineering REU/RiSE, Summer 2013) which I presented at the BMES 2013 annual meeting. As a member of the University Scholar program, I am currently working on a project called Spatiotemporal Monitoring of Oxygen and Reactive Oxygen Species for Tissue Engineering Applications and my research has been funded by OUR Supply and SURF awards. I have worked with Dr. Pinar Zorlutuna and Dr. Savas Tasoglu to develop a quantitative method of monitoring the three-dimensional distribution of oxygen in engineered tissue. This research has exciting applications in regenerative medicine for engineering vascularized tissues. I am the VP of Academics for Phi Sigma Rho, a sorority for women in engineering, and I am also a member of the UConn chapter of Alpha Eta Mu Beta. After my graduation from UConn, I plan to earn a PhD in bioengineering and pursue a career in tissue engineering research.

Stephanie is now pursuing a Ph.D. at UConn in Biomedical Engineering.

Samantha Lawrence

Majors: Psychological Sciences & Human Development and Family Studies

Graduated: Spring 2017

My undergraduate research experience began in the spring of 2015 when I joined the ranks of Professor Alaina Brenick's laboratory in the Department of Human Development and Family Studies. Our research in social developmental science focuses specifically on experiences of, social and moral reasoning about, and responses to group-based discrimination, victimization, exclusion, and bullying. My current project, as funded by a SHARE Award and an Ocean Rain Family Foundation-funded Summer Undergraduate Research Fund (SURF) Award, investigates early-adolescents' attributions of hostile intent and social goals of victimizers, victim response selection, and evaluations of same-race and cross-race peer interactions, in relation to participants' ethnicity and personal bullying and victimization experiences. With the support of an OUR Travel Award, I had the incredible opportunity to travel with Professor Brenick to two conferences – one national and one international – to present our findings in the hopes of providing the field with a more comprehensive understanding of the factors involved in a victimizer's decision to bully and a victim's decision of how to respond to bullying, particularly as these factors relate to ethnicity. I aspire to continue this exploration of intergroup relations by way of my Honors Thesis, with the ultimate aim of these endeavors being to enable the design of more effective interventions to prevent or mitigate same- and cross-race bullying and treat its mental health consequences.
I cannot express enough how significantly my involvement in research at the University of Connecticut has bolstered my undergraduate experience; I have learned so much about the field of developmental psychology and about my own career interests and goals.

Samantha is now pursuing a Ph.D. at UConn in Human Development and Family Studies.

Casey McMahon

Major: Pathobiology

Minors: Neuroscience & Psychology

Graduated: Spring 2014

I have worked in a behavioral neuroscience research lab since my freshman year. I have worked with a project modeling schizophrenia in rats to determine how that affects the rats' behavior and memory. I then worked on a project that became my SURF Award project using immunohistochemistry to establish a quantitative baseline of the amount of parvalbumin positive interneuron cells present in the hippocampus (the area of the brain associated with memory). This work will be used to assess whether there is a decrease in these interneurons in rats exhibiting schizophrenia-like symptoms to determine if there is an association between these interneurons and schizophrenia.

Casey is now pursuing a degree in veterinary medicine at the University of Pennsylvania.

Julianne Norton

Major: Individualized Major in International Relations

Minor: Studio Art

Graduated: Spring 2015

I began my undergraduate research as a freshman under the Holster grant. I conducted a literature review on postmemory, which is collective memory in the generations following cultural trauma, such as genocide. I also created a series of 4x6 foot oil paintings. Since then, I have been fortunate enough to continue following the thread of my creative projects through my senior year. I conducted a SHARE project under the mentorship of Professor Kathryn Myers, researching Jewish Indian contemporary art and culture. I then returned to postmemory and created a book of paintings and poetry with the support of a SURF award. Most recently, I have been working on a graphic novel project about postmemory. With a UConn IDEA Grant I plan to finish the first installment in the fall semester of 2014, which I will self-publish online as a webcomic. After I graduate in the spring semester of 2015, I hope to spend a year obtaining an MA or MFA in Writing or Creative Writing to complete my graphic novel. Then, I will apply to law schools to pursue Art Law / Intellectual Property Law.

Julianne is pursuing an MA in Writing at NUI Galway with the support of the Mitchell Scholarship.

John Ovian

Major: Chemistry (BS/MS)

Minor: Mathematics

Graduating: Spring 2017

I joined Dr. Nicholas Leadbeater's laboratory in the chemistry department in the spring of 2014. One main focus in the lab is making synthetic organic chemistry more environmentally benign and sustainable. Oxidation, a common transformation in organic chemistry, traditionally employs heavy metal oxidants, which are often dangerous to work with and bad for the environment. My research focuses on synthetic methodology development using an oxoammonium salt, which is metal-free, safe, inexpensive, and regenerable. I was awarded the Holster Scholar First-Year Project, a prestigious grant for honors freshmen, which allowed me to perform an independent research project on this oxoammonium salt during the summer of 2014. I have successfully developed several new reactions, including allyl ether cleavage and oxidative nitrile formation from aldehydes, which were published in Organic and Biomolecular Chemistry and Angewandte Chemie International Edition, respectively. Also, I investigated the mechanistic pathway for oxoammonium salt oxidations through a combined experimental-computational study, which was published in the Journal of Organic Chemistry. My 2016 University Scholar project involves the use of a photocatalyst in a dual catalytic cycle with ACT, a derivative of the oxoammonium salt mentioned above, to effect difficult oxidative transformations. This will not only result in more sustainable processes (less oxidant required, air/light used as "reagents"), but also strengthen the profile of ACT as a viable alternative for traditional, non-sustainable oxidants, and contribute to the growing photoredox catalysis literature.

During the summer of 2015, I performed research at UCLA in Dr. Neil Garg's laboratory as a part of the Amgen Scholars Program. There, I worked on the total synthesis of tubingensin B, utilizing heterocyclic aryne methodology to assemble vicinal quaternary centers stereospecifically. I also was able to network with other scholars and representatives from other institutions such as Caltech, Harvard, Stanford, and MIT, as well as hone my scientific communication skills. The experience gave me a completely different view of organic synthesis, broadening my perspective on the possibilities for graduate research. Performing cutting-edge research has endowed me with critical analytical and investigative skills that could not be obtained in the classroom and has prepared me for graduate school.

John is pursuing a Ph.D. in Chemistry at Harvard University.

Giorgina Paiella

Major: English

Minors: Philosophy & Women's, Gender, and Sexuality Studies

Graduated: Spring 2016

Although I have been conducting research since my first semester at UConn, my first official research experience was made possible by a Summer Undergraduate Research (SURF) award that I received in the summer of 2014. I spent the summer conducting interdisciplinary research and writing a paper for a self-designed literary research project titled "The Woman Who is Not One: Incorporeal Femininity, Disembodied Cinematic Representation, and the Uneven Movement Toward the Cyborg Identity," where I situated Spike Jonze's 2013 film Her within the context of debates and theoretical explorations central to philosophy, gender studies, science fiction narratives, and film theory.

My SURF experience allowed me to pursue research in a variety of thought-provoking disciplines, write an extensive research paper on my findings, and discover a fascinating interdisciplinary research area that bridges many of my academic interests. I discovered a passion for these topics that I want to further explore in future projects and my honors thesis. In addition to bolstering my love of writing and research, SURF provided me with the unparalleled opportunity to experience full-time research the summer after my sophomore year, an experience that closely aligns with my future career goals.

There is a prevailing notion that research is a STEM-dominated activity, but UConn allows undergraduates to pursue research across the disciplines through a variety of programs.

Giorgina is now pursuing a Ph.D. in English at UC Santa Barbara.

Nandan G. Pandit

Major: Molecular and Cell Biology

Graduated: Spring 2014

When I first came to UConn, I did not know about research or any of the applications of research. Fortunately, I was exposed to research through the Honors cell biology lab course. After learning basic techniques in cell biology, we were given freedom to pursue independently proposed projects. I immediately fell in love with the innovative and analytical spirit of research. Subsequently, I joined the Robert Birge Lab in the Chemistry department to explore biochemical research. At the Birge lab my project focused on optimizing a protein based artificial retinal implant for physiological use. I was very fortunate to have very passionate and caring mentors who guided me to develop better research skills and an collaborative attitude towards research.

While at the Birge Lab, I took a cancer cell biology course through the MCB department and I was fascinated by the mechanisms of cancer. I wanted to learn more about cancer biology so I applied and was accepted to a program very similar to SURF at Thomas Jefferson University to work in the Jonathan Brody Lab. During the summer of 2013 I helped to elucidate the roles of important proteins in pancreatic cancer. While working on the project assigned to me at the Brody lab, I came across another interesting protein which I thought was important in pancreatic cancer and wanted to investigate further. Dr. Brody was extremely generous and supported an independent project I proposed to learn about the protein.

Through my experiences and unanswered questions in the Birge and Brody Labs, I realized that my true passions were biochemistry, structural biology, and mentoring others in research. Currently, I am most interested in learning about protein interactions and signal transduction through complimentary wet lab and computational techniques. In the distant future I aim to run a lab to answer biochemistry related questions as well as mentor young scientists in the same fashion that my mentors have guided me. I am extremely grateful for the opportunities provided to me by UConn and Jefferson to pursue science as well as to my mentors at both institutions who helped me to learn about research as well as find my passions in science.

Nandan is now pursuing a Ph.D. in Biochemistry and Biomedical Sciences at Yale University.

Margaret Rowland

Majors: Psychology & Physiology
and Neurobiology

Minor: Neuroscience

Graduated: Spring 2015

I have been involved in psychology and neuroscience research for much of my undergraduate career. During my first two years of college, I worked as a research assistant in a health psychology lab at the Center for Health, Intervention, and Prevention (CHIP). This research focused on medication non-compliance in individuals with chronic diseases, and examined psychological and behavioral interventions to increase treatment compliance. Working in this lab taught me many important practical skills and provided my first exposure to working with chronically ill populations, and piqued my interest in the pre-clinical research that contributes to medication development. This interest was further developed by a summer internship at the University of California San Diego School of Medicine. I spent the summer working in a pediatric psychiatry research lab that focused on characterizing neuroanatomical anomalies in adolescents with depression using fMRI technology. This work provided insight into the translational value of basic neuroscience research, particularly in comprehending long-misunderstood psychological illnesses like depression.

Upon completing this internship, I began working as a research assistant in a behavioral neuroscience lab headed by Dr. John Salamone that developed pre-clinical animal models of the neurochemical causes of psychological illnesses such as depression. This research immediately appealed to me—instead of finding ways to help patients tolerate unpalatable treatments for depression, I could help develop more effective treatments with fewer side effects by studying the disease's neurochemical cause. I started working with Dr. Salamone two years ago, and I have been a member of his lab ever since. Much of my research with Dr. Salamone has focused on the comparative ability of current pharmacological treatments for depression to treat specific symptoms of the disease. I have conducted research on the efficacy of the selective serotonin reuptake inhibitor fluoxetine and the monoamine oxidase inhibitors deprenyl, pargyline, and moclobemide for treating specific depressive symptoms, with the goal of creating personalized and more effective treatments for depression. When I'm not in lab giving drugs to small animals, I like to read, write, and ride motorcycles.

Megan is exploring the world of work while contemplating graduate study options.

Alexandra Rudolph

Majors: Animal Science & Molecular and Cell Biology

Graduated: Spring 2016

Although I knew I wanted to get involved in research when I came to UConn, I didn't know how to go about finding a project or research advisor. Luckily, we were asked to interview five different professors about their research interests in my Introduction to Animal Science class; in doing so, I met Dr. Sheila Andrew and learned about her research into the use of ultrasound techniques to detect mastitis in dairy cattle. I was very interested in the topic and asked to join the project during the spring semester of my sophomore year. I have loved every minute I've been involved in doing research, whether it is performing tests in the field or reading journal articles to look for new directions to expand the project. Before graduating from UConn, I plan to complete an interdisciplinary Honors Thesis to earn dual honors in both of my majors. Outside of research, I love reading and playing various sports.

Ali is now pursuing a Ph.D. in Biological and Biomedical Sciences at Harvard.

Brendan Smalec

Majors: Molecular and Cell Biology & Art History

Minor: Chemistry

Graduated: Spring 2016

I work as an undergraduate researcher in the lab of Dr. Rachel O'Neill in the Department of Molecular and Cell Biology where we study genome stability in a variety of unique model systems. I am working with inbred lines of the white-footed mouse, Peromyscus leucopus, which exhibit a high frequency of an adenocarcinoma development. These tumors immediately and predictably metastasize to other tissues. Together with my graduate mentor, Brianna Flynn, we are examining the genomic and epigenetic abnormalities that drive tumorigenesis and metastasis, which can then be applied more generally to gain a better understanding of other cancers.

I first started in the O'Neill laboratory in the spring of my freshman year when Dr. O'Neill helped me design an independent research project, a component of the Holster Scholars First Year Project. This program, run by the Honors Program, confirmed my interest in research as well as in medicine. I was recently awarded a UConn IDEA Grant to use Next Generation Sequencing technologies in the Center for Genome Innovation, part of the UConn Institute for Systems Genomics. Sequencing a subset of genes from the tumors and metastases of the white-footed mouse will give us a better understanding of the role of DNA methylation in cancer development and susceptibility.

I also spent a summer at the UConn Health Center as part of the Translational Research Internship Program. I joined the lab of Dr. Brenton Graveley, one of the seven labs in the country currently working on the Encyclopedia of DNA Elements (ENCODE) project, which serves as the follow up to the Human Genome Project. The goal of ENCODE is to identify all the functional components of the human genome. Specifically, our lab is identifying the RNA elements bounded by 250 RNA binding proteins and assigning roles to these sites as they play a role in splicing, polyadenylation, editing, cleavage, capping, and other RNA processes.

Brendan is now pursuing a Ph.D. in Biological and Biomedical Sciences at Harvard with the support of an NSF Graduate Research Fellowship.

Robert Stickels

Major: Molecular and Cell Biology

Minors: Bioinformatics & Chemistry

Graduated: Spring 2015

I have been working with OUR for the last three years helping students get interested in research. My own research endeavors started in the fall of 2011 in the lab of Dr. Andrew Pask (who has now moved to Australia) in the genetics department looking at the sex determining mechanism and the evolution of sex chromosomes in mammals (that includes marsupials), along with establishing good reference genomes for marsupial species. Upon his departure I joined Dr. Rachel O'Neill's lab, also in genetics, where I currently work on the effects of estrogen on male gonad development. We approach this through the use of sequencing technologies, standard molecular biology techniques, as well as bioinformatic approaches. I have participated in the SURF program as well as being a McNair Scholar. When I'm not in the lab I enjoy the outdoors, mostly hiking and mountain biking in the New England area.

Rob is now pursuing a Ph.D. in Biological and Biomedical Sciences at Harvard.

Stephanie Vu

Major: Physiology and Neurobiology

Graduated: Spring 2016

I was introduced to research through University of Connecticut's Mentor Connection Program during the summer of 2011. I worked in Dr. Etan Markus's behavioral neuroscience lab where I studied the role of the hippocampus in episodic memory. Since then I have been fascinated by the ability of the brain and nervous system to control the formation of memory and our day-to-day decisions. When I entered UConn as a first-year student, I rejoined Dr. Markus's lab to conduct an electrophysiological assay of hippocampal neuronal activity during learning in rats. My first project was to construct electrode arrays that could record local field potential, specifically theta oscillation in the rodent hippocampus and pre-frontal cortex. This experience proved to be instrumental for my University Scholar project since I am currently working with Dr. Markus to construct a microdrive that is capable of single-unit recording hippocampal pyramidal cell, or "place cell," activity in a freely moving animal. This project aims to study the phenomenon of place cell remapping in the hippocampal dorsal and ventral regions, and give us a better understanding of the brain's spatial navigational system and its implications in the cognitive decline seen in Alzheimer's disease.

My passion for scientific investigation and medicine has led me to pursue translational research opportunities outside of UConn. During my summer internship at Harvard Medical School/Massachusetts General Hospital, I conducted simultaneous PET/MRI research on the effects of transcranial magnetic stimulation in those with major depressive disorder. After being exposed to this type of research, I was immediately impressed with the level of collaboration between physicians and scientists and their commitment to improving patient care through research. This experience gave me a better understanding of the complementary nature between medicine and research, and the far-extending implications of basic neuroscience research. I hope to pursue a career as a researching neurologist.

Participating in undergraduate research has honed my skills as a critical thinker and has made such a positive impact on my academic career and personal growth. If any of you are considering undergraduate research, I highly recommend starting sooner rather than later!

Stephanie is now attending the UConn School of Medicine.

Benjamin X. White

Major: Psychology

Graduating: Spring 2017

I work as an undergraduate researcher in the Systematic Health Action Research Program (SHARP) Lab in the Department of Psychological Sciences. We focus on examining what factors impact both individual and community level health for a wide variety of outcomes including HIV prevention, depression reduction, and improved exercise program and medical adherence. I began my involvement with the lab during the end of my first semester and officially joined during the spring of my first year.

My first official research experience was conducted through a UConn IDEA Grant that allowed me to develop an individualized research project. I spent the summer analyzing data from an ongoing study conducted by Dr. Wright in the Department of Sociology, where I looked at how social support and stress exposure interacted and were related to health, specifically depression. We used smartphones to collect data to try and elucidate the closest to real-life mechanisms possible.

The development of my project also was pivotal in my choice of major and career. I came into the University of Connecticut as a Pre-Pharmacy student. My initial interest was in examining patient adherence to medicine regimens. However, I began to realize that Psychology and its examination of behavior and cognition could be a better fit. I was questioning whether I wanted to be a practitioner or a researcher primarily, so I began reaching out to my professors regarding the experiences that led them to their careers and that led to my IDEA project. I took my experience and results from the first project to develop my University Scholar project, a collaboration between multiple departments to map exercise trials in cancer survivors to determine whether geographic and community factors impact their efficacy.

Ben is now pursuing his Ph.D. at the University of Illinois at Urbana Champaign.