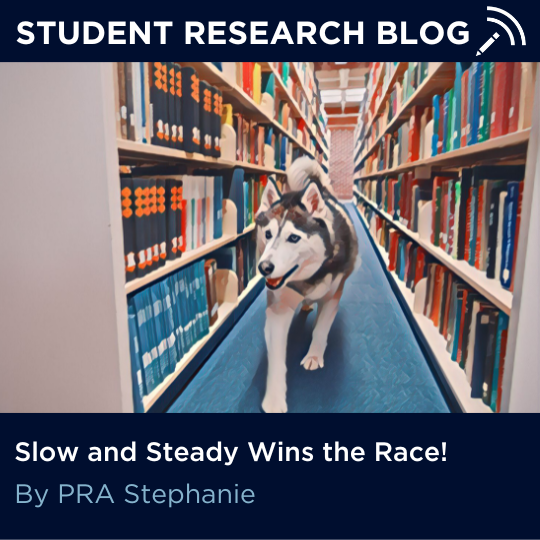 The Peer Research Ambassadors (PRAs) are UConn students who have engaged in research and creative activity during their undergraduate careers and want to help other students get involved. PRAs attend OUR workshops and help represent OUR at events such as career fairs and open houses. They also serve as an informal advisory board, sharing feedback with OUR administrators on how to improve outreach efforts and programming.
In addition, Peer Research Ambassadors are available to talk with students and share advice about getting started with and engaging in research, scholarship, and/or creative projects. If you're looking to get involved in these activities, it is extremely valuable to hear directly from other students about their experiences. Meet with a Peer Research Ambassador by scheduling a one-on-one advising conversation.
Student Research Blog
Slow and Steady Wins the Race

By Stephanie Schofield, Peer Research Ambassador
If you're anything like me, you sometimes have compulsive desires to take on extra commitments that will make you more "competitive" to jobs or graduate schools. Some of us are so nervous about not getting into our dream job or graduate school that we frantically join every relevant club, research project, or job that we can to beat the increasing competitiveness of the post-college world. Continue reading
Peer Research Ambassador Profiles
Click on the Peer Research Ambassador photos below for their full profiles and to contact an Ambassador.