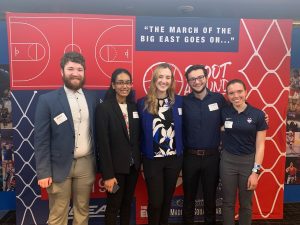 During the 2023 BIG EAST Men's Basketball Tournament, the Conference will be hosting its second annual BIG EAST Undergraduate Research Poster Symposium. Each BIG EAST institution will be represented by five posters, each presented by 1-2 undergraduate student authors. The research presented at the symposium is expected to represent a variety of disciplines including, but not limited to, natural sciences, physical sciences, social sciences, humanities, nursing, business, engineering, and fine arts.
The poster symposium will take place on Saturday, March 11, 2023 from 9am to 1pm at Madison Square Garden. The University of Connecticut is sponsoring the participation of its student presenters in this event. Travel arrangements will be made and covered for each selected presenter, including ground transportation (Storrs to NYC on March 10, NYC to Storrs on March 12), hotel accommodations (nights of March 10 and March 11), and meal expenses (within travel policy guidelines). Each selected presenter will also receive complimentary admission to the BIG EAST Championship game on the evening of March 11, 2023.

Eligibility
To apply to participate, students must meet the following eligibility criteria:
Must be an undergraduate (currently pursuing a bachelor's degree) at the University of Connecticut. This includes students pursuing Bachelor of Arts, Bachelor of Fine Arts, Bachelor of General Studies, Bachelor of Music, Bachelor of Science, Bachelor of Science in Engineering, and Bachelor of Social Work degrees.
Must be in good academic standing.
Must be available for the symposium, associated events, and associated travel, from the afternoon of Friday, March 10, through the morning of Sunday, March 12, 2023.
Must have executed the project at UConn (any campus, including UConn Health) and have the approval of their faculty advisor on the project to share the project at this venue.
Must not have presented at a previous BIG EAST Undergraduate Research Symposium.
Application Process
Apply here no later than Thursday, February 2, 2023. If there are two undergraduate presenters on a poster, a single application should be submitted that includes the information about both presenters. Applications will be reviewed immediately following the deadline. Selected students will be contacted in order to make travel arrangements and finalize their abstracts and posters.
In addition to student presenter contact information, students must provide the following materials in their application:
An abstract, no longer than 200 words
A poster file (PDF format)
A short description of their past presentation experience
Agreement to the terms and conditions of participation in the symposium, including an attestation that their faculty advisor on the project has agreed that it may be shared at this venue
Please note that the poster need not be in its final form at the application stage. We will work with selected presenters to finalize their abstracts by February 9th and their posters by March 1st. Modifications may be made to conform to the guidelines below and in response to selection committee feedback. The UConn Office of Undergraduate Research (OUR) will coordinate the printing of finalized posters and will cover this expense for selected presenters.

Final Poster and Presentation Guidelines
Finalized posters and associated presentations must conform to the following guidelines:
Posters should be 36″ tall by 48″ wide (3 feet tall by 4 feet wide).
Posters must include the following information:

Project title
Authors
Faculty mentors
Institution
Abstract
Acknowledgment of any funding received to support the research project, whether from UConn or external sources

Presenters must be prepared to give a presentation, lasting no longer than 10 minutes, to a pair of judges. These judges will be faculty and/or administrators at other BIG EAST institutions; accordingly, the presentation should be accessible to academics from other disciplines. This presentation will be followed by a question and answer period with the judges.
Presenters must also be prepared to present their projects to members of a general audience attending the exhibition.

Judges will use the following criteria to select top posters, which will be recognized during the Championship game:
Visual Quality/Content: Is the poster constructed and displayed in a clear manner? Is the information displayed in a logical way? Can printed material be read easily from a reasonable distance? Is the poster of a professional quality?
Introduction: Is there sufficient background to understand the problem or hypothesis? Are the background and hypothesis (or problem) clearly presented? Does the presenter provide the context for their problem/hypothesis and explain how their research fits into their field of study?
Results and Discussion: Are procedures, protocols and results described clearly? Is the experimental design adequate to test the hypothesis? Are the controls appropriate? Are the conclusions supported by the data? Is the significance of the findings discussed?
Presentation Style: Does the presenter engage the audience? Is the presentation at an appropriate pace and volume? Does the presenter make eye contact?
Response to Questions: Does the presenter demonstrate a good knowledge base? Are responses to questions direct and insightful? Does the presenter understand how their results relate to the broader field? Does the presenter understand the significance of their results? Is the presenter confident with the material?
Questions?
Please contact the Office of Undergraduate Research at our@uconn.edu with any questions regarding the BIG EAST Undergraduate Research Poster Symposium.