Meet Anabelle Bergstrom '25, an OUR Peer Research Ambassador double majoring in Political Science and Philosophy and minoring in Public Policy.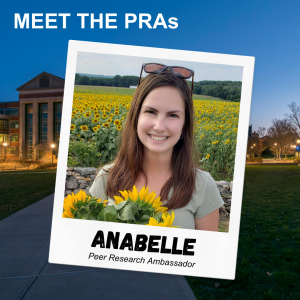 What is the focus of your research?
The areas of interest for my research are quite varied. During high school, I wrote a mock legal brief arguing in support of including women into the draft. For my Holster Scholar project, I examined how the experiences of ROTC cadets affect their career ambition. For my SURF research, I went back to my roots and conducted legal research into the influence of campaign contributions on state supreme court decisions. This academic year, I will be conducting philosophical research at the UConn Humanities Institute on the effects hyperconnectivity has on pragmatist theories of the self. I am excited to continue to broaden my horizons!
Why did you get involved in research?
I got involved in research because I enjoy the challenge it provides. Creating a viable hypothesis, writing grant proposals, conducting the research, and analyzing data all come with challenges. Some of these can be rather unexpected at times. It is in those challenges that I feel I excel. I enjoy the intellectual puzzles that must be solved to continue projects. I have learned the most about myself as a lifelong learner through my research which is why I continue to seek more opportunities. Continue reading →