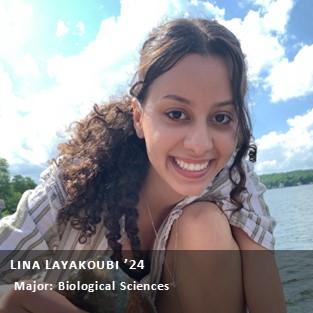 Lina (she/her/hers) is a senior majoring in biological sciences on the pre-dental track. On campus she is involved with the Pre-Dental Society, Knit for NICU, and the Husky Ambassador program. She is a UConn Connects Peer Mentor through the Academic Achievement Center and works closely with their office to help support students on academic probation. Additionally, she is the supplemental instructor (SI) for BIOL 1107.
For Lina, higher level coursework is what inspired her to pursue research. Through interacting with events such as the Frontiers in Undergraduate Research Poster Exhibition and appointments with OUR, she was able to get a better idea of how rewarding undergraduate research can be and how she could be a part of it. Lina began research in the second semester of her junior year in the Physiology and Neurobiology department with Dr. Karen Menuz. Her research is focused on investigating the molecular and physiological mechanisms that drive insect olfaction. She was awarded the IBACS summer research grant to fund her project summer 2023 which is focused on ammonia seeking in drosophila.
Research has given Lina invaluable skills and has become one of her most treasured experiences as an undergraduate. She plans on pursuing research during dental school and wants it to be a part of her career long term. Lina believes that anyone who is interested should try it out because it may end up being one of your favorite parts of undergrad!
Student Research Blog Posts by Lina: