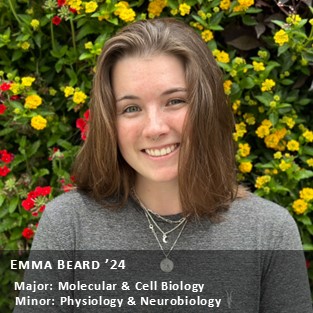 Emma (she/her) is a senior in the Honors Program majoring in Molecular and Cell Biology and minoring in Physiology and Neurobiology. Emma first became involved in research in high school, where she spent the summers before sophomore and junior year at lab programs studying mitochondrial DNA and learning techniques in bacterial transformation. These experiences sparked an interest in pursuing research further as an undergraduate.
In the summer of 2022, Emma began doing research in Dr. Mayu Inaba's lab at UConn Health through the Health Research Program. That summer, her project focused on generating transgenic flies to visualize the asymmetric division of histone H3 in Drosophila male germline stem cells. During the summer of 2023, Emma continued her work in the Inaba lab through a SURF Award. She investigated the expression of the transposon Juan in the Drosophila male germline. She has presented her work at UConn Health's Summer Research Day and Frontiers in Undergraduate Research.
In her free time, Emma enjoys photography and hiking. On campus, she is also involved with the Genome Ambassador Program. Emma hopes to continue engaging in research by pursuing a PhD in biomedical sciences. She is looking forward to sharing her passion for research with other students and helping them take advantage of OUR's opportunities!
Student Research Blog Posts by Emma: