In recognition of the pivotal role that mentors play in supporting undergraduate research and creative activity, the Office of Undergraduate Research is pleased to announce the recipents of the 2019 Mentorship Excellence Awards. These awards recognize two faculty members – one in a STEM field, and one in a non-STEM field – and one graduate student who exemplify the ways in which outstanding mentors challenge and support their students, enabling them to take intellectual risks and achieve milestones they might not have initially envisioned being able to reach.
The 2019 Mentorship Excellence Awards were presented to Seok-Woo Lee, Charles W. Mahoney, and Elizabeth Knapp during the Frontiers in Undergraduate Research Poster Exhibition on Friday, April 12, 2019.
---
Seok-Woo Lee, Assistant Professor, Materials Science and Engineering
Professor Lee's award was presented by Hetal Patel '19 (ENG). The following text is excerpted from Hetal's presentation remarks.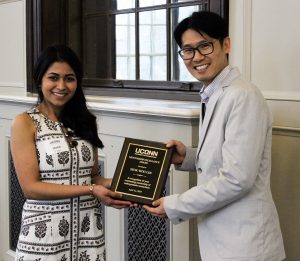 When I started at UConn in the School of Engineering, I had set a benchmark by which I would define my success in the next four years, and that was to have a full-time engineering job ready before I graduated. In my first semester, I noticed many of the undergraduates do research, particularly in the honors community, and so I decided it would be a good idea to join a lab and to learn more about my field. I reached out to many professors and it was Dr. Lee who showed an interest in me joining his group. This is where my story took off. During our very first meeting, his passion for science, his care towards his students, and his immense positive energy became clear. In the last four years, this hasn't changed a single bit. We have been meeting 1×1 every single week and his care and kindness towards me have been a steady source of motivation.
On the technical side, he has trained me to have a strong foundation and has taught me to be patient and think divergently because things don't go as planned in research. He gave me projects that led to publication in high impact journals and also gave me the opportunity to present my UScholar work at one of the biggest Materials Science conferences. He always encouraged me to try other labs or internships and when it came to applying for graduate schools, he always said to aim higher. He has been a constant support when it comes to writing papers, thesis, posters, or applications, whether it was for UScholar, fellowships, summer programs or graduate school.
Overall, he has changed the trajectory of my career through his energy, passion, and care. I have exceeded all my academic expectations for myself in the last four years due to Dr. Lee's immense commitment to mentor me. He has dedicated hundreds of hours towards me in a selfless manner and has worked far beyond his required duties for me to be here. He works so incredibly hard that it inspires me to work even harder.
To end, I am happy to say I will be heading to UC Berkeley this fall for my Ph.D. in MSE on a prestigious Department of Defense fellowship. Clearly, my goals and benchmark have changed, and I owe that to Dr. Lee. If I hadn't met him I would have never thought of applying for University Scholar or have decided to pursue a Ph.D. Having him as my research advisor is the best thing that happened to me at UConn. Dr. Lee is the highlight of my day and his mentorship is the hallmark of my UConn career.

---
Charles W. Mahoney, Professor, English
Professor Mahoney's award was presented by Lauren Cenci '19 (CLAS). The following text is excerpted from Lauren's presentation remarks.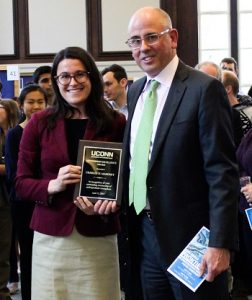 Describing Professor Charles Mahoney's extraordinary mentorship to me over the past several semesters in just a few short remarks is a difficult task. His passion for what he does is unmatched and very evident to anyone who has taken a class with him. I first met Professor Mahoney during my second official semester as an English major, during which I enrolled in his advanced poetry course on Lord Byron. I entered that course with little direction and confidence in myself as an English student but exited with a strong sense of purpose and a heightened awareness of English poetry. Professor Mahoney sees the best in each of his students and pushes them to strive to achieve this. He has high expectations of his students because he is aware of their potential and as such will not accept anything short of their finest work.
Charles is the chair of my University Scholar Project on the elegy, a genre of poetry that deals with mortal loss and mourning; I have completed two independent studies with him and am currently finishing up my thesis project this semester with his diligent guidance and feedback. The type of work I have pursued with Charles made me realize that I want to pursue a graduate degree in English and this fall I submitted applications to various universities. Throughout the summer, Charles read several drafts of both my critical writing sample and personal statement, provided in-depth feedback on both documents, and met with me on multiple occasions to discuss my progress. I most certainly would not have had the confidence to apply to graduate school had he not made me aware of my potential and research prowess.
Although Charles is very tough on his students and holds them to high standards, he is one of the kindest and most caring professors I have ever had the privilege of working with. It is rare to encounter a professor of his caliber, and I am extremely grateful for the opportunity I've had to work with him and grow as a student and a scholar with his guidance. Despite being an extremely busy individual, he has never made me feel as though my work is unimportant; each meeting and correspondence I have with him feels like a priority. This upcoming fall I will be attending graduate school, and I firmly believe that Charles's exceptional mentorship has both gotten me to this point as well as thoroughly prepared me for what lies ahead.
---
Elizabeth Knapp, Ph.D. Candidate, Physiology and Neurobiology, Sun Laboratory
Elizabeth was presented with her award by Ekatarina (Katya) Skaritanov '20 (CLAS) and Celina Caetano '19 (CLAS), two of the undergraduate researchers who work under her supervision in the Sun lab. The following text is excerpted from Katya's presentation remarks.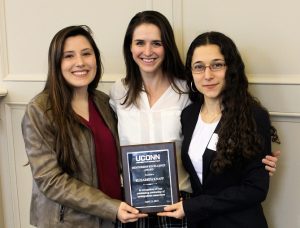 Over the past year I have had the absolute pleasure of working with Liz Knapp in the Sun Lab. Her intelligence, passion for teaching, and kind heart inspire me to put my best foot forward and not give up even when experiments don't go according to plan.
I can confidently say that without Liz I would not be the scientist I am today. One of the most important lessons she taught me is that making mistakes only makes you a better researcher. After all, it is only through failure in the lab that one can develop patience and perseverance, which are key to successful research. I have witnessed Liz's passion for teaching through how much she cares about everyone she works with. Whether she is at her computer making figures, or at the microscope doing experiments, I know that I can approach her with a question and get a thoughtful answer. No matter how busy she is, she will always make time to explain things in multiple ways to ensure you understand the logic. Liz does not only make sure that you understand WHAT you're doing, but also that you understand WHY you're doing it, which is imperative to leading a successful independent research project.
For a long time when I first started in lab I felt like I had no idea what I was doing. Even though I had my own project, I felt lost because I didn't fully understand all the background and jargon behind my work. However, during one of our first sessions at the confocal microscope and probably without even realizing it, Liz raised my confidence and self-esteem by telling me that she was once in the exact same position I was in and that soon everything I feel like I don't understand will naturally fall into place.
Liz, thank you for being the epitome of what a strong and confident woman in science looks like. Thank you for pushing me to be the best that I can be, and putting up with all my questions even when I ask you the same one five times in a row. Thank you for being a good friend, and most of all thank you for infecting us all with your love and excitement for science.
---
Congratulations to the 2019 award recipients! The Office of Undergraduate Research thanks the undergraduate students who nominated their faculty and graduate student mentors as well as the Peer Research Ambassadors who served on this year's selection committee.