While the largest-ever Frontiers in Undergraduate Research Poster Exhibition may now be over, there are several additional opportunities to see UConn students' work in the coming days and weeks.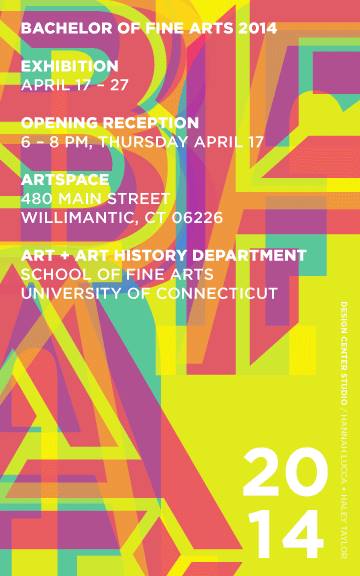 BFA Art Exhibition
April 17-27, 2014
ArtSpace, Windham Gallery, 480 Main Street, Willimantic, CT 06226
See this exhibition of work by students graduating from the BFA program in the Art and Art History Department, School of Fine Arts.
UConn School of Nursing ATHENA Research Conference
April 25, 2014
School of Nursing Widmer Wing
The program for this annual conference includes a poster presentation session from 1-2:30pm featuring the work of Honors students.
Language Fest 2014
April 26, 2014
9am – 4pm, Oak Hall
The UConn Language Fest is a University-wide research conference, now in its fourth year, which showcases the many facets of research on language in the UConn community. Poster sessions are scheduled for 10-11am, 1-2pm, and 3-4pm, and feature the work of undergraduate researchers from a number of UConn departments and programs.
Undergraduate Research Colloquium in Biology
May 2, 2014
8:30am-6:00pm, TLS 111
Graduating senior biology students (BIOL, PNB, EEB, MCB, BPHYS) will present short talks on their research at this 32nd annual biology research colloquium. All presentations are limited to ten minutes. Advisors, undergraduates, graduate students, faculty, postdocs, staff, parents, and friends are welcome and encouraged to attend.
UConn School of Engineering – Senior Design Demonstration Day
May 2, 2014
1-4pm, Gampel Pavilion
Senior Design Day, an exhibition of capstone projects from across the School of Engineering, affords parents, alumni, friends and project sponsors the opportunity to view project outcomes, interact with students and faculty, and learn more about the School. This year, 475 students will display and demonstrate 154 projects, and the whole university community is invited.
---