In recognition of the pivotal role that mentors play in supporting undergraduate research and creative activity, the Office of Undergraduate Research is pleased to announce the recipents of the 2016 Mentorship Excellence Awards. These awards recognize two faculty members – one in a STEM field, and one in a non-STEM field – and one graduate student who exemplify the ways in which outstanding mentors challenge and support their students, enabling them to take intellectual risks and achieve milestones they might not have initially envisioned being able to reach.
The 2016 Mentorship Excellence Awards were presented to Dwight Codr, Etan Markus, and Samantha Yohn during the Frontiers in Undergraduate Research Poster Exhibition on Friday, April 8, 2016.
---
Dwight Codr, Associate Professor of English
Professor Codr's award was presented by Giorgina Paiella '16 (CLAS), who has completed several research grants and projects under his advisement. The following text is excerpted from Giorgina's nomination and presentation remarks.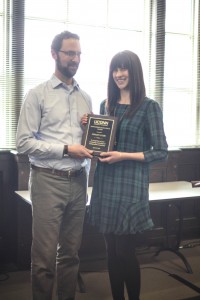 There are some people with whom you cross paths who end up having a tremendous impact on your life. Professor Dwight Codr is one of those individuals. I met him almost four years ago, when I was a freshman in his Introduction to Literary Studies course. That class was the first English course of my college career, and to this day, it is one of the best classes that I have taken at UConn. The course, more commonly known among English students as "the Frankenstein course," is renowned in the department for being an engaging, creative approach to literary interpretation. He is unsurprisingly a favorite professor to many students of English.
Professor Codr has guided me through one class seminar, two independent studies to prepare me for my thesis work, a summer research paper, an exhibition that I curated in the Dodd Center, and my University Scholar project. This fall, I applied to graduate school. Professor Codr guided me through writing my personal statement and gathering my application materials. The application process would have been difficult were it not for Professor Codr's constant support and encouragement of my promise as a student. He is a tireless mentor who responds to student emails late at night far beyond what is required of his duties as an instructor. He encourages office hour visits and calls in order to work through research questions and other inquiries, and he does this all out of a passion for student learning and growth. Professor Codr is an exceptional researcher, an engaging and passionate instructor, and at the same time humble and caring. It is rare to find these qualities combined in a person, and even rarer in a mentor.
I am happy to say that I will be pursuing a graduate degree in the fall. It is my goal to become a university professor, where I hope to pay forward the support that I have received at this university and aim for the exceptional mentorship standard that Professor Codr has set.
---
Etan Markus, Professor of Psychological Sciences
Professor Markus' award was presented by Stephanie Vu '16 (CLAS), one of many undergraduate researchers in the Markus lab. The following text is excerpted from Stephanie's presentation remarks.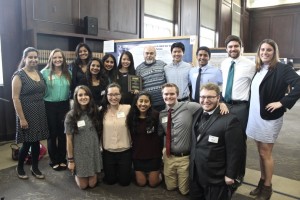 Dr. Markus takes a personal interest in the lives of his undergraduate researchers to ensure that we not only conduct exceptional research but enjoy doing so. He has cultivated a sense of community within the lab by hosting lab dinners, conducting weekly lab meetings, and most importantly, providing a constant supply of snacks and hot chocolate in the lounge so that we never go hungry after running hour-long experiments.
Clearly, this kind of care and commitment to his students also translates into the excellent mentorship he provides within the lab setting. Despite being a mentor for over 15 undergraduate researchers, Dr. Markus has never failed to inspire each and every one of us to pursue our future aspirations and to be confident in our academic and research abilities. He has encouraged us to pursue independent research, attend research conferences such as NEURON and Society for Neuroscience, and apply for research awards and fellowships. There have been countless times when Dr. Markus has come in on weekends to work with his students 1:1. He has even taken me on spontaneous field trips to the Depot Campus or the supply store to test out new experimental designs to improve my research project. His enthusiasm and passion has empowered us to push the limits of our undergraduate education and to engage in quality research.
These past four years I have been fortunate enough to learn from Dr. Markus's research abilities and to have a mentor who is truly invested in his students' successes. I can speak for the other students in his lab that working under Dr. Markus's guidance has been one of the hallmarks of our college careers.
---
Samantha Yohn, Ph.D. Student, Behavioral Neuroscience, Salamone Laboratory
Dr. Yohn – who successfully defended her dissertation the day prior – was presented with her award by Giuseppe Tripodi '16 (CLAS), one of many undergraduate researchers who works under her supervision in the Salamone lab. The following text is excerpted from Guiseppe's presentation remarks.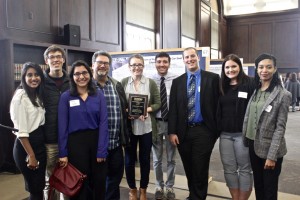 Sam is a Psychology Ph.D. student in the Salamone Lab, and I have been privileged to work beside her since the beginning of my junior year. As a student with zero experience in the field of research, I felt nothing short of intimidated and overwhelmed. However, with Sam's guidance and talent, she made me feel as if I had been a part of the lab for years.
With finesse, she explains difficult, unfamiliar concepts easily, as if it were second nature to her. Every day she teaches us novel concepts and techniques crucial for the lab to function properly, quizzing us out of the blue to make the information stick, and pushing us to practice under a watchful eye until our techniques are perfected.
Over countless hours working with her, my fellow undergraduate students and I began not just to trust one another but also to trust ourselves, to become self-reliant. In her rare absences we are able to act independently whenever the need arises, a skill many are not fortunate enough to be able to practice in the field of research, and for that, we are in her debt.
Lastly, Sam's involvement has reached us not only on a professional level, but also a personal one. She is never hesitant to donate her time or effort to help her undergrads, whether we need it because of stress from school, family troubles, or fears of the future. Sam has truly established a second family here in the Salamone lab, and she will undoubtedly be missed as she leaves to further her career at Vanderbilt University.
---
Congratulations to the 2016 award recipients! The Office of Undergraduate Research thanks the undergraduate students who nominated their faculty and graduate student mentors as well as the Peer Research Ambassadors who served on this year's selection committee.
| | | |
| --- | --- | --- |
| Assistant Vice Provost Jennifer Lease Butts, Giorgina Paiella, and honoree Dwight Codr. | Stephanie Vu presents Etan Markus with his Mentorship Excellence Award. | Professor John Salamone, honoree Samantha Yohn, and Giuseppe Tripodi. |
---