Meet Lauren Rudin '22, an OUR Peer Research Ambassador (PRA) majoring in Exercise Science and minoring in Biological Sciences.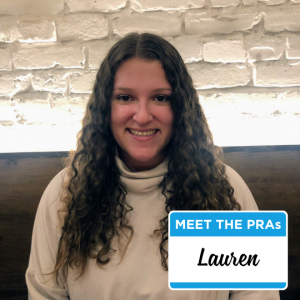 What is the focus of your research?
"Fitbit-Derived and Self-Reported Sleep Quality and Gestational Weight Gain in Women with Overweight or Obesity", supervised by Dr. Molly Waring and funded by a UConn IDEA Grant, is comparing Fitbit-derived and self-reported sleep quality among pregnant women in their third trimester with pre-pregnancy overweight or obesity who gained gestational weight within or above recommended ranges. The aims are to assess how well the two sleep measures agree and to identify the potential use of a Fitbit device to assess sleep during pregnancy.
"Professional Exercise Recommendations for Healthy Women Who Are Pregnant: A Systematic Review", supervised by Dr. Linda Pescatello, is assessing existing professional exercise recommendations for healthy pregnant women to formulate a consensus exercise prescription to better inform clinicians on an appropriate exercise program for pregnant patients without contraindications to exercise.
Why did you get involved in research?
I knew I wasn't interested in basic science research after participating in my high school's science research program, but the inquiry and creativity of research still enticed me. As a sophomore at UConn I searched resources for work-study students and came across the Work-Study Research Assistant Program and Dr. Molly Waring's job posting. I eagerly submitted my resume and since contributed to several projects and established a passion for epidemiological and population health research. My experiences as a research assistant inspired me to pursue an IDEA Grant under Dr. Waring's mentorship and a systematic review under Dr. Pescatello's mentorship.
What advice would you give to incoming students?
Don't be afraid to approach your professors about research opportunities in their lab or for feedback on your own research aspirations, especially if their research focus aligns with yours. Always have your resume and a general cover letter for research updated and ready to submit for any opportunity you come across, and make sure to read the UConn Daily Digest for undergraduate research funding, participation, and opportunities! Finally, the staff in the Office of Undergraduate Research are your friends when looking for research experiences or writing a proposal for UConn-sponsored research funding, so don't be afraid to make an appointment, introduce yourself, and build connections- that's what I did!
What do you enjoy the most about participating in research?
When one question is investigated through research, at least two more questions are developed. This is my favorite aspect of research, especially when collaborating with professionals from other disciplines who offer a perspective that you alone wouldn't have thought of. I most enjoy presenting at conferences because of the comments and questions other attendees ask which sparks even more ideas and excitement for future research. I hope to continue to cultivate my broadened, unbiased perspective as a researcher throughout the remainder of my undergraduate career and beyond.
Describe the impact your research experience has had on you.
As an undergraduate researcher, I never imagined that I could have such an impact on participants until I conducted interviews for my independent research project. One participant explained how she wouldn't have discussed sleep with her obstetrician if it wasn't for her participation in the study and she now sleeps better after following her physician's advice. I impacted tens of pregnant women's lives by validating their experiences and encouraging transparency and vulnerability during prenatal visits. I managed to create a safe, comfortable environment during interviews for women to divulge their anxieties about motherhood. The importance and satisfaction of patient-oriented epidemiological research doesn't come from publications or conference presentations rather from observable improvements in participants' quality of life.
What are your plans after graduation?
I am currently applying to MD/PhD programs around the country in order to continue pursuing maternal and child health epidemiology. When I began my undergraduate research experience I could not have imagined that I would be applying to dual degree programs today, but my mentors have been so supportive in me developing my own passions and research skills that I am confident in my decision to become a physician-scientist.
Click here for more information on Lauren and other OUR Peer Research Ambassadors.
---