Meet Kynza Khimani '22, an OUR Peer Research Ambassador (PRA) majoring in Physiology & Neurobiology and Global Health.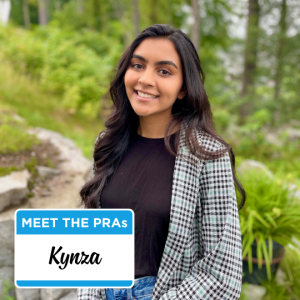 What is the focus of your research?
My current research for my UConn IDEA Grant project focuses on studying the accessibility and barriers faced by families with children afflicted with Pediatric Acute-Onset Neuropsychiatric Syndrome (PANS) in the implementation of healthy diets using a survey and interviewing physicians who treat PANS patients. PANS is an increasingly prevalent chronic condition that can manifest in children as severe OCD and anxiety, disordered eating, and developmental deficits. Because PANS symptoms are often a result of neuroinflammation and gut dysbiosis, studies suggest that replacing industrialized foods with an all-organic, gluten and dairy-free diet is often vital for treatment.
This past summer, I was also a part of the Health Research Program and worked as a research intern for Dr. Doug Brugge in his collaborative research project CAFEH (Community Assessment of Freeway Exposure and Health), a set of studies examining the impact of ultrafine particles from traffic on cardiovascular health. In this project, I assisted in qualitative analysis of interviews with residents of the Chinatown neighborhood in Boston and developed a new infographic about the generation of ultrafine particles indoors for the CAFEH research website.
Why did you get involved in research?
In my junior year, I got involved as a student researcher in Dr. Abadia and Dr. LaRusso's PANS project, which examined the experiences and challenges faced by PANS children and their families through a series of qualitative interviews. I initially became involved in this research because I was interested in the social determinants of health after taking a public health course in the fall semester of my junior year. After being a part of this project for a semester, I was inspired to further research the role of diet in chronic childhood conditions because I noticed in many interviews with PANS families that parents would mention diet as important in their child's recovery. Ultimately, I hope that my project will provide a broader commentary on the role of diet in the emerging epidemic of similar chronic childhood conditions.
I was drawn to Dr. Brugge's research group because a predominant aspect of CAFEH was "Research to Action", a group of collaborators from universities in the Boston area with the goal of using their research to make changes on the policy level regarding traffic-related air pollution and reduce its impact on communities in the area. Ultimately, this is something I hope to do in my own career.
What advice would you give to incoming students?
I would advise incoming students to have an open mind and not be afraid to try a unique research experience! As someone who came into college as a PNB major, I thought I had to get lab experience and joined a lab in the Department of Pharmaceutical Sciences that studied the epigenetic mechanisms of Substance Use Disorder. After a semester, I realized that this research was not something I wished to continue, and instead got involved in more public health research. Don't be afraid to try something new or explore an interest that is different from your major!
What do you enjoy the most about participating in research?
Research is important to me because it not only allows me to pursue my interests, but also fosters a sense of independence and creativity that is not always found inside a classroom. I have learned so much over the past year just from participating in research, drafting project proposals, and applying to grants and research programs through OUR.
What are your plans after graduation?
After graduation, I hope to attend a PhD program in public health so that I can continue to pursue my research interests and eventually have a career in academia. Drawing inspiration from my experience working with Dr. Brugge, I also hope that I can use my research to influence policy changes in the healthcare field.
Click here for more information on Kynza and other OUR Peer Research Ambassadors.
---