By Grace Nichols, OUR Peer Research Ambassador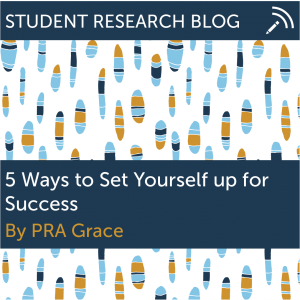 So you've heard of research, and you know that it's happening at UConn. Maybe you have friends that work in labs, your professors have mentioned their work in lectures, or you stopped by to see the poster presentations at Frontiers in Undergraduate Research. Whatever your exposure, research sounds exciting and important, and now you want to get involved, too!
If you aren't sure where to begin, start by checking out the Office of Undergraduate Research's website. There are resources on how to take those first steps to connect with faculty, or even develop your own independent project. While these are all invaluable tools, I want to talk more about the "proactive" part of searching for research opportunities.
In reality, only a fraction of your search process will involve drafting emails and reaching out to meet with potential mentors. Where the bulk of your time will actually be spent is figuring out what type of research you want to get involved with, who is doing that work, and whether this work aligns with your personal goals. This preparation is called "proactive searching."
Here are some steps to keep in mind as you start to navigate this process:
1. Self-Reflect – Why research?
As you look for potential research opportunities, take time to think about what you want to learn and gain from an experience. For starters, try to answer this question: "Why do I want to get involved in undergraduate research?" This is an important question to reflect upon, not only because the faculty you meet with may ask you, but because this will help you address what you are really looking for in an experience. Do you want to gain new technical skills? Are you looking to delve deeper into topics that interest you? Are you interested in building a strong relationship with your faculty mentor? Once you find your "why," you'll be better equipped to confidently speak about your interest in a specific lab, and your motivation for getting involved with a professor's work.
2. Time Commitment
It is also important to reflect upon the time commitment you are prepared to make. Some fields of research may only require a few hours of work each week, while other projects may need up to 10 hours of work for progress to be made. It is important to keep the commitment you are prepared to make in mind as you meet with different investigators. If a semester seems too busy for you to add research to your plate – that is okay! You can always hold off, plan your next semester accordingly, or even apply for summer research opportunities.
3. Identifying Faculty
Not sure where to find potential faculty that you can work with? Check out Lincus! Lincus is a database containing all faculty affiliated with the University, including UConn Storrs, UConn Health, and even institutions like Connecticut Children's. All you have to do is type in keywords like "cancer" or "tissue engineering," and browse all of the investigators who are doing work related to your topic of interest. Take the time to read papers published by these individuals, and look over their lab's website, if they have one. It is more than okay if you don't completely understand all of the methods and experiments you read about, but try to gain a general understanding, and think about if this is something that you'd like to learn more about. 
4. Start Conversations
Another great way to learn more about the research being done at UConn is to talk to the students and faculty around you. Look through different department's websites, which almost always include bios of professors. If a professor's work resonates with you, check to see if they teach a class that you're interested in taking, or even better, reach out to them! Talking to classmates is another great way to get the student perspective on undergraduate research. If you want additional guidance in navigating this process, you can always make an appointment with an OUR advisor, come to OUR drop-in hours, or reach out to a PRA.
5. Keep an Open Mind
While you search for research opportunities, it is important to remember that your area of study does not have to directly align with your major, or your major's department. There are plenty of topics out there that you may not have had exposure to yet, so don't get hung up on being in a specific field, or studying a specific topic. Step out of your comfort zone and try different things – there is a world of research out there!
If you have too many interests and can't seem to zero in on something, try taking a wide breadth of classes. You never know what may pique your interest, so have fun with your course electives. Another way to try out a unique field of research is to get involved in a summer research opportunity. An immersive summer spent doing research will provide you with plenty of time to learn, provides exposure to a specific field, and will allow you to gain a new skill set. You'll return to campus with a better idea of what you want to get involved with, or even better, if you want to continue building upon the work you began that summer.
Overall, reflecting on your own goals and expectations, diversifying your undergraduate experience, and being open-minded in your search, will all help you in figuring out what research experience works best for you. While every student's journey and interests are different, taking advantage of the resources that UConn and the Office of Undergraduate Research have to offer is something that can benefit every undergraduate.
Grace is a senior majoring in Molecular & Cell Biology and minoring in Mathematics. Click here to learn more about Grace.
---