By Krithika Santhanam, Peer Research Ambassador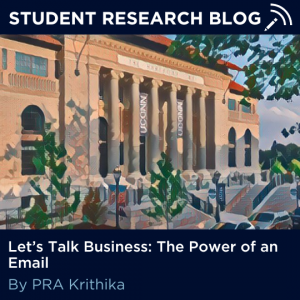 Professors at UConn are engaged in cutting-edge research, teaching classes, grading, meetings, and appointments. In other words, while professors are going through their daily schedule, their inbox is constantly flowing with new emails from students, faculty, and staff for a number of reasons. If you've sent emails to faculty and haven't heard back, you're not alone!
It's important to remember that when a professor doesn't respond to your email or cannot offer you a conversation about their research, it is not a reflection of you and your abilities. It's easy for your email to get lost in the crowd and honestly, for the professor to just miss it. There are things that you can do to make a positive first "virtual" impression, to set yourself up for success, and to stay away from common pitfalls. Here are some tips and tricks for emailing that I've learned along the way:
1. The Basics – Professionalism and Respect
This may be a given, but remember to address your emails with Dear Professor ____ or Dear Dr. ______. There are professors at UConn who are known to be casual individuals and allow students to call them by their first names or without their academic credentials however, you're not there yet! This is their first impression of you. This could be a professor you had in a 300-person lecture, heard of in passing, or haven't even met before so help yourself out and keep it professional.
2. Do Your Homework!
A generic email to a professor asking for an undergraduate position in their current research project is a big ask, especially if you show no indication of having explored their work. It's important to take the time and do some literature reviews on the research and the progression of their work. This doesn't have to be an extensive analysis that you include in your email, just a couple lines which indicate why you gravitated towards their work. This makes professors more inclined to offer you a conversation to talk about something they love, their research!
3. Keep the Email Short, Sweet, and to the Point – But Be Specific!
The easiest way to not receive a response from a professor is sending a long email to ask for a conversation. To me, emails are a more put together and professional version of texting. Although not casual, they are a mode of communication that has the connotation of quick, easy, and efficient. A long email does not convey that vibe. Busy professors don't have the time to read a long email. It is true that there is a decent amount of content in this email, however, the challenge becomes writing it in a succinct manner. As stated in the title, the email should be as short as possible while still maintaining the specificity.
4. Schedule Send is Your Best Friend!
As a freshman, I found that the best time for me to do my research on professors and their work was Saturday at 10:30pm. By the time I actually wrote the email and pressed send, it was 11:30pm. And yes, sometimes I would keep writing emails after that. The funny part is I would be utterly shocked when I received no responses from any of the professors I had emailed. I was confused because I thought I did everything right; I did my homework and put together a well thought-out email. It was only after talking to a Peer Research Ambassador that I realized no professor is checking their email on a weekend at that hour. It was a PRA who exposed me to the feature of schedule send, a blue arrow next to the send button where you can choose the day and time the email should be sent in the future. I highly recommend using this feature and schedule sending you emails for 8:00am on a weekday for it to be the first thing in your professor's inbox in the morning. In other words, if writing emails at 10:30 pm works for you, that's amazing! Just send them during working hours.
5. Prepare a Résumé – Not an Autobiography
It is a common notion that ambitious college students should be doing a million extracurriculars on top of 7 classes to attract postgraduate opportunities. Freshman year I thought that I needed a 3-page résumé in order to feel worthy enough to apply to a research position. I learned the hard way that you can't do it all. If attaching a résumé to your emails, you want it to show professors that you have time to commit to the lab. Your résumé should be a brief overview of your college experience thus far. Highlight experiences that demonstrate transferable skills such as communication and collaboration outside of the classroom. Also, if you don't have much to add to your résumé – that's okay!
6. Don't Copy the Lovely Templates OUR Provides – They are, just that, a Template!
I think that the Office of Undergraduate Research does a fabulous job (I may be biased) of educating students on writing emails in the essential Getting Started in Undergraduate Research presentation. However, the resources given during the presentation and on the OUR website are NOT the only way to write emails. Realistically, if you used the template provided by OUR, the professor you are emailing would know you copied verbatim and didn't take the time to draft your own email. How does this make you look? It looks like you didn't have the time to draft a quick 5-10 minute email. If that's the case, how would you have the time to be specific and detail-oriented in their lab? Just remember, this is your first "virtual impression", so take the time to let your personality flow through the email!
7. Keep the Email Chain as Short as Possible
Instead of saying "Please let me know some times that might work for you…" or something along those lines, end the email with some days and time you are available. You may think this seems upfront as you are presuming the professor wants to talk to you, but in reality, you are making it easier for the conversation to happen. Sometimes, when the email chain becomes too long, professors forget to continue the conversation and find a time to meet. By adding days and times you are available in your initial email, there is a higher chance the conversation will actually occur.
Krithika is a junior double majoring in Molecular & Cell Biology and Health Policy and Racial Disparities (IMJR). Click here to learn more about Krithika.
---