By Anabelle Bergstrom, Peer Research Ambassador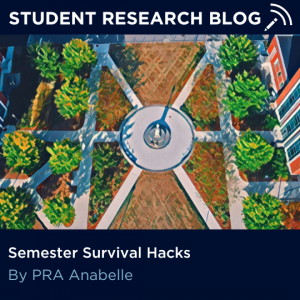 Navigating research, academics, and extracurriculars can be daunting. Luckily, time management doesn't need to be scary! At the beginning of every semester, I take some time to reflect on my study and schedule habits. That way, I am in tune with what works for me and what doesn't. Every semester offers new experiences that change how I approach my responsibilities. I thought I would share some advice on what makes me successful, though it is important to note that just because these tips work for me, doesn't mean they will work for you. Here are my top five study and schedule hacks to help you succeed this semester.
Dedicated blocks of time– This tip helped me during one of my toughest semesters. Just like you would put a class or club into your schedule, put a block of time that is dedicated for studying. Do not schedule anything else during these times. This will allow your mind to become used to dedicated time to focus. Also, it will assist you in becoming more disciplined with your study habits.
Disconnect – Turn off your phone and computer notifications. You may have heard this a million times, but I promise it makes a difference. Staying focused and present during your study time is a valuable skill to have. Having a distraction free environment will also help prepare you for exams.
Take breaks – Remember to take a few moments when you are studying, and throughout the day, to ground yourself. Take a few deep breaths or drink water. It can even be helpful to set a timer for when to take a break while you are studying. As I mentioned, staying focused is key but remember that you are human. Studying for 4 hours straight can do more harm than good, so setting few minutes of time to go for a walk or grab a snack is beneficial.
Surround yourself with people who understand – Part of surviving the semester is knowing when to throttle up and when to throttle down. You won't be able to go to every girls night, party, or sporting event. Surrounding yourself with people who understand that you may need some nights to catch up on work or self-care will help immensely. Having a strong support system is key to surviving the semester.
Listen to your body and mind – If you do not get anything else out of this blog post, at least take this piece of advice. Listen to yourself. You know yourself better than anyone. So, if you are feeling overwhelmed, allow yourself to set back and reset. This might look like a hike, a walk around town, or a long gym session. There is nothing more important, even academics, than making sure you are healthy and happy.
It is important to remember that just because these tips helped me does not mean they will help you. Everyone is different. One of the most important lessons you will learn during your undergraduate career is to pay attention to your own gut, mind, soul and body. I encourage everyone to spend some time in reflection to find out what you need. The start of the semester can seem scary, but once you create habits that work for you, it will fly by. I hope some of these tips resonate with you. Best of luck this fall!
Anabelle is a junior double majoring in Political Science and Philosophy with a minor in Public Policy. Click here to learn more about Anabelle.
---