In recognition of the pivotal role that mentors play in supporting undergraduate research and creative activity, the Office of Undergraduate Research is pleased to announce the recipients of the 2023 Mentorship Excellence Awards. These awards recognize two faculty members – one in a STEM field, and one in a non-STEM field – and one graduate student who exemplify the ways in which outstanding mentors challenge and support their students, enabling them to take intellectual risks and achieve milestones they might not have initially envisioned being able to reach.
Please join us in congratulating Na Zhang, Wendy Mok, and Chelsea Garcia on their selection as this year's Mentorship Excellence Award recipients. The awards were presented on Friday, April 14, 2023 and Tuesday, April 18, 2023 during the Frontiers in Undergraduate Research Poster Exhibitions at Storrs and Stamford.
---
Na Zhang, Assistant Professor, Human Development and Family Sciences
Professor Zhang was nominated by Victoria Almazán '25 (CLAS) and Abigail Ricketts '24 (CLAS). The following text is excerpted from their nominations.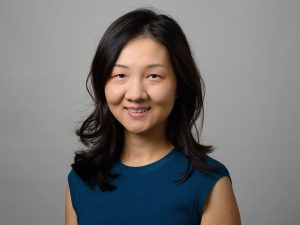 When choosing a career path, I was often stuck on what would bring me everything I wanted: a clinical outcome for social good, as well as the opportunity to keep learning, writing, and reading every day. I considered a variety of careers such as social work, medicine, therapy, and more. However, these were all missing a certain component and I did not want to settle. Through learning research skills, I realized that research filled the learning component of my career goal and made it a goal to become more involved. However, I was still stumped on what that meant for me career-wise. I decided to set up a meeting with Dr. Zhang and ask for her thoughts. I described to her in a very dramatic way that I was suffering from a career crisis. She listened to me and asked me what my research interests were and told me about clinical psychology. While I had heard about the career previously, my understanding of it was vague at best. I researched people in the field, graduate programs, and more, and learned that it fit every single component I was looking for. Since describing this career goal to Dr. Zhang, she only increased her level of support. I am extremely grateful to have a mentor like Dr. Zhang help me shape my research interests in the social sciences and broaden my horizons in learning experiences I never expected to have. – Victoria Almazán
It quickly became obvious to me that Dr. Zhang is the type of mentor who genuinely cares about me, my interests, and my success. When developing my research plan she helped me to go above and beyond what I thought I was capable of doing. For example, Dr. Zhang encouraged me to submit an abstract of my preliminary findings to a psychology research conference. Before, I was not very aware of what occurs at these research conferences and how much of a benefit being accepted to present at one would be. With her guidance, I was able to submit an abstract and be accepted to present at the annual Association for Psychological Sciences Convention. This will be extremely beneficial for my professional and research goals because I will be able to see what research is currently being conducted in my field, as well as network with experienced and successful professionals. Dr. Zhang is the reason I will be able to have this opportunity that I didn't even know was possible for me. – Abigail Ricketts
---
Wendy Mok, Assistant Professor, Molecular Biology and Biophysics
Professor Mok was nominated by Stephanie Schofield '23 (CLAS). The following text is excerpted from Stephanie's nomination.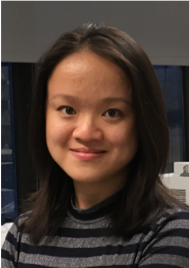 Since the day I joined the lab, Wendy has challenged me to grow as both a scientist and as a person. In the first months before I even started working in person with her, she set up weekly meetings to help me digest scientific research papers so that I set a strong foundation for my research. After my very first poster at Fall Frontiers, Wendy challenged me to go further. Together, we worked on submitting abstracts to various conferences across New England. I recall, when I went to the BIG EAST Symposium to present my work, she was so excited that she posted a picture of me in front of my poster, and I was so honored by this. Wendy motivated me to apply for grants and programs, supporting me tirelessly on the applications and also quelling my fear of failure. When I received word that I was not selected for one program, I was devastated. Wendy hugged me and told me, "Do you know how many grants I have applied for in my life?" and when I was unsure, she answered, "Probably 50 by now, and all I needed was one to come through." Months later, we worked to turn that unsuccessful proposal into a SURF award application that supported my research last summer and made me hungry to keep dreaming bigger. In the fall, I independently applied for a Fulbright grant and recently learned of my selection as a finalist! The foundation I built in Wendy's lab, both in terms of technical skills and writing skills, made these opportunities possible.
Aside from her mentorship, over the last two years, Wendy has grown to become like a mother to me. While I have been responsible for my own success, Wendy has made my dreams possible through all her love, support, encouragement, and mentorship. I walked into her lab a timid, shy undergraduate, and now walk out with five posters, three projects, two successful grants, and one publication under my belt. Sometimes I get emotional about leaving the lab after graduating this spring. Wendy once gave me a big hug and showed me that she had cut a leaf off of our lab plant in her office. She told me that when anyone graduates from her lab, they get their own piece of the plant as a parting gift. "You're just beginning, with me you've grown so much that now you get a new pot, a new environment. And you'll grow and thrive there always knowing that we are just one family in your life."
---
Chelsea Garcia, Ph.D. Student, Nutritional Sciences
Chelsea was nominated by Paige Dossias '23 (CAHNR). The following text is excerpted from Paige's nomination.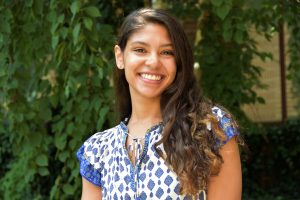 Like many new students, I felt intimidated about working in a lab. However, after meeting Chelsea for the first time, my worries were immediately put at ease. She was incredibly welcoming and gave me a thorough tour of the lab we would be working in together. Once I began reading the lab protocols, I admitted I was struggling to understand. Chelsea took the time to reassure me that this was completely normal and that she would explain things on a step-by-step basis, which was a great relief. After the first week, I knew I wanted to be involved in this lab for my remaining time at UConn.
I feel incredibly fortunate to have Chelsea as a mentor. She is someone I know I can always count on for support – not only with my research projects, but also for guidance on opportunities outside the lab. Chelsea creates an open and safe environment where students can go to her for just about anything. She has answered what feels like thousands of questions and has made time to meet with students even when she is busy. Whenever she learns that I am working on a project or a piece of writing, she offers to review and provide constructive feedback. Chelsea makes it clear to everyone in the lab to prioritize their health above all else. It is evident that she has a genuine passion for mentorship and wants us to succeed. She is an excellent role model — from how she teaches students in our lab, to her willingness to support other students and faculty, as well as her hard work and dedication to research and academics.
With Chelsea's guidance, I have become more independent and able to solve problems on my own. She has shown me her thought-process on how to approach issues when challenges arise in the lab. She emphasizes how mistakes are an important part of the learning process and how we can use them to grow as researchers. She taught me to document every observation, which is something I have incorporated into my everyday life. For every protocol I've learned, Chelsea ensures I understand how each experiment and reagents work before moving on. She even goes as far as to share examples of safety hazards she's witnessed in the past, as well as the most common lab errors and sources of contamination. These examples have been invaluable to me and I've been able to pass this learning onto incoming students.
Chelsea continually encourages me to take on new projects and apply for awards, even when I was uncertain. One of the most frequent phrases she says is, "I believe in you." I am in awe of how much I've grown as a student, researcher, and person under her guidance. I never could have imagined how much I would learn through research and how incredibly rewarding and fun it can be. Even with something as simple as blasting Disney music while we work, she is always looking for ways to create an enjoyable and relaxing learning environment. I cannot thank Chelsea enough for her unwavering support and guidance during my time here at UConn. She has had a profound impact on my undergraduate experience, which will serve me for years to come. She has been one of the best mentors I've ever had and given me a foundation to build on for my future. For this, I am forever grateful.
---
Congratulations to the 2023 award recipients! The Office of Undergraduate Research thanks the undergraduate students who nominated their faculty and graduate student mentors as well as the Peer Research Ambassadors who served on this year's selection committee.
---