The Office of Undergraduate Research is pleased to announce the selection of 48 undergraduate students to receive SURF Awards in support of their summer undergraduate research projects.
Click here to view the full list of Summer 2023 SURF awardees.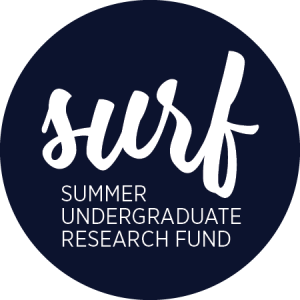 Congratulations, SURF awardees! Your curiosity, initiative, and motivation were evident in your applications and you have an exciting summer of deep engagement with the process of academic inquiry ahead of you. We look forward to hearing about all you learn and discover!
We thank the faculty members who supported SURF applicants in a range of roles: mentors, letter writers, and faculty review committee members. SURF represents a collaborative effort between students and faculty. This program would not be possible without the support and participation of the UConn faculty!
OUR also extends thanks to SURF supporters in the UConn community. We are grateful to the Office of the Provost, the Office of the Vice President for Research, and to the Deans of the Schools and Colleges of Agriculture, Health and Natural Resources; Engineering; Fine Arts; Liberal Arts and Sciences; Nursing; and Pharmacy, who all pledged funding to the SURF competition this year. Alumni, parents, and friends of UConn also helped fund SURF awards. This collaborative funding effort ensures that SURF supports a diverse array of undergraduate research endeavors. We are grateful to all of our program partners for making intensive summer research opportunities available to students seeking to enrich their undergraduate experience in this way.
Once again, congratulations to the recipients of 2023 SURF awards, and good luck with your summer projects!
---