By Ayushi Patel, Peer Research Ambassador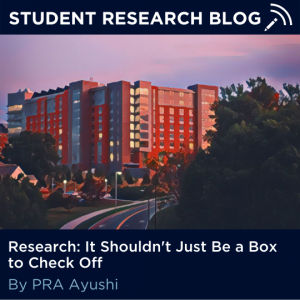 As a senior pre-medical student, I have definitely experienced feeling "behind" compared to my peers. We are put into a competitive environment, and it's only made worse when we realize there's extremely limited spots for what we are all trying to achieve. This certainly isn't any better when you feel like other students are "ahead" of you—maybe that means they're in a research lab already, maybe they have a publication in progress.
Before beginning research, it might seem like the search is overwhelming and getting into a lab is impossible, but this is a process in which you should be selective. There are plenty of steps to follow to help the process.
Be Patient

– Don't rush into starting or committing to a particular subject if you're not actually interested in it. There are so many fields and topics to do research in at UConn; it's not going to help you if you settle for something you're not really interested in just to be able to say you did research. A common misconception is that you need a certain list of qualifications to get into graduate school. What you get involved in and choose to dedicate your time to should be things you love and are passionate about. That's not to say that everything you do at college will fit under this category, but if you're devoting your time and energy to something, consistently and over the course of multiple semesters, it definitely shouldn't be something you're only doing to check a box. No matter what the circumstance is, it's important to keep this idea in mind: your passion for something you've done will shine through when you talk about it.


Do Your Research

– Before you email a professor, make sure to do your own research on their laboratory. Read up on past publications, the lab's primary focus and goals, and what type of work they do. Make sure you're interested in their work and only reach out if you are.

Prepare Questions

– When meeting with a professor about potentially joining their lab, come with plenty of questions. Ask what undergraduates do in the lab and what kind of commitment they expect. Also bring up any other concerns or limitations you might have. Being honest and open, even if it's a little awkward, might save you a lot of confusion and stress later on and help you find the right position.

Focus on the Big Picture

– You're going to love every aspect of your research—there are times where that won't be the case. Take it from me, a person who hates bugs and critters and is somehow doing their honors thesis in a lab with Drosophila, aka fruit flies. However, the big picture, the subject, the work, the environment—these are all things that should excite you, or at least intrigue you.

Don't Be Afraid to Bow Out

– If you realize a lab might not be for you, or that research in general is something you aren't ready to pursue at the moment, remember it's okay to politely tell the professor that it doesn't seem like the right fit for you. Once again, save yourself a lot of stress in the future.

Don't Go It Alone

– Use the many resources at UConn. Speak with Peer Research Ambassadors, connect with various OUR services, use Lincus to find labs specific to your interests, and most importantly, just remember you aren't alone in this process.
Doing something for yourself, your interests and passions, and to further your own knowledge is definitely better than doing it just for an additional line on your résumé. Remember this and getting started in research won't be as scary as it might seem.
Ayushi is a senior majoring in Molecular & Cell Biology and minoring in English. Click here to learn more about Ayushi.
---