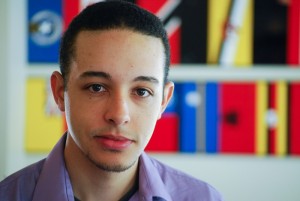 Carl D'Oleo-Lundgren '14 (CLAS), an individualized major in international relations, aspires to earn a master's degree and join the Foreign Service. As part of his undergraduate studies, Carl collaborated on a SHARE Award project with Dr. Prakash Kashwan, a faculty member in the Department of Political Science. The SHARE Award supports research apprenticeships for students majoring in the social sciences, humanities, and arts to enable these students to explore their research interests and build inquiry skills. A summary of this particular SHARE project follows.
Could a Union Save this Planet?
Coding and Analyzing "Sustainable Development": Perspectives of IUCN Members
The project sought to understand the perspectives of the members of the International Union for the Conservation of Nature (IUCN), with these specific research questions:
How does international relations theory compare with practice?
How do expectations compare with results?
How promising are results of IUCN projects?
To answer these questions, they:
Analyzed IUCN records
Examined IUCN meeting minutes in depth
Coded trends for systematic analysis
In addition, they examined the United Nations Framework Convention on Climate Change (UNFCCC), seeking to understand the role of growing civil society participation in international climate change negotiations. In particular, they were interested in the role of networking NGOs.
To characterize these roles, they:
Researched and indexed the history, goals, values, and methods of "Climate Justice Now!" and the Climate Change Network
Interviewed officials from each NGO over Skype to ascertain civil society perspectives on:

The civil society-UNFCCC relationship
Civil society perspectives on their work
The future of international climate change action
Ultimately, they concluded that the future of international climate change action is unclear. In the wake of messy negotiations in Copenhagen, the UNFCCC will continue to restrict civil society participation in the short to medium term.
Learn more about Carl's undergraduate career, including a range of research experiences, in this UConn Today profile.
---