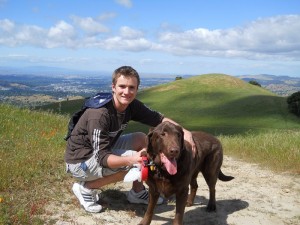 Andy Bilich '14 (CAHNR) recently graduated with bachelor's degrees in Natural Resources and Resource Economics and minors in Political Science and Environmental Economics and Policy. In this essay, he describes his experiences as an undergraduate researcher at the University of Connecticut.
I am originally from San Ramon, California, but I came to the University of Connecticut in the fall of 2010 and will graduate with a BS in Natural Resources and a BS in Resource Economics in May 2014. In my four years at the University of Connecticut I have had the incredible privilege to be an undergraduate researcher. This experience not only prepared me well for the job and graduate school markets, but also gave me the opportunity to travel, present at conferences, and meet and work with professionals in my field.
I got started in the fall of 2011 when I reached out to a Dr. Mark Boyer, the professor of my global environmental politics class, with some questions that had come up in my summer work. I spent the summer as an energy policy analyst intern at Energy Commercialization LLC working on presentations on renewable energy deployment in the Middle East and India and the creation of the California carbon trading market. My professor met with me and we talked about the research and after our discussion, he offered me a research assistantship on his new project. This ongoing research project is looking at local governance for climate adaptation policies. Along with a PhD student, I have been gathering and analyzing climate change adaptation policy and initiatives data for 169 Connecticut townships, which Dr. Boyer is using to write a book about local governance and the issue of climate change. The data will also be published into a database that will allow users to search for specific types of policies and initiatives undertaken by towns with specific demographic, geographic, and economic characteristics. Hopefully this database can help to positively influence future environmental and climate change governance.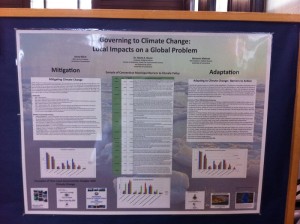 During this project, I applied for and was awarded a Social Sciences, Humanities, and Arts Research Experience Award (SHARE). This award provided me with funding to continue the research that I was conducting with Professor Boyer, but more importantly it gave me the ability to attend the Frontiers in Undergraduate Research Poster Exhibition as a student researcher. For this event I prepared a poster summarizing some of the preliminary results and trends of the interviews of town policy officials that I helped conduct. This was an awesome opportunity because it allowed me to practice presentation skills and gain a better understanding of the data I was working on and some of the questions that people had about it. This was valuable and practical experience that I built on for future presentations.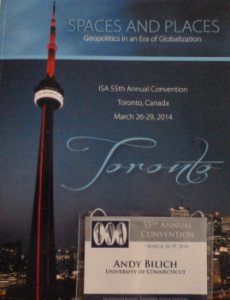 In the spring of my senior year I received a Travel Award from the Office of Undergraduate Research which helped me to travel to Toronto for the 55th Annual International Studies Association Conference on Geopolitics and Globalization. As part of this amazing trip I presented some of our research findings on policy drivers for climate adaptation policy in Connecticut towns. I also met professors and researchers from around the world and attended panel discussions on water security, energy deployment and security, environmental justice, climate change, and geoengineering.
It is clear to me that my experience in undergraduate research was the most important and formative thing I did while at the University of Connecticut. As a graduating senior, there is no better piece of advice I can give to current and future UConn students than to get involved with research. The research experience that I have had has given me all of the skills and confidence I need to succeed in the next chapter of my life. This fall I will be building upon this foundation as I pursue a Master's of Environmental Management in Energy and Climate Resources at the Bren School of Environmental Management at the University of California Santa Barbara.
---