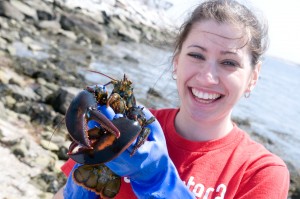 Program Overview
Eligibility
Application Deadline
How to Apply
Information for Recommenders
Criteria for Review and Selection
FAQ
---
Program Overview
The Office of Undergraduate Research (OUR) will provide up to $500 to undergraduate students to travel to present their research or creative projects at conferences, or to travel to conduct research. If traveling to a professional conference, the student MUST be presenting his or her research at the meeting.
Students may use these awards to pay for conference registration, food, travel, parking, and lodging while away from their home UConn campus. Travel costs incurred as part of UConn coursework are not eligible for this award.
It can take up to 6 weeks for a Travel Award to be approved and for funds to be disbursed, so early application is encouraged. You must apply a minimum of 4 weeks before you travel.
Applications are reviewed on a rolling basis and awards are made until funds are exhausted. (In other words, apply early!)
Students who receive an OUR Travel Award are required to present their work at a Frontiers in Undergraduate Research Poster Exhibition during the academic year in which they received their OUR Award.
In the 2015-2016 academic year, 89% of all applications received were approved for funding. Funding rates vary; we will take financial need into account when making these awards.
---
Eligibility
To apply for these awards, students must meet the following requirements:
Must be an undergraduate enrolled full-time at any campus of the University of Connecticut. Eligibility for funding through Office of Undergraduate Research award programs is restricted to students currently pursuing a bachelor's degree at UConn. This includes students pursuing Bachelor of Arts, Bachelor of Fine Arts, Bachelor of General Studies, Bachelor of Music, Bachelor of Science, and Bachelor of Science in Engineering degrees.
Note: Part-time undergraduate students enrolled at any campus of the University of Connecticut may apply for these awards if they have completed at least 60 academic credits (including at least 12 credits at UConn) and have a minimum UConn cumulative GPA of 2.8 or better.
Must complete the travel associated with this award before graduating from their bachelor's degree program.
Must have a minimum cumulative 2.8 GPA.
Must have their faculty advisor on the project submit a recommendation form.
Recommendation Form – Travel to Present Research Award OR Recommendation Form – Travel to Conduct Research Award
May receive no more than one OUR Travel Award during any given academic year.
AWARD CONDITIONS
Students engaging in international travel for academic purposes must register with UConn Global Affairs – Education Abroad in accordance with the UConn Student International Travel Policy. Students will be automatically enrolled and covered by Cultural Insurance Services International (CISI) Health Insurance for the duration of their trips upon their completion of the UConn Education Abroad student travel registration form. Learn more about health insurance costs and the Education Abroad registration procedure.
OUR Travel Award recipients must present at the Frontiers in Undergraduate Research Poster Exhibition in the fall or spring of the academic year in which the award was received.
Recipients must submit the appropriate Research Experience Completion Form to the Office of Undergraduate Research by the deadline specified in their award letter. The Completion Forms are available here:
Completion Form – Travel to Conduct Research Award and Completion Form – Travel to Present Research Award.

---
Application Deadline
The online application for 2017-18 OUR Travel Awards will open on Monday, August 28, 2017.
---
How to Apply
A complete application consists of the online application and a Travel Award Faculty Recommendation (Recommendation Form – Travel to Present Research Award OR Recommendation Form – Travel to Conduct Research Award) submitted by your faculty advisor for the project directly to OUR. Please use the Budget Worksheet to generate an itemized budget for your travel; you will be asked to upload this as part of the online application. Students applying to conduct research internationally must also upload a completed Supplemental International Travel Questions form. We encourage you to share your application – including your project description and budget – with your faculty advisor so s/he can refer to them when completing the recommendation.
It is advisable to review the OUR Travel Award Outline prior to completing the online application. The outline lists all the questions you will need to answer and the types of information you will need to provide in the online application.
Please note that the final question on the application will ask you to certify that you have prepared your application materials in accordance with University standards for academic integrity. Learn more about academic integrity.

---
Information for Recommenders
Faculty advisors are asked to complete the Travel Award Faculty Recommendation that corresponds to the type of award their advisee is seeking:
Recommendation Form – Travel to Present Research Award
Recommendation Form – Travel to Conduct Research Award
Your assessment of the quality of the student's work to date and the necessity of this funding for the achievement of the student's goals are critically important to the review process.

---
Criteria for Review and Selection
OUR Travel Award applications are reviewed by the Director of the Office of Undergraduate Research based on the following criteria:
The project description is well written and clearly explains the project.
The student and his/her project meet the eligibility criteria.
The budget is itemized, appropriate to the project described, and reports the total cost of the proposed travel (even if it exceeds the funding requested).
The student has secured research compliance approval(s) if necessary for the project. No award will be issued until documentation of these approval(s) is received.
The advisor is familiar with the student's project and rates the student's work to date highly.
The student could not accomplish all the goals associated with the research project without this funding and the advisor recommends funding.
Please note that funding for this program, which is intended to support students across the university, is limited. Multiple students applying for support for the same project or related projects may receive smaller awards. Students who have previously received support from OUR for their projects may receive smaller awards or lower priority for funding.


---
FAQ

How are OUR Travel Awards disbursed?
OUR staff will be in contact with you to gather all the information needed for UConn's travel pre-approval process. Once all approvals are in place, the award funds will be posted to your fee bill. Once posted to your fee bill, you will be able to request a refund from the Bursar's Office. Learn more about requesting a refund.

I am conducting research at UConn Health. Am I eligible for this award?
You can apply for a Travel to Conduct Research Award to cover expenses associated with travel to the UConn Health campus, provided that (a) if you are a student at the Storrs campus, you provide an explanation of why you cannot use the no-cost shuttle service, and (b) that you are not a current participant in the Health Research Program.

I will be driving my own vehicle as part of my travel to conduct or present research. Is that an allowable expense?
If you will be driving, you can request that the expense be covered using the prevailing mileage rate multiplied by the round trip mileage. See the UConn Travel Services website for the current rate.

I will be presenting research I conducted at another university through an REU (or other, similar) research program. Can I apply for a Travel to Present Research Award?
Yes, you may apply for a Travel Award to help defray your travel expenses. In cases like this, in which the research was conducted at an institution other than UConn, we ask that you have two faculty recommendation forms submitted on your behalf – one by your research supervisor at the other educational institution, and one by a UConn faculty member. The online application only allows you to enter information for one recommender, so please email us the information about your second recommender after you have submitted your award application.

I am planning international travel. Are there any restrictions on international locations to which I can travel?
The University will not permit or support travel to any country with a U.S. Department of State Travel Warning or Travel Alert except pursuant to a Waiver approved by the Provost under the Policy for Education Abroad and Related Activities in Sites with a U.S. Department of State Travel Warning/Travel Alert.

I have questions about OUR Travel Awards. Is there someone I can speak with?
If you have questions about OUR Travel Awards or the application process, contact the Office of Undergraduate Research at our@uconn.edu, 860-486-7939, or schedule an appointment with an OUR Advisor via AdvApp.uconn.edu under "Enrichment Programs."