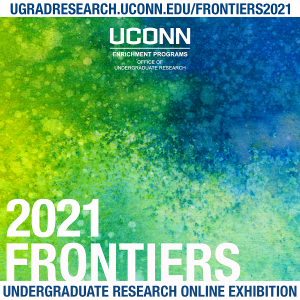 Frontiers in Undergraduate Research provides an opportunity for UConn's talented undergraduate researchers to share their work with the university community.
Consistent with the University's steps to prevent the spread of COVID-19, a virtual Spring exhibition will be held during the week of March 22-26, 2021. An online exhibition consisting of short video presentations and posters will go live on March 22. Seven live presentation sessions will take place throughout the week. Full details and live session links can be found on the Frontiers 2021 webpage.
Frontiers is an undergraduate research poster exhibition at which any undergraduate student may present their research or creative work. The fall and spring Frontiers events are occasions to celebrate the efforts of student researchers and their dedicated mentors.
Frontiers exhibitions are open to the public and we encourage all members of the university community to attend. Come talk with students about the projects they've pursued and what they've learned through their engagement in research and creative activity. Ask student presenters to tell you about their projects; prepare to be surprised, intrigued, and impressed by their experiences! Several hundred students present their projects at Frontiers exhibitions each year.
Photos from Past Events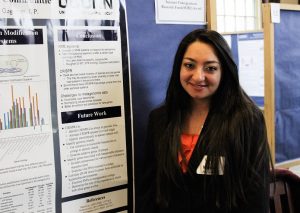 Programs from Past Events