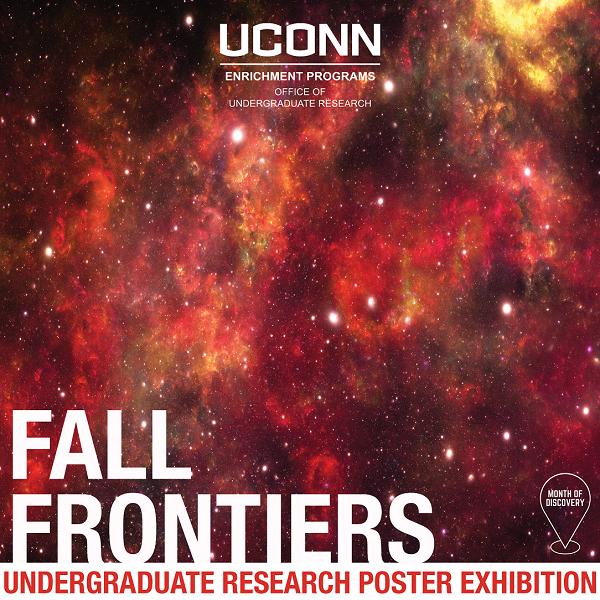 The Fall Frontiers in Undergraduate Research exhibition provides opportunities for UConn's talented undergraduate students to share their research and creative projects with the university community. For fall 2021, Fall Frontiers will be offered in a hybrid modality.
An in-person poster exhibition will be held on Wednesday, October 20th, from 5-7pm in the Wilbur Cross North Reading Room on the Storrs campus.
An online exhibition will go live on Wednesday, October 20th. This exhibition includes posters and short video presentations shared by students on the Portfolium e-portfolio platform.
A live, online presentation session will be held on Friday, October 22nd, from 4:30-5:30pm on Webex. Four students will present their projects and answer audience questions.
We invite the university community — especially other undergraduate students — to attend the in-person exhibition, to view and comment on the projects in Portfolium, and to participate in the online presentation session to hear from student researchers and ask questions about their projects and experiences. Full details about these engagement opportunities follow below.
Fall Frontiers is part of the Month of Discovery, a series of impactful and informative events designed to connect undergraduates to the opportunities they seek in enrichment, research, innovation, and creativity.
We thank students, faculty mentors, and staff colleagues for their patience, support, and positivity as Fall Frontiers moves to this new, hybrid model. We are pleased to have this opportunity to celebrate students' ideas, questions, explorations, discoveries, and creations in ways that keep UConn Nation safe, healthy, and connected.