By Kira Cuneo, Peer Research Ambassador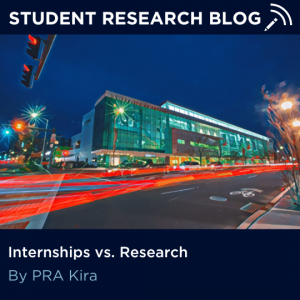 As someone who has had both internship and research experience, I thought it would be important to dive into the differences between these two experiences and the value that they have added towards pursuing my future goals.
As an engineering major, there is a focus on securing a competitive internship and making as many professional connections as possible. Research is not something that a lot of my peers have found to be essential to their undergraduate career. Even my professors, who are involved in research themselves, have promoted ways to find internships and future full-time positions.
In the OUR workshops, we always highlight the importance of research and how it can apply to so many different aspects of life. I have experienced that firsthand. My time on the Crumbling Foundations Research Project has allowed me to understand how to easily synthesize data and balance multiple tasks at once. I have enjoyed being involved in my research project because it is hands-on, and I get to be a part of a project that is directly impacting communities in Connecticut.
I have always been a visual, hands-on learner, and in my internships the part that I least enjoyed was sitting at my desk and doing mindless tasks. The parts that I enjoyed the most involved using the transferable skills that I had picked up from my time in the lab. During my internships, I was often confronted with tasks that I had never seen before. This is something that would typically cause me a lot of stress, but research has allowed me to gain the confidence that I am capable of learning new things and has helped me develop effective problem-solving skills. Although the work that I have done in the lab and at my internships has been completely different, working with so many different types of people in the lab made it much easier for me to foster meaningful relationships at my internships.
Now that I am in my last semester here at UConn, research is something that I am so thankful has been a part of my undergraduate career. I feel that having both internship and research experience has made me a well-rounded person and greatly benefitted me in my job search. The four years that we have at UConn are truly what we make of them, and I am happy to say that I feel that I have made the most of my undergraduate experience. Research is something that I would highly recommend to anyone that is interested, even if on paper it may not seem to line up as neatly with the career path that one is working towards.
Kira is a senior majoring in Civil Engineering and minoring in Engineering Management. Click here to learn more about Kira.
---