Meet Claire Fresher '22, an OUR Peer Research Ambassador (PRA) majoring in Mechanical Engineering and minoring in Mathematics.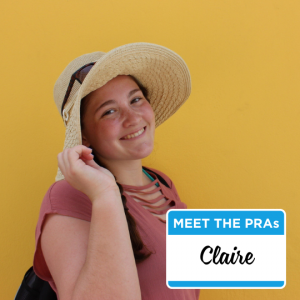 What is the focus of your research?
I conduct research as part of the Tarakanova Research Group, a biomedical/mechanical engineering lab, where I analyze metabolites that undergo aggregation in the body which is linked to the development of various diseases.
Another research team I am a part of is the Neurobiology of Individual Differences in Language Lab where I administer neuropsychological assessments to families to test the effects of environmental and genetic factors on cognitive development skills including language, math, and reading comprehension.
Why did you get involved in research?
I got involved in research because I wanted to learn more about a specific type of engineering and I also wanted to extend my knowledge across another discipline. Since I got involved with a psychology lab I was able to learn how engineering plays a part in all types of research.
What advice would you give to new students?
Be open-minded. Research is not meant to be constrained to a single thing. Research can be anything
you want it to be. Go for anything and everything you are interested in learning about.
What do you enjoy the most about participating in research?
The thing I enjoy most about research is being able to work independently and on the topics I am most
interested in. In most of my classes I found myself not being able to focus on specific things I found
interesting and wanted to know more about since the curriculum usually covers many topics. With
research I was able to thoroughly look into topics and create work that I wanted to do and that I was
proud of.
Describe the impact your research experience has had on you.
Through doing research I have learned that I am a very analytical person. I like to know how everything
came to be and how everything works. Research gave me the opportunity to look deeper into things I
was interested in and really become an expert in that field. It also pushed me to ask the hard questions
and focus as an individual on a specific task.
Click here for more information on Claire and other OUR Peer Research Ambassadors.
---