In recognition of the pivotal role that mentors play in supporting undergraduate research and creative activity, the Office of Undergraduate Research is pleased to announce the recipients of the 2021 Mentorship Excellence Awards. These awards recognize two faculty members – one in a STEM field, and one in a non-STEM field – and one graduate student who exemplify the ways in which outstanding mentors challenge and support their students, enabling them to take intellectual risks and achieve milestones they might not have initially envisioned being able to reach.
Please join us in congratulating Bradley Wright, Beth Lawrence, and Jessica Gutiérrez on their selection as this year's Mentorship Excellence Award recipients. As we are only able to celebrate the 2021 Mentorship Excellence Awards virtually this spring, we look forward to presenting the awards in person later this year during the Fall Frontiers in Undergraduate Research Poster Exhibition in October 2021.
---
Bradley Wright, Professor, Sociology
Professor Wright was nominated by Nidhi Nair '23 (CLAS) and Irene Soteriou '23 (CLAS). The following text is excerpted from Irene's nomination.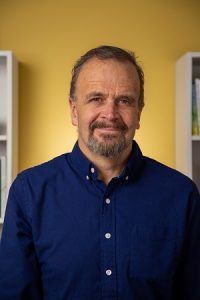 I first began working with Dr. Wright during my freshman year. This was my first experience with undergraduate research, and I am grateful to Dr. Wright because his purpose-driven and student-focused approach enabled me to grow extensively from this experience, both in learning to redefine my understanding of research, and also in considering my own identity within this context. As a freshman with little confidence in my own capacity as a researcher and no clear understanding of the greater purpose of engaging in research, I was consistently challenged intellectually in the very best way from my every interaction with Dr. Wright. He inspired me to question my preconceptions, motivated me to dig deeper in pursuit of knowledge, and believed in me before I believed in myself. Dr. Wright was always excited to engage in deep, thought-provoking conversations, and from them I was able to reflect more often and more carefully on my identity, reassess my impact, and reevaluate my priorities. Over time, I found that the girl who applied to UConn with a very vague and superficial notion of her future had become a woman with a much more grounded and meaningful awareness of her present purpose.
Dr. Wright stands out as the best candidate for this award because of the unique sense of purpose that he instills in his mentees. Under Dr. Wright's mentorship, my view of undergraduate research transformed from something one typically does in college because it is the expectation, to something one does for a purpose — it became exciting and exploratory and meaningful rather than just another box to tick off from my college experience. His mentorship and contagious enthusiasm for learning guided me towards greater clarity of how I could reframe my life in this context — how I could pursue research, scholarship, and creative activity with a greater intention in mind. And beyond making himself consistently available to discuss ideas, provide constructive feedback, and offer advice, Dr. Wright supported me further in the pursuit of my purpose by nominating me for growth-intensive programs, connecting me with contacts, and writing letters of recommendation so that I could pursue future scholastic development.
I immediately thought of Dr. Wright when I saw this award opportunity because he continues to make an effort to understand my short- and long-term goals within the context of my purpose, and is always challenging me to take the next steps in my work, whether through programs, conversations, initiatives, or research projects. Dr. Wright has also demonstrated excellent mentorship by serving as a role model. By maintaining transparency and inclusivity in his leadership of our research team, Dr. Wright has given me a style of leadership to look up to as I inherit larger leadership roles myself. His eagerness to support the success of those around him motivates me to do the same, and his love for his work inspires me to seek out what brings me fulfillment as well. Moreover, his emphasis on recognizing the impact and purpose behind all that we do in our research team has translated significantly into the way that I now lead my own life, and given me a profoundly transformative outlook moving forward.
---
Beth Lawrence, Assistant Professor, Natural Resources and the Environment
Professor Lawrence was nominated by Drew Tienken '22 (CLAS). The following text is excerpted from Drew's nomination.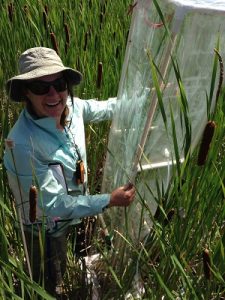 Dr. Lawrence has exposed me to a breadth of opportunities that have fostered my personal and professional growth, helped satisfy my academic curiosities, and prepared me for a successful future as I aim to attend law school. To put into context how influential and extraordinary of a mentor she is, the graduate students and I in our lab describe ourselves as being in a 'Beth Bubble,' as we have the pleasure of being around a mentor who is able to consistently inspire us to be better scientists and people. After working with her over the past two years, Beth has continuously been able to push me towards success. Watching her passion for wetlands as she explains important concepts to me has been infectious and greatly increased my interest in wetlands research. When we talk about science, she makes sure that I understand not just the 'what' and the 'why,' but also the ethical and societal dilemmas of scientific investigation, such as describing why it's important to have a colorblind palette on your figures, or how to be actively anti-racist while conducting environmental research. Her relationship with her students as a mentor goes beyond the superficial, as she continuously stresses the importance of taking breaks and caring for one's mental health in times where external stress is high. When I was considering doing research my freshman year, I was admittedly a little scared. After I met Dr. Lawrence, I realized that my fears were irrational; Dr. Lawrence has enabled me to grow throughout my undergraduate career as a student, scientist, and person.
I admire Dr. Lawrence most for her tenacity as a mentor, her willingness to push me forward, and her dedication to see her students grow. One moment I will never forget was being awarded a coastal science research fellowship from the Connecticut Sea Grant. I remember it not for the award itself, but more so the context surrounding it. Early in Spring 2020, Dr. Lawrence pointed me to this external fellowship and expressed how she thought it would be a good opportunity for my academic development. Although I was unsure and nervous to apply at the time, Dr. Lawrence couldn't have been more correct. She pushed me to apply, and together we wrote a proposal and I received the fellowship. However, shortly after I was awarded it COVID struck and I was absolutely heartbroken. I had been so close to pursuing my own research project, collecting my own data, and answering my own question. I remember how Beth acted when I went to discuss how COVID would affect my project with her. It wasn't the defeated sentiment that 'the project is ruined' like I was thinking. It wasn't a question of 'what's the next opportunity;' with Dr. Lawrence it was a question of 'how do we change this proposal to allow you to continue to grow? How do we make this proposal COVID safe so you can receive the experience you deserve?' A few weeks prior to this meeting, I had lost an immediate family member as well. I told Dr. Lawrence about the news and how it affected my financial situation, and like any mentor who truly cares about their students she encouraged me to take time for myself to process and reassured me that research will wait. Under the surface, however, she continued to think of a way for me to be able to complete the fellowship I applied for, not just for the experience itself but also because she was aware that my family member's loss caused me newfound financial insecurity. In the end, she helped me formulate a new question where I could use remote sensing and satellite imagery to map the extent of salt marsh grass zones, safely from my laptop in my own home. Because of her tenacity and dedication to her students, I was able to have an enriching fellowship experience. In the wake of a family emergency and COVID-19, I was lucky enough to have a mentor who understood my circumstances and pushed me for greatness. I am incredibly grateful to have met Dr. Lawrence and have her as a mentor; her kindness has truly changed my life.
---
Jessica Gutiérrez, M.S. Student, Ecology and Evolutionary Biology
Jessica was nominated by Mahima Mehta '22 (CLAS). The following text is excerpted from Mahima's nomination.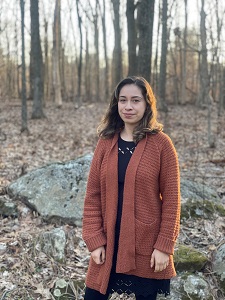 To put it simply, if it were not for Jessica, I would not have found the right research lab for me – nor would I have the opportunities that come with being in a research lab. As a sophomore, I was interested in research but had no idea how I could go about getting involved because I was unaware of the process. Jessica took the time to have multiple meetings with me where she helped me find professors that were conducting research and better understand the work they did. She even went as far as teaching me how to write an email to reach out to professors and how to conduct a strong interview with them. With her help, I was able to join Dr. Sarah Knutie's research lab, a lab where she is also a member.
One of the most exciting aspects of research is the ability to ask new questions. Oftentimes, students have questions but are unsure of how to go about asking them. I was one of those students and, fortunately, Jessica took me under her wing so I could find ways to answering my research questions. After joining the same research lab that she is involved in, she has continued to aid me in my short and long-term goals. Jessica has continuously provided constructive feedback on my scientific writing, helped critique my interview-taking strategies, and assisted me in networking with other individuals with similar interests as me. This can particularly be seen in her involvement in the UConn SEEDS Chapter. As the Graduate Student Representative, she has been inclusive in easing our tensions about life after our undergraduate career and how to navigate the process that follows, regardless of our backgrounds or prior knowledge. This is especially reflective of Jessica's character because we both are people of color and first-generation college students. For this reason, she is truly able to develop a holistic view of the kind of person I am because she understands what I have gone through as a fellow person of color.
She is transparent with her experiences and is willing to answer all questions I may have that relate to relevant skills I'll need for my future. Jessica has helped me raise my confidence in myself as both a student and researcher. If it were not for her guidance, I would not have become the researcher that I am today. She is the embodiment of an intelligent and hard-working woman. Having met Jessica has been one of the biggest highlights of my college career because she has opened an abundance of doors that I didn't even know were available to me. Jessica has taught me the importance of believing in myself and my capabilities, and I cannot thank her enough!
---
Congratulations to the 2021 award recipients! The Office of Undergraduate Research thanks the undergraduate students who nominated their faculty and graduate student mentors as well as the Peer Research Ambassadors who served on this year's selection committee.
---