Meet Lily Zhong '21, an OUR Peer Research Ambassador (PRA) majoring in Physiology & Neurobiology and minoring in English.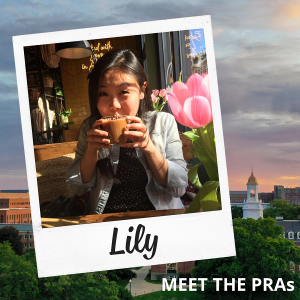 What is the focus of your research?
The focus of my research is the biological basis behind stress and anxiety, specifically through characterizing the anatomy and functionality of a certain neural circuit in the mouse brain implicated in stress- and anxiety-related behaviors.
Why did you get involved in research?
I became involved in research to apply what I learned in the classroom to a setting where I could contribute to the creation of new knowledge while also improving upon crucial transferable skills that only a research experience can offer, such as resilience, patience, and critical thinking.
What advice would you give to incoming first-year students?
Give yourself permission to explore your own unique interests in college rather than pursuing only the activities you think you "should" be doing.
What do you enjoy the most about participating in research?
What I enjoy most about participating in research is sharing and exchanging exciting findings with others, whether it be through poster presentations, lab meetings, written proposals, or research articles. Being challenged to explain what I've learned in these various settings has pushed me to develop a more in-depth understanding of the background and implications of my research. Similarly, learning about what others are discovering in research not only allows me to gain exposure to a lot of interesting work, but also inspires me to think critically and ask questions about new, unfamiliar topics.
Click here for more information on Lily and other OUR Peer Research Ambassadors.
---