Meet Abigail LaFontan '20, an OUR Peer Research Ambassador (PRA) majoring in Political Science and minoring in French.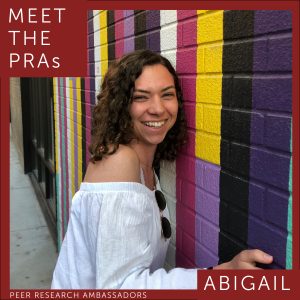 What is the focus of your research?
The overall focus of my research is food policy and the environment. I want to move on to do environmental law and public health so I have tailored my research projects to be related to these areas.
Why did you get involved in research/creative activity?
I got involved in research because it allowed me to pursue my interests independent of any classroom setting or grading system. Research has always appealed to me because I like to have a broad base of knowledge and I like to pursue my interests as I see them, not by following a course curriculum. So, I use my major courses and requirements as my way to learn about political science and french, and then I use my research to learn about the intersection between these areas and my other passions, and their overall applicability to reality. Research, in the end, brings you deeper into reality.
What advice would you give to incoming freshmen?
Don't be afraid to reach out. Research was the best thing I got involved with here at UConn and it all started because I got an email from a political science professor the July before I began my freshman year about an offer to apply for a political science research assistant position. I look back on that opportunity and consider myself lucky for how the research came to me and I consider how much differently my undergraduate career may have gone had I not applied or had I never received that email.
Even if an opportunity doesn't present itself automatically, realize that there are so many ways you can pursue all of your interests. Don't let yourself become too focused on one path and miss the chances all around you to expand your perspective and do some learning to advance your passions. Research can truly help you find the connection in this world between all of your interests.
What do you enjoy most about participating in research?
I most enjoy the community that comes with conducting research at UConn. Whether you are working with a professor, a mentor, your friends, or a research advisor from the Office of Undergraduate Research, you are surrounded by people who are interested in what they are doing and truly want to be there. It is a unique community in which you can truly get to know someone through their interests as presented through their research endeavors.
What are your plans after graduation? How has involvement in research influenced your plans and/or prepared you for the future?
After graduation I plan to go to law school and pursue the intersection between public health and environmental law with my main focus staying on food policy. My involvement in research has helped me define my personal interests and goals by giving me the opportunity to go outside of my classes and learn through doing. Through my different projects, I have been able to refine my passions so I better understand how I can accomplish my personal goals and how I can apply my interests to my future career.
---