Meet Wanjiku (Wawa) Gatheru '20 (CAHNR), an OUR Peer Research Ambassador (PRA) majoring in Environmental Studies.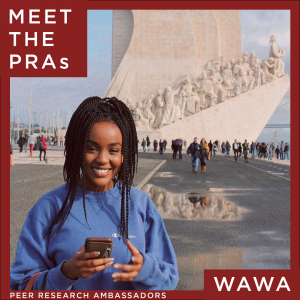 What is the focus of your research/creative activity?
During the summer after my freshman year, I was lucky enough to join the Community Nutrition lab of Dr. Amy Mobley – an experience that lasted for a year and a half. It was through that experience that my passion for food access issues emerged and my eventual IDEA grant project was born: the UConn Access to Food Effort – an initiative to quantify food insecurity at UConn and to create a locally sourced food pantry on campus.
Why did you get involved in research/creative activity?
I initially got involved in research through the Bridging the Gap program the summer of 2017. It was this experience that allowed me to work as a research assistant in Community Nutrition lab of Dr. Amy Mobley.
What advice would you give to incoming freshmen?
UConn is a hub of opportunity – take advantage of it! As a freshman, you have a fresh slate and more time to explore than any other year. Take this time to discover your passions and dislikes. Take risks, be open, and put yourself out there! And most of all – do not get caught up in following a pre-determined plan. Unplanned opportunities will be some of the most important ones you will get involved with. Take a chance with the unexpected – you might be pleasantly surprised.
What is your greatest accomplishment so far?
My greatest accomplishment has been making a conscious decision to dedicate myself to public service. As a future public servant, my involvement in undergraduate research and creative endeavors has allowed me to focus my time at UConn on advocacy and awareness.
What are your plans after graduation? How has involvement in research/creative activity influenced your plans and/or prepared you for the future?
After graduation, I plan to join the Peace Corps as a Coastal Resource Management Community Outreach Facilitator or pursue another service-oriented international experience. My service-learning IDEA grant has made it more evident to me that public service is the path for me.
---