Please join us in congratulating the UConn undergraduates named below for their significant research and creative accomplishments in summer and fall 2017. Students: if you have an accomplishment to share, please do so using this online form.
AWARDS
Congratulations to Catherine Cabano '18 (CAHNR) and Alexander Holmgren '18 (CLAS), UConn's two undergraduate representatives at the Universitas 21 Research Conference in Edinburgh, Scotland in June 2017.
---
PUBLICATIONS
Nicole Gomez '18 (CLAS) was a co-author on a recent publication from Jessica Rouge's lab:
Santiana, J. J., Sui, B., Gomez, N., & Rouge, J. L. (2017). Programmable Peptide-Cross-Linked Nucleic Acid Nanocapsules as a Modular Platform for Enzyme Specific Cargo Release. Bioconjugate Chemistry. doi: 10.1021/acs.bioconjchem.7b00629
Naseem Sardashti '18 (ENG), an undergraduate in the Health Research Program, was a co-author on a recent publication based on research conducted with Dr. Sangamesh Kumbar at UConn Health:
Manoukian, O. S., Arul, M. R., Sardashti, N., Stedman, T., James, R., Rudraiah, S., & Kumbar, S. G. (2017). Biodegradable polymeric injectable implants for long-term delivery of contraceptive drugs. Journal of Applied Polymer Science, 135, 46068. doi: 10.1002/app.46068
Zachary Stempel '18 (CLAS), a member of William Bailey's lab, was the second author on two recent publications in Organic Letters and The Journal of Organic Chemistry:
Lambert, K. M., Stempel, Z. D., Wiberg, K. B., & Bailey, W. F. (2017). Experimental Demonstration of a Sizeable Nonclassical CH···G Hydrogen Bond in Cyclohexane Derivatives: Stabilization of an Axial Cyano Group. Organic Letters, 19(23), 6408-6411. doi: 10.1021/acs.orglett.7b03287
Lambert, K. M., Stempel, Z. D., Kiendzior, S. M., Bartelson, A. L., & Bailey, W. F. (2017). Enhancement of the Oxidizing Power of an Oxoammonium Salt by Electronic Modification of a Distal Group. The Journal of Organic Chemistry, 82(21), 11440-11446. doi: 10.1021/acs.joc.7b01965
---
SUMMER RESEARCH ACTIVITIES
Pierre Fils '18 (ENG) conducted research at Oak Ridge National Laboratory in the Climate Change Science Institute. Pierre had the opportunity to work on mid-scale, high performance computing clusters to analyze climate data with the goal of redesigning the ASHRAE Climate Zones.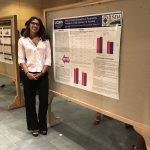 Chelsea Garcia '20 (CAHNR) participated in the Bridging the Gap Program funded by the USDA and coordinated by the Department of Nutritional Sciences. Dr. Christopher Blesso served as Chelsea's research mentor for the summer experience. She presented her research poster, "Effects of Grape Consumption on Postprandial Response to a High Saturated Fat Test Meal," at the Summer Research Poster Symposium in August.
Mark Garcia '20 (CLAS) completed a research internship in Dr. Peter Raymond's Biogeochemistry Laboratory at the Yale School of Forestry & Environmental Studies.
Djion A. Holness '19 (CAHNR) spent her summer at the University of Georgia engaged in research through an NSF funded REU program. Djion conducted veterinary diagnostic research exploring patters of co-infection in domestic dogs along the Panama Canal.
Two students spent the summer engaged in research at The Scripps Research Institute in Jupiter, FL. Through an NSF funded REU program, Mirella Fernandez '19 (CLAS) worked in the Page Laboratory studying the effects of a double mutant gene on three known phenotypes of Autism Spectrum Disorder. Sarah Robbins '18 (CAHNR, CLAS) conducted her summmer research in immunology under the direction of Dr. Matthew Pipkin. Sarah worked with in vivo models and RNAi silencing systems to identify transcription factors that function in CD8+ T cell development.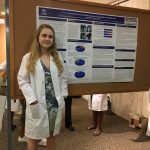 Tanya Miller '20 (CLAS) participated in the Health Disparities Clinical Summer Research Fellowship Program through the UConn Health Department of Health Career Opportunity Programs (HCOP). Over the course of the seven week program, Tanya worked with the North Central Regional Mental Health Board under the direction of Quyen Truong, Outreach and Evaluation Manager, to research young adults' opinions on health care. She presented her research "Community Conversation Among Young Adults on Health Care" at UConn Health in July.
Andrea Naranajo-Soledad '19 (ENG) enjoyed the opportunity to work at Shanghai Jiao Tong University (SJTU), a research-based university in China. Andrea studied photocatalytic, antifouling and humic acid removal properties of a membrane used for ultrafiltration in water.
Brittany Nelson '19 (ENG) conducted research through the NSF REU program at the University of Wisconsin-Madison and the University of Puerto Rico-Mayaguez. Brittany's project focused on controlling the behavior of human mesenchymal stem cells (hMSCs).
Kesan Samuel '20 (CLAS) conducted field research at El Yunque Forest in Puerto Rico. Under the supervision of Dr. Steven Presley, Kesan studied gastropod and phasmid populations, assisting with sampling plots to identify and count various species.
Maya Schlesinger '18 (CAHNR) completed a summer research fellowship at the San Diego Zoo Institute for Conservation Research. Maya studied a newly discovered parvovirus affecting Red Pandas at the San Diego Zoo. 
Anthonia Wray '19 (CLAS), an NSF REU recipient, worked under the guidance of Dr. Jessica Plavicki in the Department of Pathology and Laboratory Medicine at Brown University. Anthonia studied the effects of AHR activation in the liver using zebrafish models.
---
PRESENTATIONS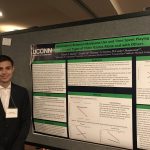 Society for the Study of Human Development Biennial Meeting – October 6-8, 2017 – Providence, RI
David Bachoy '19 (CLAS) – OUR Travel Award recipient
Associations Between Marijuana Use and Time Spent Playing Different Types of Video Games Alone and with Others
Biomedical Engineering Society (BMES) Annual Meeting – October 11-14, 2017 – Phoenix, AZ
Norah Cowley '18 (ENG) – OUR Travel Award recipient
Analysis of Growth and Stiffness of Cancer Spheroids Using 3D-Printed Microtweezer Device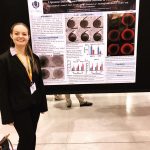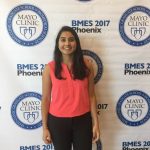 Amisha Dave '18 (ENG) – OUR Travel Award recipient
mHealth Smartphone Application to Measure Risky Driving Behavior and Predict Crashes
Clinton Global Initiative University Conference (CGI U) – October 13-15, 2017 – Boston, MA 
Akshayaa Chittibabu '19 (CLAS) – Selected as a student presenter
American Physical Society Division of Nuclear Physics Fall Meeting – October 25-28, 2017 – Pittsburgh, PA

Sam Markelon '20 (CLAS) – OUR Travel Award recipient
gemcWeb
Institute of Chemical Engineers (AIChE) Annual Meeting – October 27-30, 2017 – Minneapolis, MN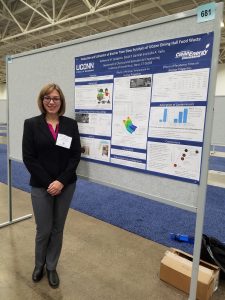 Katherine Saltzgiver '18 (ENG) – OUR Travel Award recipient
Production and Utilization of Biochar from the Slow Pyrolysis of Food Waste
Obesity Week 2017 – October 29-November 2, 2017 – Washington, DC
Christiana Field '17 (CLAS) – OUR Travel Award recipient
Advances in Self-monitoring of Blood Glucose in Type-2 Diabetes: A Study on Patient Experiences
IEEE MIT Undergraduate Research Technology Conference – November 3-5, 2017 – Cambridge, MA
Xinkang Chen '18 (ENG) &  Md Tanvirul Islam '19 (ENG) – OUR Travel Award recipients
Comparison of Chirped and Unchirped Superlattices as Adjustable-Strain Platforms for Metamorphic InGaAs/GaAs Devices
Northeastern Glenn Symposium on Biology of Aging – November 9, 2017 – UConn Health, Farmington, CT
Jacob Macro '19 (CLAS) & Pooja Patel '18 (CLAS) – Health Research Program participants
Indy Reduction Maintains Fly Health and Homeostasis
Society for Neuroscience (SFN) Annual Meeting – November 11-15, 2017 – Washington, DC 
Danni Dong '18 (CLAS) – OUR Travel Award recipient
Observational Learning: Comparing a Foraging and Aversive Motivated Task in Female Rats
Thomas Pietruszewski '19 (CLAS) – OUR Travel Award recipient
Influence of the Social Environment on Female Rats Exploring a Novel Open Field
ASCB/EMBO 2017 Meeting – December 2-6, 2017 – Philadelphia, PA 
Alyssa Mathiowetz '18 (CLAS) – OUR Travel Award recipient
Actin Nucleation Factors that Control Autophagy are Important for Zebrafish Organ Development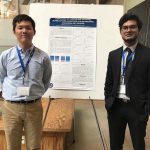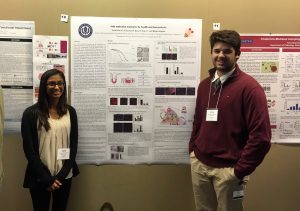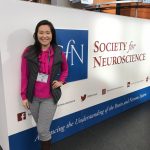 ---