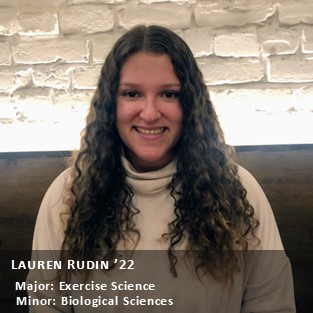 Lauren (she/her/hers) is a senior studying Exercise Science (Honors) with a minor in Biological Sciences on the Pre-Medicine track. She serves as the Director of Potential New Members for the UConn Panhellenic Council and is a Morale Captain for HuskyTHON. Lauren is also a Temporary Nursing Aide and volunteers with Special Olympics CT and Crisis Text Line.
She became involved with research the summer after her freshman year through the UConn Work-Study Research Assistant Program (WSRAP). She has worked under the supervision of Dr. Molly Waring in the Department of Allied Health Sciences for the past two years. There she studied the use of social media and technology for health behavior change, particularly weight management among childbearing women. Later in her junior year, Lauren also studied where mothers get child nutrition information and how credible mothers find information sources by maternal health literacy with Dr. Waring and another undergraduate student. She received an OUR Conference Presentation Award to present her research at the Society of Behavioral Medicine 2021 Annual Meeting and Spring Frontiers 2021, and she hopes to publish her findings in the coming months.
She then received the UConn IDEA Grant in Spring 2020 for the 2020-2021 academic year where she studied how sleep quality differs in overweight and obese pregnant women depending on gestational weight gained, and how well a Fitbit tracking device captures sleep quality in pregnancy compared to a self-reported sleep measure. She plans to present her research at Fall Frontiers 2021 and submit her manuscript for publication.
Lauren also conducted independent research in the Health Fitness Research Laboratory (HFRL) under Dr. Linda Pescatello. There she conducted a systematic review to assemble a consensus exercise prescription for healthy women who are pregnant. She presented her research at the New England American College of Sports Medicine 2020 Annual Conference and the American College of Sports Medicine 2021 Annual Conference, and her manuscript is currently under review for publication.
She aspires to continue exploring her passions for research, combining Exercise Science and Allied Health Sciences, by pursuing a MD/PhD graduate program with a focus on population and community health. Lauren is conducting an Honors Thesis under Dr. Waring's mentorship this academic year.
If you have any questions about getting involved in undergraduate research, WSRAP, the UConn IDEA Grant, presenting or publishing research, or the Pre-Med track she would love to hear from you!
Student Research Blog Posts by Lauren
Contact Lauren
Undergraduate students can contact Lauren to ask questions or to request a peer advising meeting.