Spring 2017 Program Overview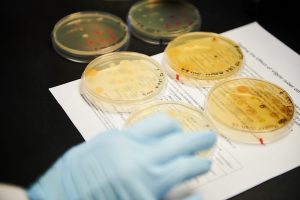 Eligibility
Program Timeline
Student Terms and Conditions
Faculty Terms and Conditions
Financial Support
Spring 2017 Research Opportunities
FAQ
---
Spring 2017 Program Overview
The Health Research Program was initiated in Spring 2017 to provide a new pathway into undergraduate research for students with interests in health and the biomedical sciences. By facilitating connections between UConn Health researchers and UConn undergraduates, this pilot program placed 18 students in a range of research projects at the Farmington campus.
Eligibility
For the spring 2017 Health Research Program pilot, student applicants were required to meet the following eligibility criteria:
Currently be pursuing a bachelor's degree at UConn, and plan to graduate with that bachelor's degree no earlier than December 2017. This includes students pursuing Bachelor of Arts, Bachelor of Fine Arts, Bachelor of General Studies, Bachelor of Music, Bachelor of Science, and Bachelor of Science in Engineering degrees.
Be a full-time student in good standing at a UConn campus during the Spring 2017 semester
Be willing to continue their research involvement into Summer 2017 or Academic Year 2017-18 (i.e., Health Research Program research placements are not intended to be for spring alone)
Beyond these general eligibility criteria, each individual opportunity description specified the desired qualifications for that position.


---
Program Timeline
Application Process
Friday, December 16, 2016: Deadline for faculty to submit a Spring 2017 Research Opportunity Description Form
December 19, 2016-January 6, 2017: Research opportunity descriptions and applications available to students
Friday, January 6, 2017: Deadline for students to apply to individual research opportunities
January 9-13, 2017: Faculty review applications, select applicants to interview, and conduct interviews
Monday, January 16, 2017: Deadline for faculty to inform OUR about their selection. OUR will work with faculty to extend a formal offer to the selected student(s) on this date.
Thursday, January 19, 2017: Deadline for student to accept spring research opportunity
Spring Research Placement
Tuesday, January 17, 2017: Spring semester begins
Monday, January 23, 2017: Deadline to finalize learning agreement for use by student in enrolling for research credit
Friday, March 3, 2017: Deadline for student and faculty to submit mid-semester progress assessment. This assessment determines whether the research placement will continue into the summer or fall.
Friday, April 28, 2017: End of spring semester classes
Friday, May 5, 2017: Student end-of-semester survey deadline.
Tuesday, May 9, 2017: Spring grading deadline. Faculty feedback must be provided prior to this date so a grade can be recorded by the instructor of record.


---
Student Terms and Conditions
Acceptance of a spring placement offer requires that the student agree to the stipulations below:
You will be a full-time student at UConn for the Spring 2017 semester.
You will submit a mid-semester progress assessment no later than Friday, March 3, 2017. A link to an online assessment form will be sent via email. In this assessment, you will be asked about your interest in continuing this research placement in the summer and/or academic year 2017-18.
You will complete an end-of-semester survey no later than Friday, May 5, 2017. A link to this survey will be sent via email.
You will establish a mutually agreeable work schedule with your UConn Health host. You will communicate promptly with your host if illness or other circumstances require you to deviate from that schedule.
You will develop a learning agreement in collaboration with your UConn Health host (by January 23, 2017), which will be reviewed and approved by an appropriate faculty member at your home campus. You will complete any assignments specified in that learning agreement by the deadlines established in that agreement.

---
Faculty Terms and Conditions
Faculty participants in the Spring 2017 Health Research Program pilot must agree to the following terms:
To provide a research opportunity description no later than Friday, December 16, 2016.
To make a selection from among the applicants and inform OUR of this selection no later than Monday, January 16, 2017. If no applicants are suitable, you are under no obligation to select a student.
To develop a learning agreement in collaboration with the student for use in enrolling in research credit no later than Monday, January 23, 2017.
To collaborate and communicate with a Storrs-based faculty member in the student's major for course credit purposes. It is likely that a Storrs faculty member will need to be the instructor of record for the student's research/independent study course. Clear communication between Storrs faculty and UConn Health faculty regarding learning goals and student performance will be essential to the integrity of the learning experience and to course-related processes being completed in a timely manner.
To assist the student in completing any necessary UConn Health approval processes in order to be able to participate in undergraduate research.
To ensure that training requirements are communicated to the student and that training is completed in a timely manner.
To ensure the student is added to any relevant research compliance protocols (e.g., IRB, IACUC) in a timely manner.
To establish a mutually agreeable work schedule with the student, and to ensure that appropriate supervision is provided during work hours.
To provide constructive feedback to the student on his/her achievement of learning goals.
To complete a mid-semester assessment of the student's research progress by the March 3, 2017 deadline.
To provide an end-of-semester assessment of the student's research progress. This evaluation will form the basis of the student's grade.
To share any questions, concerns, and/or recommendations with the Office of Undergraduate Research as they arise.

---
Financial Support
During Spring 2017, faculty mentors may request up to $500 in support for expenses associated with an undergraduate research opportunity offered through this program. This request must be accompanied by an itemized budget and a statement certifying that available funds cannot be directed to cover these expenses.
If the student and faculty mentor continue the research placement into summer 2017, the student will receive a $4,000 stipend for a commitment of 360 hours of summer research (9 or 10 full-time weeks). The faculty mentor will also be able to request up to $500 in support for research expenses via the procedure described above. Students who receive summer stipend support will be expected to make a research presentation at the fall 2017 or spring 2018 Frontiers exhibition.
If the student and faculty mentor continue their work into academic year 2017-18, faculty may request supply funding for fall and/or spring, and the student researcher will be eligible for a $1,000 winter research stipend if s/he commits to completing 90 hours of winter break research.


---
How to Apply
Spring 2017 applications are now closed. To view active opportunities, visit the Health Research Program main page.

---
Spring 2017 Research Opportunities
Spring 2017 applications are now closed. For reference purposes, the names of participating faculty and a brief description of the research opportunities they sponsored for Spring 2017 appear in the table below. Click on the relevant link in the right column to view more detail about the opportunity.
Faculty Mentor
Project Description
Opportunity Link
Dr. Andrew Arnold & Dr. Jessica Costa
Center for Molecular Medicine
We are currently pursuing a number of approaches, including the use of transgenic mouse models and cell lines, to learn more about the precise mechanisms of human tumorigenesis. In addition, we are continuing a major initiative seeking additional genes that contribute to human neoplasia.
HRP15
Dr. Ernesto Canalis
Orthopaedics and Medicine
Notch receptors are determinant of cell fate and function. Our laboratory has studied the function of Notch for the past 15 years. We have developed mouse models of human diseases associated with Notch mutation, specifically mice engineered to carry mutations associated with Hajdu Cheney and Lateral Meningocele Syndromes. We suspect that these mouse mutants have developmental defects of the skeleton. The project entails the characterization of the skeleton during embryonic development using histological and molecular approaches.
HRP1
Dr. Audrey Chapman
Community Medicine
Stem cell research is considered one of the most promising fields of medicine. I am engaged in a research project identifying the challenges of translating pluripotent stem cell research into therapies. The initial work on the project is to track the role of the four state funding programs that have provided much of the basic stem cell research funding in order to evaluate their priorities and the types of grants they have made. I am also evaluating the first-in-human stage one clinical trials with prospective pluripotent stem cell based therapies and whether they have conformed with the guidelines developed by the International Society for Stem Cell Research.
HRP6
Dr. Arvind Chhabra
Medicine
I am working in the area of human cancer immunology & immunotherapy, and human pluripotent stem cells (hPSC). Among the approaches we are working on are the generation and functional characterization of human tumor antigen specific T cells from natural CD8+ cytolytic T cell (CTL) precursors; the creation of customized CD4+ and CD8+ anti-tumor T cells by engineering human peripheral blood derived T cells with a human melanoma-associated antigen specific transgenic T cell receptor (TCR); and the generation of donor-specific induced pluripotent stem cells (iPSC) lines for generating donor specific T cell and antigen presenting cells (APC). I welcome undergraduate researchers to join me in either of the two projects listed below:

(1) Characterization of the biology of anti-tumor T cells.
(2) Understanding the development of innate and adaptive immune mechanisms in the human immune system utilizing donor-specific iPSC lines as a model.

HRP13
Dr. Anne Delany
Center for Molecular Medicine
We use in vitro and in vivo models understand how specific microRNAs (miRNAs, small non-coding RNAs) control the biology of osteoclasts (bone resorbing cells) and osteoblasts (bone forming cells). Projects available for the Spring include understanding how over expression or knockdown of a specific miRNA can alter the differentiation and function of osteoblasts or osteoclasts. Studies will be performed in vitro, using cell lines transduced with lentivirus. In addition, the function of specific miRNAs in vivo will be examined using transgenic mouse models, in which skeletal phenotyping will be performed. Techniques to be used include cell culture, Western blot analysis, qRT-PCR, and histology.
HRP10
Dr. Golda Ginsburg
Psychiatry
Students will be part of a vibrant clinical research lab that conducts studies funded by the National Institute of Mental Health and Department of Education aimed at testing different psychotherapies for youth with anxiety and depression. Students will develop basic research skills including but not limited to collecting and entering data and assisting with assessments with participants. They'll have the opportunity to become familiar with research protocols and procedures of several randomized controlled trials (RCTs) and the administration of validated psychometric assessments with youth and parents.
HRP7
Dr. Damion Grasso
Psychiatry
The student will be involved in a pilot study funded by the Connecticut Institute of Clinical and Translational Science (CICATS) designed to examine emotional and biological stress reactivity in young children (4-6 years of age) with a history of domestic violence (DV) exposure. Mother-child dyads will be recruited from areawide DV shelters. Data collected with include diagnostic and observational assessments, computer tasks designed to measure attention bias to threat, and physiological measurements (i.e., heart rate reactivity/variability, skin conductance) to threat-related images. A primary aim will be to examine relationships between indicators of stress reactivity and emerging symptoms of posttraumatic stress disorder in these young children.
HRP9
Dr. Rosa Guzzo
Neuroscience
Research in the Guzzo lab is focused on understanding the role of epigenetic modifiers in the development and maintenance of cartilage. To address this question, we employ gain and loss of function studies in human pluripotent stem cells as well as animal models. Research projects in the lab will focus on evaluating the joint phenotype in developing and postnatal mice lacking the expression of a chromatin modifier in cartilage. These studies will employ histological and immunohistochemical staining of joint cartilage tissue from genetically altered mice. Additional mechanistic studies, involving quantitative gene expression analyses and molecular assays, will be used to determine whether small molecules can promote the differentiation of embryonic progenitors and human stem cells to the chondrogenic lineage.
HRP16
Dr. Christopher Heinen
Center for Molecular Medicine
Our laboratory uses human intestinal organoids as a model to study the effects of cancer causing mutations on intestinal stem cells. In the current project, the undergraduate student would work in partnership with members of the lab to create, maintain and characterize these organoids that have been genetically engineered using CRISPR/Cas9 to carry different mutations in the DNA mismatch repair (MMR) genes. This project will involve learning advanced cell culture techniques, molecular biology techniques such as RT-PCR and cell biology techniques such as immunofluorescence microscopy.
HRP3
Dr. Liisa Kuhn
Reconstructive Sciences/Biomedical Engineering
In this project the student will learn how to prepare combinations of biomaterials and biologically active molecules that can be injected into a cartilaginous growth plate to improve healing after injury. This type of work builds on chemistry and biomaterials courses the student may have had. In this project we will also inject materials into mice and then image them by X-ray to understand changes to the bones and cartilage.
HRP18
Dr. Sangamesh Kumbar
Orthopaedic Surgery
Students will be involved in one of two projects:
Project 1. Design, fabrication and characterization of polymeric micro-nanostructures for tissue engineering applications. Micro-nanostructures fabrication will utilize 3D printing and advanced electrospinning techniques to design scaffolds for the repair and regeneration of neural and tendon tissues. Scaffolds will be optimized for physicochemical properties in terms of mechanical strength, degradation, and pore and surface properties.
Project 2. Polymeric nano-particles for therapeutic and diagnostic applications. We have synthesized and characterized novel fluorescent polymers for this application. Students working on this project will work on per-formulation studies focused on improving the solubility of poorly soluble drugs to improve their bioavailability. Students will learn fabrication, characterization of nano-particles for physico-chemical properties, and drug release behavior.
HRP17
Dr. Kevin Manning
Psychiatry/Center on Aging
Neuropsychology of Older Drivers: Looking for interested undergraduates to assist in a research study on cognitive and automobile driving assessment in older adults. The aim of this work is to: 1) understand the earliest driving changes in older adults who will eventually develop cognitive decline and 2) determine whether driving simulation can be a useful tool in the driving assessment of older drivers. The student will learn how to administer, score, and interpret detailed geriatric cognitive assessments in older adults with mild cognitive impairment. Trainees will develop proficiency in data-analysis using SPSS and Excel and become familiar with driving (using driving simulation and on-road tests) and other functional assessments of everyday activities. Education on the conceptual and day-to-day logistical aspects of running a research study in an academic medical setting will be provided. The student will interact with the primary investigator and a larger team of physicians through the Center on Aging and Department of Psychiatry.
HRP2
Dr. Nilanjana Maulik
Surgery
Cardiovascular diseases (CVDs) remain among the deadliest diseases in the world, standing next to cancer and stroke. Among the major CVDs, acute myocardial infarction (AMI) is a key life threatening disorder that occurs due to permanent damage of the left ventricular cardiac tissue. The major coronary arteries that supply blood to the functional left ventricle get blocked due to thrombotic plaque occlusion. Therefore, the long-term objective of my laboratory is to design strategies to prevent heart failure with modified stem cells, growth factors, scaffolds, and exosomal nano vesicles to induce therapeutic angiogenesis and arteriogenesis to increase blood flow, prevent ischemic injury, and preserve ventricular function.
HRP4
Dr. Lakshmi Nair
Orthopaedic Surgery
Over the years, our studies have led to the development of injectable hydrogels from proteins and polysaccharides. The proposed studies will evaluate various processing parameters to modulate the physical and biological properties of the injectable hydrogels for regenerative applications. These include chemical modification of the existing injectable hydrogels and or modulating the physical and mechanical properties using various processing conditions.
HRP14
Dr. Douglas Oliver
Neuroscience
We will use genetically modified mouse strains to investigate the neurons and circuitry of the inferior colliculus, a major nucleus in the auditory system. We are particularly interested in a mouse where MEK1 is overexpressed resulting in a much larger than normal inferior colliculus. The work includes genotyping mice (PCR), electrophysiological testing of hearing and sound processing (evoked potential or single cell recordings), as well as the morphological assessment of the neuronal network (microscopy and immunohistochemistry). We expect the student to assist in these experiments and animal husbandry. Depending on skill set and research interests, the student will be involved predominately in either histology or electrophysiology experiments.
HRP8
Dr. Blanka Rogina
Genetics & Genome Sciences
The Drosophila I'm Not Dead Yet (INDY) gene encodes a plasma membrane citrate transporter. We have reported that reduction in the Indy gene activity in flies modulates metabolism and extends longevity in a way that has been compared to caloric restriction. Our Indy flies live longer and are protected from the negative effects of high calorie diet. We also reported that INDY reduction in fly intestine preserves intestinal stem cell (ISC) homeostasis. We are currently investigating effect of different calorie content of food on ISC proliferation and how Indy reduction affects this response.
HRP12
Dr. Daniel Rosenberg
Center for Molecular Medicine
Variety of ongoing projects related to GI cancers; epigenetic studies of the DNA methylome, microbiome studies, chemoprevention studies, mouse models of cancer, bioactive lipid signaling, bioinformatics and RNA seq studies.
HRP11
Dr. Rajkumar Verma
Neuroscience
A primary focus of my lab is to understand post-stroke depression (PSD), which is the most common neuropsychiatric consequence of stroke. PSD can impair functional recovery, which can, in turn, reduce the quality of life, especially among the aged population. However, PSD remains understudied compared to other stroke complications such as a motor, cognitive, or language impairments. Elderly patients fare poorly on stroke outcomes compared to their younger counterparts, a phenotype we have recapitulated in our animal models of stroke. Furthermore, female subjects are significantly more likely to develop PSD and to suffer from a more severe form of PSD compared to age-matched males, which is mirrored in rodent models. Compared to young cohorts, aging mice exhibit exaggerated inflammatory and cytokine responses following middle cerebral artery occlusion (MCAO), the most common rodent model of stroke. Increased inflammation activates the peripheral innate immune system, which in turn triggers multiple downstream effects including exacerbated depressive-like behaviors. Age-specific treatment with available antidepressants in clinical PSD populations is highly limited. Moreover, unfavorable outcome such increased hemorrhagic transformation and high mortality in middle-aged adults with the used of fluoxetine, the most common used antidepressant, for PSD treatment further highlights the need to explore relevant, efficacious and safe therapeutic options for PSD in a validated aged animal models to understand their specific mechanism and safety profiles before moving forward with clinical trials. In this project, we will test post-stroke aged mice in several models of depressive phenotypes, PSD development, and motor deficits during prolonged recovery. We test a new FDA-approved drug for the treatment of depression in aged rodents with features of PSD. This study will shed new insights into the treatment of PSD and determine whether this new drug can improve survival, enhance behavioral recovery in aged mice with PSD or not.
HRP5

---
FAQ

What time commitment is expected of a student researcher in this program?
A time commitment of 3-9 hours/week is expected for student researchers during the academic year; this varies across research opportunities and is a key factor to consider as you are reviewing the different opportunities and considering which might be a good fit for you. The standard formula for academic credit is 1 credit for each 3 hours of weekly research, and you will register for the appropriate number of credits given the time commitment you are making to research.

How do I earn academic credit for my participation in this program?
You will likely earn Undergraduate Research, Independent Study, or a similar kind of course credit in the department associated with your major. The most common arrangement is for a Storrs faculty member to be the instructor of record for the course and to coordinate with the UConn Health faculty member supervising your research in order to approve a learning agreement and enter the appropriate grade at the end of the semester. OUR staff will work with you individually to provide guidance on how to proceed in your specific situation. If earning academic credit is not appropriate for your individual circumstances, the OUR will work with you and your faculty advisor to make alternate arrangements.

What transportation options are available for students?
Shuttle service between Storrs and Farmington is available at no cost to students Monday through Friday during academic semesters. A mid-day shuttle run is being added for the spring semester; transportation via the shuttle allows Storrs students to work 9am-12pm, 12pm-4pm, or 9am-4pm. Please note that those time windows do not include the time you will spend on the shuttle. With travel time included, the time commitment is 8am-1pm, 11am-5pm, or 8am-5pm, respectively. We encourage you to take your class schedule and the shuttle schedule into consideration when reviewing the possible work schedule associated with each opportunity. You may also elect to use another form of transportation. Please be aware that this program does not offer support for mileage or parking costs as the free shuttle option is available.

Do I need to be pre-med to participate in this program? Do I need to be in Honors?
You do not need to be pre-med or be a member of the Honors Program in order to participate in this program. The program is open to all undergraduate students interested in health research. However, bear in mind that this is a demanding program that requires you to coordinate weekly travel to UConn Health. We encourage you to take a realistic look at your schedule, the demands of your other courses, and your past academic achievement in order to assess whether this program is a good fit for you.
OUR advisors would be happy to discuss your specific situation and the most appropriate research opportunities with you at any time. Review our Meet with an OUR Advisor page for more information on how to make an appointment.

How do these opportunities continue into summer or fall?
Sustained engagement in a research project maximizes learning, so we want to make it possible for students to stay engaged in undergraduate research at UConn Health over longer periods of time. Students selected for spring 2017 opportunities will complete a mid-semester assessment process along with their faculty mentors, which will gauge whether adequate research progress is being made and will ask both student and faculty to indicate their interest in continuing the research placement beyond the spring semester. Continuing placements will be contingent upon satisfactory student research progress and continued interest by both student and faculty (in addition to the student's full-time enrollment and good standing at the university). If a student continues his/her research in the summer, s/he will receive a $4,000 stipend for a commitment of 360 hours of summer research (9 or 10 full-time weeks). If a student continues his/her research in academic year 2017-18, s/he will be eligible for a $1,000 winter research stipend if s/he commits to completing 90 hours of winter break research (and graduates no earlier than May 2018). Progress assessments will occur mid-spring, mid-summer, and mid-fall; at each assessment point, progress must be satisfactory and all parties must agree to continue the placement.

This application asks for a Science GPA. What is that? How do I figure out my Science GPA?
Unlike your cumulative GPA, your Science GPA is not automatically calculated and reported on your transcript. You will need to calculate this by entering the number of credits and your earned grade from each of your science classes into a GPA calculator (like this GPA calculator from UConn ACES). We recommend that you move through your transcript methodically, using your best judgment to decide whether a given course is a "science course," and entering the relevant information into the calculator for each science course. Once all information is entered, click the Calculate button, and report the GPA output in your Health Research Program application.

Spring 2017 doesn't work well for me, but I'm interested in a research experience at UConn Health this summer or next academic year. Can I do that through this program?
Absolutely! We anticipate advertising both Summer 2017 and Academic Year 2017-18 opportunities in February 2017. The application process will take place in February 2017, with offers made to students in March 2017. This will be the standard timeline for the program moving forward.