Rest is Revolution: UConn's Week of Reflection
2021-22 UConn Co-op Legacy Fellowship – Change Grant Project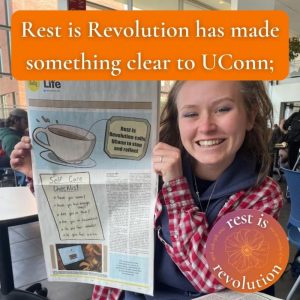 Project Summary
Rest is Revolution is a project started at the University of Connecticut, challenging our community to view rest as a form of social change. With funding from the Change Grant, Undergraduate Student Government, and support from the UConn NAACP, Kappa Kappa Psi, The Conduit Center, and countless incredible students, hundreds of us were able to enjoy our own personal revolution; rest.
This week-long experience included an outdoor rest space was established on the student green, offering inflatable couches and shade for students to nap, meditate, or divest from productivity in. It included 5 wellness sessions (sharing history of the rest movement and guided meditation), 2 sound baths from Connecticut's own Conduit Center, and free meditations and rest history via Spotify.
RiR brought the rest movement to UConn; and we were hungry for it. The success of this project is a testament to how white supremacy, capitalism, and patriarchy all play painful roles in our lives and that investing in ourselves is our greatest form of protest.
Reflecting on the Project
Developing Rest is Revolution was incredibly difficult, because rest is not simple. Honesty about injustice was uncompromisable. The pioneers of the rest movement- Tricia Hersey, Audre Lorde, bell hooks- have been brave and strong enough to own that injustice can only be battled by a personal strive for justice in our lives. How could I bring this movement to UConn, a burnout community, while being honest about American injustice?
Radical self-care was the answer. Giving UConn the opportunity to take a breath, lie down, sit and share a moment of community and rest needed to be unavoidable and accessible. This meant spending funds on things others might doubt- inflatable couches, 30 yoga mats, renting a carnival tent- that became invaluable. I had to prove the value of rest and I'm grateful to have had the Change Grant and Melissa Berkey's support to make this dream come true.
Lastly, and most importantly, I included every single group I could manage to as one person. RiR needed to prioritize diversity. I spent hours just contacting people- Cultural Centers, greek organizations, art groups, club presidents- and even more hours making sure we had signs publicly displayed, information available on social media, and in the Daily Digest. I had to overcome my own bashfulness about 'exposure' and own that the more people that I could empower, the stronger RiR would be.
About Shelby
Shelby Houghton is a proud Granite Stater who studied Political Science, Human Rights, and Economics at the University of Connecticut. When she's not moving and shaking, she loves music, human rights work, and being with those she loves. You can follow Rest is Revolution on Instagram to add some self-care to your feed, or chat with Shelby at shelby.houghton@uconn.edu.
Media Coverage