Meet Mahima Mehta '22, an OUR Peer Research Ambassador (PRA) majoring in Molecular & Cell Biology and minoring in Spanish.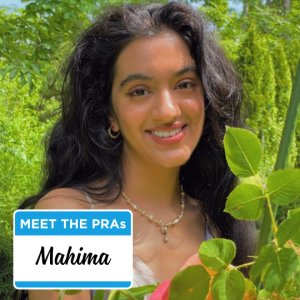 What is the focus of your research?
I have been working in Dr. Sarah Knutie's lab since January 2020 as a member of the Nest Parasite Community Science Study. In this project, I quantify parasite abundance in the nests of eastern bluebirds and tree swallows to understand the effects of local ecology on the evolution of hosts and their nest parasites.
As someone who has always been interested in climate change and DNA, the focus of my UConn IDEA Grant project is to understand how elevated nest temperatures impact the DNA methylation of eastern bluebirds. We often see the physical effects of climate change: unusual snowstorms, devastating fires, and destruction of habitats- but what genotypic impact does this have? In my project, I will be investigating why it is adaptive for these birds to have changes in methylation in response to temperature and if this is helping them over their lifetime.
Why did you get involved in research?
Prior to college, I had a limited understanding of research and what it really was, let alone was it even on my radar. Thankfully, during one of my first BIOL 1108 labs, my TA mentioned that if we were interested in research, she was happy to help! I took her up on the offer and found the plethora of research being conducted and was immediately interested in the questions Dr. Knutie was investigating. As an MCB major and a second semester sophomore, I was worried that I would not be able to join an EEB lab and that it would be too late even if I could. Fortunately, you can actually become a member of a lab in any department at any time, as long as you're interested in the research! I knew that I did not want to join a lab just to check off a box on my resume, rather I really wanted to make sure it was something that I enjoyed. After meeting with Dr. Knutie and learning more about the work that the Nest Parasite Crew did, I knew I would be a perfect fit.
What advice would you give to new students?
As an incoming college student, it's easy to feel overwhelmed by the abundance of opportunities and experiences that UConn offers. My main advice would be to explore every question and curiosity that you have, even if it's outside of your major. UConn undoubtedly has a research opportunity that you'll be interested in– but don't feel like you need to rush into anything you might not be ready for. Take your time truly enjoying your college experience!
What do you enjoy the most about participating in research?
I think we all have an innate curiosity within us. I love how research allows us to investigate these questions we have. My favorite aspect is seeing how a beautiful project can blossom from a question we pursued. From creating a procedure to making adjustments along the way, from gathering data to finally being able to analyze it – there never is a dull moment!
What are your plans after graduation? How has involvement in research influenced your plans?
Though I have always been environmentally conscious, working in an ecology and evolutionary biology lab makes me look at the world through a different lens than that of just human biology. As someone who aspires to be a physician, my research has exposed me to the fact that our environment has a huge impact on our health, just as we have a huge impact on our environment. It's crucial that as scientific technologies advance, we remain proactive about protecting our environment. If it weren't for research becoming an integral part of my academic experience, I would not have been able to realize my desire of pursuing an M.D.-Ph.D to become a physician-scientist!
Click here for more information on Mahima and other OUR Peer Research Ambassadors.
---