Meet Mukund Desibhatla '21, an OUR Peer Research Ambassador (PRA) majoring in Physiology & Neurobiology and Spanish, and minoring in European Studies.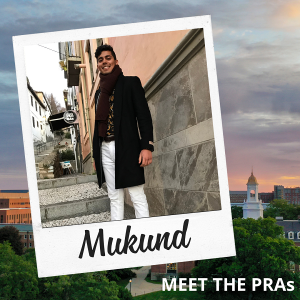 What is the focus of your research and your creative activities?
Well, there are 2 ends to this—research and creative activity. I'll start with research.
My research involves the study of novel atypical antidepressants and their effects on the reversal of depression-like symptoms in rat models. Depression is a debilitating and multifaceted disorder, and for this reason, many commonly prescribed antidepressants (e.g. Lexapro, Prozac) fail to ameliorate symptoms such as fatigue, anergia and motivational dysfunction. This summer, I was awarded a SURF Award to map various analogs of atypical dopamine transport inhibitors and analyze their binding affinities and relative efficacies.
Now a total flip! I have always carried a strong interest in podcasting, leading me to pioneer UConn's first Podcast Symposium in Spring 2021. I have been fortunate to materialize this vision through a UConn IDEA Grant. The symposium will feature exhibitions and panels consisting of professionals from outside of UConn, conducting research in various fields. Scheduled to debut in February 2021, it will welcome speakers to share their innovations and experiences so that UConn students can get a glimpse of possibilities that exist in the world of research outside of the undergraduate setting.
Why did you get involved in research?
I have always been attracted to the idea of interdisciplinary study, which to me means challenging yourself outside the boundaries of your major and bridging an unexplored connection. With Physiology & Neurobiology and Spanish as my primary disciplines, I never expected to become involved in psychology research or podcast production. Especially seeing my PNB classmates join labs within their major, I always assumed that finding research under a PNB professor was the "right" way to immerse myself in UConn's research landscape. Contrary to these naïve assumptions, I gravitated away from my major and realized that I could really tailor my personal interests in the direction of genuine curiosity. After all, research is nothing without curiosity.
What advice would you give to incoming first-year students?
Don't ever feel too underqualified to reach out to professors about their research. The faculty at UConn love to involve students in a dynamic learning environment—they love questions! A professor's publications may seem intimidating, but the most important note is to be flexible and open-minded about the research that you would like to pursue. Find something that speaks to you or something you want to learn more about. Instead of sending your résumé in that first email, ask to meet with them to genuinely learn more about their research.
What is your greatest accomplishment so far?
Last fall, I recorded Agents of Change, a 12-episode podcast featuring stories of exemplary leadership and student-led research on UConn campus. I noticed a gap between the number of students wanting to get involved in research and those actually being able to obtain a specific research opportunity. Through this podcast, I was able to deliver first-hand stories of experienced students to help open up possibilities for others. I interviewed individuals passionate about a variety of topics, including political advocacy, food insecurity, CPR education, and research abroad. I was fortunate to share my story with the Edtech Podcast, which features educators from all over the world who are using unique modes of technology in STEM applications. You can listen to Agents of Change here!
Click here for more information on Mukund and other OUR Peer Research Ambassadors.
---