Meet Natasha Patel '19 (CLAS), an OUR Peer Research Ambassador (PRA) majoring in Molecular and Cell Biology.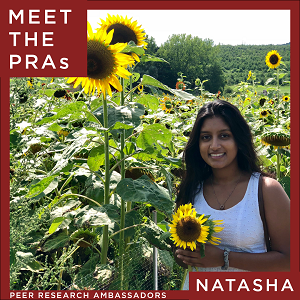 What is the focus of your research/creative activity?
My research is on the use of biomaterials to treat growth plate injuries in mice. I am trying to develop a mouse injury model that represents the growth plate injuries children experience. Often during a growth plate injury what can occur is the formation of a premature bony bridge in the growth plate. This can prevent the growth plate from completing its normal function, which can stunt growth of the affected bone and lead to orthopedic problems like limb shortening and irregular growth. Studies show that blood vessels are what stimulate the formation of this unwanted bony bridge post growth plate injury. Therefore, I am using biomaterials to deliver factors that can suppress blood vessel arrangement at the injury site to hopefully prevent bony bridge formation so that the growth plate can continue to aid in its normal function of bone growth.
Why did you get involved in research/creative activity?
I got involved with my research because I wanted to make a difference in the field of science. I believe each semester of work gets me one step closer to helping children with growth plate injuries. I see the significance of my project and realize that there needs to be more research done in my area of interest due to the great need of finding a treatment for children with growth plate injuries. Knowing that I will contribute to the field by pursuing this research makes it meaningful to me and is why I continue to participate in it.
What advice would you give to incoming freshmen?
Do not get frustrated if you cannot find a research opportunity immediately. It may take time and multiple attempts in order to find something that you are interested in. It is okay to try out a research interest and then change your mind. Do not settle for research you do not truly enjoy, there is something out there for everyone!
What do you enjoy the most about participating in research/creative activity?
I enjoy being able to work in a professional environment such as UConn Health. It has allowed me to meet and connect with faculty and explore different types of research and opportunities available. I feel prepared for the professional environment in the future because of my experience at UConn Health with the Health Research Program.
What are your plans after graduation? How has involvement in research/creative activity influenced your plans and/or prepared you for the future?
I plan on attending dental school after graduation. My project has definitely helped me find my research interests such as histology. I would love to continue to do research involving histology while in graduate school. The lab skills I learned have prepared me for the hands-on work I will be doing in dental school and has improved my dexterity significantly. Having my lab in the UConn School of Dental Medicine has been amazing for me as I have been able to connect with the oral surgeon working on my project and was able to develop a strong relationship with her and even shadow her. Learning about dental research with other faculty has also expanded my knowledge on basic science and clinical research opportunities available in the future. My research and relationships made with other experts in the field have confirmed my desire to go to dental school.
---