Meet Veronica Pleasant '19 (CAHNR), an OUR Peer Research Ambassador (PRA) majoring in Animal Science and Pathobiology.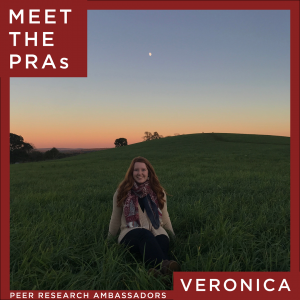 What is the focus of your research/creative activity?
I've been involved with Dr. Kristen Govoni's laboratory for the last three years, and our focuses have varied from sheep to neonatal calves, all under the umbrella of maternal programming, or the idea that alterations to the intrauterine environment can impact offspring growth and development. Currently, we are working on the impact of maternal nutrition on the offspring in conjunction with North Dakota State University.
Why did you get involved in research/creative activity?
As a member of Women in Math, Science and Engineering (WiMSE) Learning Community, we were introduced to the idea of getting involved in undergraduate research as part of the FYE class. Although incredibly intimidating, I got the idea that I would really like to try it out, to see if I liked it. Luckily, Dr. Govoni is the faculty director of WiMSE, and I asked her if she had space in her lab, and she did! Here we are three years later, still going strong!
What advice would you give to incoming freshmen?
Faculty are people too. I think a lot of first year students become intimidated by their professors because they are so knowledgeable, and more experienced. However, having that in-person connection makes all the difference. Faculty members often love to talk about their research, so please don't hesitate to ask them about it!
What is your greatest accomplishment so far?
Presenting in Vancouver, Canada, was definitely my greatest research accomplishment. It was absolutely terrifying to be representing UConn on an international stage, and in such a scientific capacity with people who have had careers in the animal science field longer than I've been alive. However, it went swimmingly, and I am better for the experience!
What are your plans after graduation? How has involvement in research/creative activity influenced your plans and/or prepared you for the future?
My plans after graduation including going to veterinary school for my DVM, and then, or concurrently, my PhD in some facet of infectious disease research. I never, ever, in my wildest dreams imagined that I would be interested in putting myself through school for an additional 7-8 years, but research led me here. Working in the lab has built my confidence, my laboratory skills, and my time management skills in a way no other experience could have. It piqued my interest in doing research for any part of my career, and now I'm actively pursuing my new goals.
---