Richard Wolferz, Jr. '15 (CLAS) recently graduated from UConn as an Honors Scholar in Biological Sciences with a second major in Physiology & Neurobiology. In this essay, he describes the role that research played in his undergraduate career.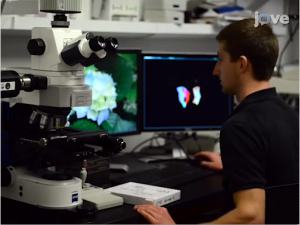 I grew up and went to high school in New Jersey but was convinced on my first visit that the University of Connecticut was right for me. UConn is a great combination of a small town campus feel mixed with a world-renowned research university. One of the main reasons I came to UConn and chose the majors I did was for the opportunity to perform scientific research as an undergraduate. Research has been large part of my undergraduate career and has given me incredible hands on experience that many students do not see until graduate school.
After hearing about her research, I spoke with Rebecca Acabchuk, the graduate TA for my sophomore year Enhanced Anatomy and Physiology course. I explained to her how interested I was in the concussion research she was doing in Dr. Joanne Conover's lab. After speaking further with Rebecca, and then with Dr. Conover, I was granted an opportunity to try volunteering in the Conover lab during the summer of 2013. Right away I was given responsibility to begin refining a technique to better analyze the expansion of the lateral ventricles in response to repeated concussive impacts. I was hooked.
Starting the fall of my junior year, I was welcomed in as an undergraduate research assistant in the lab. As a full-time member of the lab I applied for and received the Office of Undergraduate Research (OUR) Supply Award. The research funding through OUR allowed me the chance to continue researching the effects of repeated concussions through our mouse model. The technique that I began to develop during the summer was now in full use generating three-dimensional reconstructions of lateral ventricles for volume analysis. The most rewarding aspect of the experience was being treated with the same respect and responsibility as any other lab member. I was expected to present my findings each week in lab meeting and expected to contribute intellectually in discussions. This helped prepare me for the presentation I would be doing at the end of the year at the Frontiers in Undergraduate Research Poster Exhibition. I collaborated with my fellow undergraduate researchers to put together a poster that displayed all the work we were able to complete over the year. We then stood in Wilbur Cross and proudly presented our findings to our peers, faculty, and visitors; a rewarding experience that reminded us all of the importance of the overall goal of our research project.
As my junior year came to a close I realized I could not imagine leaving both my research and Storrs for a whole summer. I applied for Summer Undergraduate Research Funding (SURF) offered by the OUR to give me the chance to continue working in lab over the summer term. I was honored by being selected as a Gerald Blume SURF named award winner and received both funding for the Conover lab as well as a living stipend to cover my housing expenses. I spent a second amazing summer in Storrs, this time working every day completing research that I am now framing into my senior honors thesis. The chance to work in the lab over the summer ensured that I would be able to stay up to date with the project I had put so much time into over the previous year and a half. As we brought new undergraduates into the lab I was able instruct them on all the techniques I had learned and pressured me to continue to refine and better these techniques as I was given a new perspective as a mentor. The ventricle reconstruction protocol I helped to develop will be featured in an upcoming publication in the Journal of Visual Experiments from the Conover Lab.
For my senior year I received the OUR's Life Sciences Honors Thesis Award (LSHTA). My research experience allowed me the opportunity to attend the Brain Injury Alliance of Connecticut's annual conference this spring and discuss with others in the field the issues and possible solutions to protect against repeated concussions and traumatic brain injury. I am currently finalizing an honors thesis that investigates injury to brain tissue in response to repeated concussive impacts. I recently presented my undergraduate findings at the Physiology & Neurobiology Symposium where I was selected to continue on and present at UConn's Biology Symposium before finals week. I have been so honored to receive all the research funding I have over my years working in the Conover Lab and it really has been key reason to all that I have been able to accomplish.
Out of all the classes, organizations, volunteer opportunities, and jobs I have had as an undergraduate the most rewarding and eye-opening experiences have come from my time as a researcher. Participating in research offers meaning to what you learn in class and provides a skill set that prepares you for almost any career path. I will be utilizing the skills and self-drive I have gained through research as I continue on my path to become a medical doctor.
---