By Samantha Ruggiero CLAS '14, originally published March 24, 2014 in CLAS News.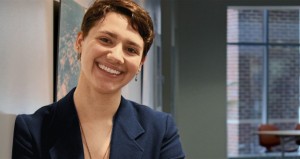 While still in high school, Rebecca D'Angelo was working in the Research Department at the Mashantucket Pequot Museum when she stumbled across an unusual detail in a book about New England whalers. She read that these whalers were apparently using using schooners for their journeys to the sub-Antarctic islands between Australia and Antarctica.
"I thought that was odd because I know that they wouldn't typically use schooners to whale," says D'Angelo, currently a senior history and anthropology double major, referring to the small size of schooner boats. "So I looked into it and turns out they were actually catching seals."
As a native to the Connecticut shoreline, D'Angelo paired her passion for maritime culture with a major in history and anthropology so that she could enrich her understanding of the world's evolving social, political and environmental patterns.
"We talk about history all the time in the conversations we're having now about politics, culture, and life," says D'Angelo. "If you know history, you can identify when public figures are invoking it correctly, and when they are invoking it incorrectly. Understanding history ultimately makes you a better consumer of culture."
Extending her findings at the Mashantucket Pequot Museum, D'Angelo's undergraduate research has focused on the environmental history of 19th Century New England whalers. During the summers of her high school years up until her sophomore year of college, D'Angelo worked as a demonstrator on the vessels at the living history village in Mystic Seaport, which gave her a hands-on feel for the type of work done by 19th Century whalers. The summer after her junior year, D'Angelo was granted the opportunity to broaden the depth of her research by traveling to Australia with the support of UConn's Summer Undergraduate Research Fund and the National Collegiate Scholars Scholarship.
"I had this plan that I was going to go to Australia because the [sub-Antarctic] island of Heard is owned by the Australian government," says D'Angelo. "So I knew they had a ton of archeology and artifacts there."
During her time in Australia, D'Angelo travelled to Canberra, Melbourne, Hobart and Sydney to comb through narratives and data that detailed the New Englander whalers' experiences on the island of Heard and other sub-Antarctic islands.
"In order to kill these seals, the boat would drop the men off at shore for the winter and leave them there," says D'Angelo. "There are stories of these guys going nuts, and it's cold and dirty on the beaches."
D'Angelo says that the most important information she found was a diary of a Tasmanian whaler who wrote about all of the New England sea captains during the 1800s.
"It's hard to envision a global market just from being in one place," says D'Angelo. "So it was really cool to get a outside perspective."
Associate Professor of History Matthew McKenzie believes that D'Angelo's strong academic drive and genuine personality made her journey across the globe a successful research endeavor.
"Rebecca has the type of personality that simply opens doors," says McKenzie. "Here was this earnest, hard working, down to earth, American student looking to fly halfway around the world to study whalers and sealers from her own hometown."
As D'Angelo is currently working on incorporating her findings into her final draft of her senior thesis, she is also constructing an exhibition about the ocean at the Thomas J. Dodd Research Center as part of the UConn Writing Internship Program.
"I love children's books and they [Dodd Center] have a lot there," says D'Angelo. "My exhibit is about how we teach kids about the ocean, so it will focus on biodiversity and the environment."
After graduation, D'Angelo is considering joining AmeriCorps, before pursuing a postgraduate degree. Overall, D'Angelo feels confident that her understanding of history and anthropology will make her both a strong job applicant and a well-rounded member of society.
"Historical knowledge is a meaningful tool for navigating, formulating opinions, and making choices about how we'd like to participate in American popular culture, political culture, our environment, and really any experience with a potential social consequence," says D'Angelo. " I can make sense of large amounts of information, because I know what kind of questions to ask of it."
---