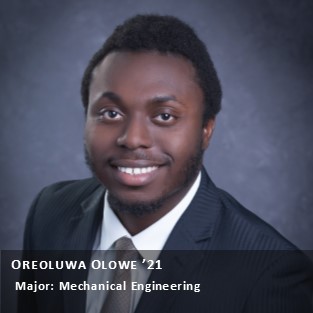 Oreoluwa (he/him/his) is a senior pursuing a B.S. in Mechanical Engineering. He serves on the ASME Petroleum Collegiate Council. He is also a member of the Engineering Ambassadors and serves as the Vice President of their Presentation Team.
Oreoluwa first became involved with research his freshman year where he worked on two separate projects. One in the fall and the other in the spring. He worked in the Biomedical Engineering Department conducting research on MRI scans of the knee. During the spring semester of that same year he was fortunate to work alongside 5 other mechanical engineering students for Professor Jason Lee. Alongside others began an independent study of knee braces and how it could be improved to help athletes that have been affected by knee related accidents in the past. He later continued his research experience during his junior year where he joined Professor Anna Tarakanova's Laboratory. Oreoluwa worked on modelling different types of protein. He used programming and modelling software to create molecular models of different types of protein. After completing a year in lab work, he is currently in the process of writing a manuscript for his research.  Thanks to his research experience, he has acquired various skills and knowledge. After graduation he hopes to go into industry while applying the unique knowledge gained during his undergraduate career.
If you have any questions or concerns, or would like a perspective on in research, feel free to reach out to him.
Student Research Blog Posts by Oreoluwa: