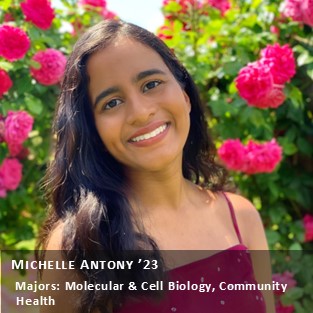 Michelle (she/her/hers) is a junior in the honors program pursuing a double major in Molecular & Cell Biology and Community Health on the pre-medical track. On campus, she is vice president of UConn's genetic engineering club, iGEM, and a volunteer for UConn Health Leaders, an organization that aids in bridging health disparities in the state of Connecticut. She also works as a chemistry tutor for UConn's Student-Athlete Success Program.
The summer after her freshman year, Michelle was part of the Health Research Program where she became involved in Dr. Dealy's lab at UConn Health. Here, her research project focused on cartilage repair approaches for individuals with joint injury that are at risk for developing osteoarthritis, a painful degenerative disease of the cartilage. She presented her findings at Spring Frontiers and co-authored a manuscript that is currently in submission for publication. This past summer, Michelle received a SURF Award to pursue an independent project under the supervision of Dr. Dealy. Michelle is passionate about biomedical research with clinical applications because the results have the opportunity to directly affect human health.
Research has been an integral part of Michelle's undergraduate experience and she encourages others to consider getting involved. If you have any questions about finding research opportunities, presenting research, or the pre-medical track, she would love to hear from you!
Student Research Blog Posts by Michelle
Contact Michelle
Undergraduate students can contact Michelle to ask questions or to request a peer advising meeting.