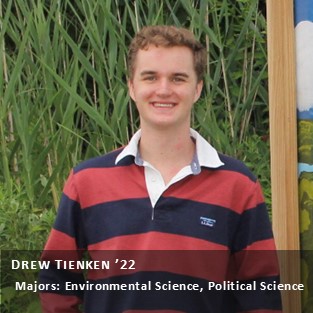 Drew (he/him/his) is a senior pursuing a B.S. in Environmental Science and B.A. in Political Science. He is the president of UConn's Kappa Kappa Psi Music Service Fraternity and is an avid member of the University of Connecticut Marching Band. In his free time he enjoys exploring the outdoors and hiking trails in the UConn forest.
During the spring semester of his freshman year, Drew became engaged with environmental research and joined Dr. Beth Lawrence's lab in the natural resources department. He started as a technician and soon participated in a research fellowship with the National Oceanic and Atmospheric Administration's Sea Grant, studying the effects of tidal restoration on the spatial extent of dominant salt marsh grass zones. Currently funded by UConn's SURF Award program, he is researching the effects of thin-layer placement restoration on salt marsh denitrification and bacterial community structure for his Honor's Thesis and University Scholar project.
After graduating, Drew hopes to attend law school and pursue a career along the intersection of environmental science and policy. He is passionate about improving communication between the scientific and legal professions and environmental sustainability. He believes that participating in undergraduate research was an integral part of his personal and professional development at UConn and strongly encourages others to consider becoming involved. Feel free to reach out to Drew if you have any questions or want advice on how to get started!
Student Research Blog Posts by Drew:
Contact Drew
Undergraduate students can contact Drew to ask questions or to request a peer advising meeting.