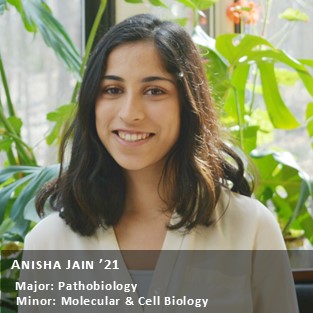 Anisha is a senior Pathobiology Major in the Honors Program with a minor in Molecular and Cell Biology. She has an interest in liver disease and believes the liver is the most underrated organ. She first became involved in research through the Science Research Program at her high school. She has conducted several projects at the Yale School of Medicine in their Department of Pathology in both clinical research understanding liver cancer and basic science research relating to iron physiology in the liver.
She currently is an undergraduate researcher in the Blesso Lab and in the 15th UConn IDEA Grant cohort pursing a project aimed at understanding the pathophysiology and potential therapies of Non-alcoholic Steatohepatitis (NASH) in non-obese individuals. Anisha is also a Change Grant – UConn Co-op Legacy Fellow through which she aims to provide resources for women undergraduates who hope to pursue careers in medicine and science. This program emphasizes woman-to-woman mentorship as well educating undergraduate women who hope to pursue careers in medicine and science on the sociological factors that'll influence their paths and how to circumnavigate them.
On campus, she is a tutor at the Writing Center, involved in Club Tennis, and a mentor for the Women's Center WiSTEM Program. Anisha hopes to pursue an M.D.-Ph.D. dual degree and continue studying liver pathology.
Anisha has a strong commitment to research and believes that undergraduate research is a unique opportunity for students to develop skills in critical thinking. Feel free to contact Anisha with any questions regarding undergraduate research, social change projects, the M.D.-Ph.D track, or any other concerns.
Student Research Blog Posts