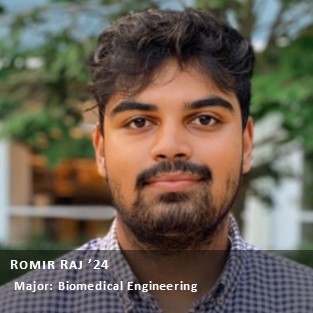 Romir Raj (He/Him)from Glastonbury, CT, is an Honors student majoring in Biomedical Engineering. He is on the pre-med track and plans to pursue an M.D. On campus, Romir is a student worker at Student Health and Wellness, is involved in HuskyTHON, and is the founder of a non-profit chapter called UConn GLO. Outside of school, he enjoys listening to music and spending time with friends.
In the summer of 2021, Romir first joined Dr. Mayu Inaba's Lab at UConn Health, Farmington, which studies chromosomal homolog pairing. Specifically, he looked at how homolog pairing may have an influence or relationship on gene expression. He joined Dr. Jelena Erceg's Lab at the Storrs campus after his summer at UConn Health. In the Erceg Lab, Romir studies homolog pairing in developing Drosophila embryos and potential relationships between homolog pairing and development.
As a rising Junior, Romir received the SURF Award to pursue and create his own project under the supervision of his two mentors, Dr. Inaba and Dr. Erceg. His SURF project was unique, as it was a collaboration between two labs that studied the same topic – chromosomal homolog pairing – but different aspects of the topic. During his Junior year, Romir presented his findings at UConn's Frontiers Poster Exhibition in the spring. Romir also received UConn's University Scholar Award for his work and was the recipient of the Barry Goldwater Scholarship – a national scholarship that encourages individuals to pursue research and recognizes their work as an undergraduate in research.
Romir believes that research has given Romir valuable skills that are acceptable in lab settings and in many day-to-day settings – regardless of the career. He would like to continue researching in medical school and encourage people to try it. If you are unsure about research or have any questions about research, he would love to talk to you!